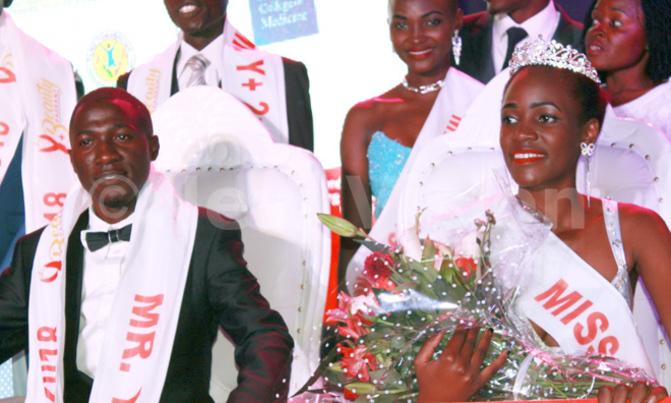 Only three children out of 100 whose mothers attain treatment at the TASO clinics are born with the virus
Winners of the beauty pageant for young people living with HIV that took place in Kampala. The event was organised by the Uganda Network of Young People Living with HIV/AIDS
In the AIDS Support Organisation (TASO) clinics, less than 3% of children whose mothers are HIV-positive are born with the virus, the lowest rate possible with prevention methods available today, the executive director of TASO, Dr Benard Etukoit has revealed.

"This is a historic achievement. I am calling upon the people of Uganda to implement The Presidential Fast-track Initiative on eliminating the scourge of HIV& AIDS in Uganda by 2030.
No child should be born with HIV in Uganda today and every child who is HIV-positive should be put on treatment," Etukoit said.

Speaking during the 26th annual general meeting held at TASO training centre in Kanyanya, Etukoit observed that the routine HIV testing and counselling (HTC) for mothers attending antenatal clinics at public health facilities, anti-retroviral therapy and early infant diagnosis are among services which have led to the decrease in the number of children born with HIV.

Over 1,000 people living with HIV from 11 TASO centres countrywide attended the annual general meeting. TASO cares for over 120,000 people living with HIV annually countrywide

David Kagimu, the senior technical advisor of TASO explained that since inception of the elimination of mother to child transmission (EMTCT) programme, all mothers are screened and once found fought with the virus, they are put on treatment.

Kagimu said that only three children out of 100 whose mothers attain treatment at the TASO clinics are born with the virus.
He attributed the success of the programm to a campaign set up two years ago by the health ministry in which all mothers are subjected to treatment after getting checked.

Noerine Kaleeba, the founding member of TASO, regretted that the biggest challenge facing TASO is high dependence on donor funding. TASO has a donor dependency ratio of 95%, which impacts on sustainability of programs implemented in case funding.

"However the board and management have strategies in place to mitigate this including: improving on local resource mobilisation, identifying investments in health related activities for purposes of local resource mobilisation and sustainability, investing in research to attract research related funding among others," she said.