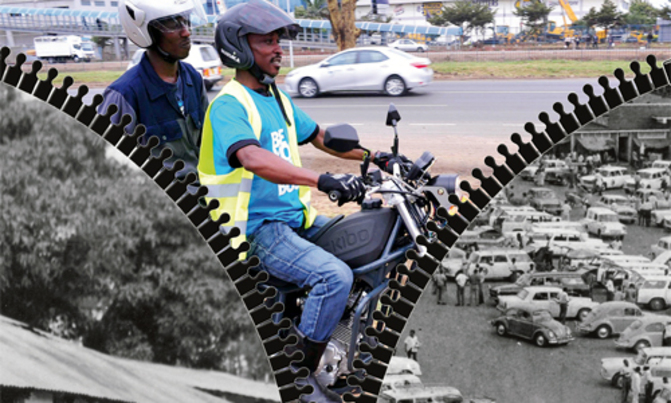 Uganda celebrates 55 years of independence


Anchor Uganda's freedom in hard work, commitment
By Moses Walubiri
Fifty five years ago today, the sun set on the British empire in Uganda with the lowering of the Union Jack at Kololo Independence Grounds and hoisting of Uganda's flag.
A lot of water has flowed under the bridge and with it, moving the fledgling country that we all call home through some of its greatest moments of triumph and despair.
True to nature, many key players that have been central in shaping the country's future — some real colossuses, have sauntered into eternity. But Uganda has chugged along, and as a republic, turning 55 years old today.
Timely theme
The theme for this year's independence celebrations: Uganda's freedom must be anchored in the spirit of hard work, resilience and commitment, is as sobering as it is timely.
It encapsulates what the country has gone through, what it has taken to emerge from some challenging moments in its postindependence journey and what it has to do to realise and secure true independence.
Take the example of the choppy political waters the country entered soon after independence, as the marriage of convenience between Uganda Peoples Congress (UPC) and Kabaka Yekka (KY) came apart at the seams.
The fallout between the two principals, then executive prime minister, Dr Milton Obote and Kabaka of Buganda-cum president of Uganda, Sir Edward Muteesa II ended with a military showdown at Bulange in 1966, which saw the latter flee into exile where he would end his days in 1969.
Then came the January 1971 coup that ushered in 'marshal' Idi Amin and his eight-year reign of terror that was only ended with the aid of Tanzania, following his (Amin's) decision to strike Kagera basin in northern Tanzania. CLICK HERE FOR MORE ON THIS STORY.

ADVERTISEMENTS
Why Ugandan judges wear wigs
The story of judges and the wig in post-independence Uganda, is as riveting as it is intriguing. As Uganda marks 55 years of selfrule, Andante Okanya brings you the fascinating story
Britain relinquished its firm grip of Uganda about half a century ago. But the curly horsehair wigs continue to be a mainstay dress sense code for judges.
When duty calls, a typical Ugandan judicial officer at the level of judge of the High Court, Justice of the Court of Appeal/Constitutional Court, and Justice of the Supreme Court, is, in legal parlance, not "properly dressed" until fully robed with a wig; the judicial head gear.
The dress sense and wig is a tradition inherited from colonial master Britain. It is a marvel to behold, as a judge takes well-choreographed steps and makes an imposing presence.
Cost of judicial wear
Judiciary senior communications officer, Solomon Muyita, says each set of the judge's official clothing costs £4,000 (about sh18m).
"A set of official robes is procured, using government funds, for every newly recruited judge/justice or those that are elevated to a higher court. In the set, there is a gown and wig for use during official functions and another for use in court," Muyita explains.
The wigs and robes are probably the most inescapable symbol of colonial legacy. These mainstays comprise plain black robes and mixed colour black-red robes with intricate embroidery depicting the coat of arms and Uganda flag.
Role of attire
A judge immaculately dressed in pristine gown and donning a wig, is distinguished from litigants. With the attention and the stares directed at the judges by the litigants, it is as though a judge clad in a wig, casts a spell on those in the courtroom.
But such is crucial for judges' stamp their authority, and emphasise a make-believe of who is in charge of proceedings, without gloating about it.
History of the wigs
The synonymity between courts of judicature and dates back to the 1600, when King Charles II reigned over Britain and its conquests. Subsequently, the headgear became an emblem of the British judicial system.
But some historians have put a dramatic tinge to the sensation, saying France monarch era supremo King Louis XIV, championed the headgear to mask his balding head.
Fast forward to the 18th century, fondly remembered as the era of enlightenment, the wigs became entrenched. It drew a line of distinction between judges and lawyers. The silky straight horsehair wigs are produced in variety of white, blonde, light yellow, and grey.
Interestingly, they are never manufactured to resemble the kinky Black African hair texture. In July 2012, the contention over the essentiality of wigs was a subject of debate in Parliament. Government lamented financial strain in procuring a jaw-dropping sum of sh1b for ceremonial wigs for the 76 judges across the court system.
No ceremonial attire
It was hilariously claimed "the judges were naked" and that the wardrobe blunder was a "protocol embarrassment", as judges were compelled to attend ceremonies "without being recognised" – in true British fashion.
The then secretary to the Judiciary, Dorcus Okalany, told MPs on the legal and parliamentary affairs committee, that the wigs are a mainstay for justices during special ceremonies.
"The justices have got working, but no ceremonial wigs. This has continued to be a protocol embarrassment because many judges attend ceremonies without being recognised," Okalany lamented.
A fully constituted Supreme Court has 15 justices, Court of Appeal/ Constitutional Court 11, and High Court 50. However, the High Court currently has a deficit of 30 judges. On October 27, 2014, during the opening of the Court of Appeal session in Fort Portal, then Kabarole district vice-chairperson Moses Ikagobya, lamented to then Deputy Chief Justice Steven Kavuma that the wigs intimidate some witnesses, especially juveniles.
Public responds on wigs
Kavuma acknowledged receipt of several complaints countrywide, in disapproval of the wigs. He remarked that a review of the tradition was in offing, like in the neighbouring Kenya and Tanzania.
Legal view on attire
On June 22, 2002, debate commenced in the British House of Lords, on the place of wigs in the contemporary British judiciary. According to the Hansard, Lord Campbell of Alloway, demanded from Her Majesty's Government, answers to proposals to dispense with the established custom as to wearing of wigs and gowns by Her Majesty's judges and members of the Bar (lawyers and solicitors) in open court.
"We are not concerned with ceremonial occasions; we are not concerned with work in chambers; and we are not concerned with timely dispensations. Timely dispensations in exceptional circumstances have always been accepted as part of the custom; indeed, there was a case at Lewes Assizes in the mid-19th century when the judge, who had a very severe attack of gout, charged the jury from his bed. Moreover, as Mr. Justice Megarry truly said in 1973—and I like his wording: Jurisdiction is neither conferred nor excluded by matters of attire."
In response, Lord Redesdale commended Lord Campbell for tabling the question. He expressed delight at commenting on a subject that had elicited mixed feelings.
"The question of whether wigs and gowns should be worn in court is important. They convey upon the wearer a respect for the uniform of court. They also give a sense of authority to those who stand up and present the case for their clients.
"I have heard members of the legal profession put forward the view that wigs and gowns convey a sense of anonymity. When walking down the street after the court proceedings have ended, members of the legal profession are less easily recognised because they are not wearing their wigs and gowns."
Consequently, in 2008, Britain broke with a 300- year tradition, and limited use of wigs in some courts, substituting it for a more sleek, sharp and trendy look. A judge's status symbol is now depicted by the colour of the bands on the robes, which is less costly. They don gold or red bands with velvet lined cuffs to indicate judicial status.
ADVERTISEMENTS