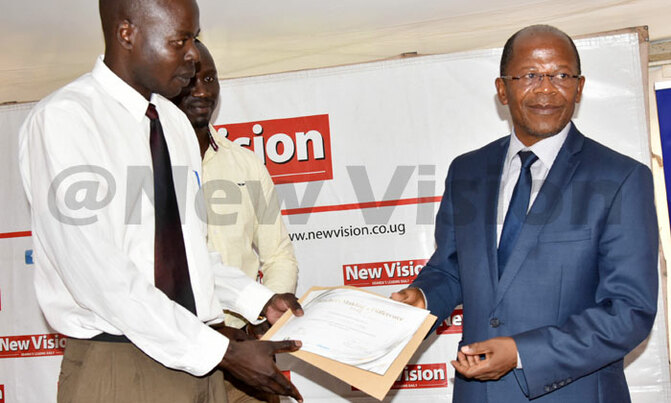 This is the sixth edition of the Teachers Making a Difference competition. So far, 50 teachers have been awarded.
PIC: Godrey Owiny Arims(L)of Lemusui Primary School in Nakapiripirit, was overall winner of Vision Group's Teachers Making a Difference Awards. Here he receives an award from State Minister for Higher Education John Muyingo, at Vision Group offices on October 5, in Kampala. (Credit: Roderick Ahimbazwe)

TEACHERS MAKING A DIFFERENCE

Five of the twelve best teachers in the Teachers Making a Difference competition have been rewarded with an all-expense paid trip to the Republic of Ireland.

Those who will be flown to Ireland include, Godfrey Arims (Lemusu Primary School in Nakapiripirit), Martin Kananura (Mbarara Municipal School), Prossy Muyinda (Victoria Junior School in Namutumba district), Mary-Gorreti Akwi (Nakivale SS in Isingiro district) and Emmanuel Angoda (Lira Town College in Lira district).

Yesterday, the 12 winners were each awarded certificates, plaques and a cash prize of sh1.5m each.

This is the sixth edition of the Teachers Making a Difference competition. So far, 50 teachers have been awarded.

The campaign is part of the Ugandans Making a Difference project initiated by New Vision in 2008.

The project aims to recognise and reward those teachers who have innovatively used limited resources to make a positive impact on their communities.

Other winners are: John Kyeswa (Viva College, Jinja) Nicholas Ashabahebwa (Coloma Primary School) Asaph Gheno (Kisoko Boys Primary School), Sajid Tabuga (Swinga II Early Child Development Centre), Venny Lamunu Mukasa (Lakwatomer Primary School), Mary Aketch (Rainbow Primary School) and Ayat Kibwota (St. Peter's Primary School).

The trip, scheduled for February will be facilitated by the Irish embassy in partnership with the New Vision, Trocaire and Simba Travelcare.

Simba Travelcare has offered return tickets for the winners, and Trocaire will take care of the programme for the visiting teachers while in Ireland.

"I'm so excited and privileged to be among the best teachers. This motivates me. I am going to work hard to maintain the standards," said Ashabahebwa.

Trocaire Country director Ian Dolan and Simba Travelcare manager Declan Peppard attended the function.

State Minister for higher education, John Chrysostom Muyingo, who was the chief guest, commended New Vision for initiating the project, which recognises the efforts of the teachers.

Muyingo encouraged teachers to focus on their profession and promised New Vision support towards the project.

"As a ministry, we are grateful to the New Vision for rewarding the teachers. This is a big way of motivating and inspiring them. The ministry is going to copy this initiative and work with the New Vision to grow it," Muyindo said.

Irish Ambassador Designate Finbar O'Brien said it was delightful that some of the teachers have exhibited extra skills in working with marginalised children.

"We are delighted that the winners will have an opportunity to visit Ireland in order to learn from and share their learning with Irish teachers and educators," O'Brien said.

Trocaire Country director, Dolan described the Teachers Making a Difference project as a great initiative that can improve the levels of education in Uganda.

New Vision Editor-in-Chief Barbara Kaija said the initiative is line with New Vision's vision of being "A globally respected African media powerhouse that advances society".

"We do not just do journalism. We do journalism that impacts society. We are doing development journalism, which highlights and promotes development," Kaija said.

She said 22 teachers were profiled, from over 600 nominations received by the New Vision.

"Next year, we shall profile 100 teachers. It is a target for my team. We could have awarded more teachers, but our budget could not allow it. We promise to do better," Kaija said.

The teachers making a difference award ceremony coincided with the International Teachers Day, which is always held on every October 5.