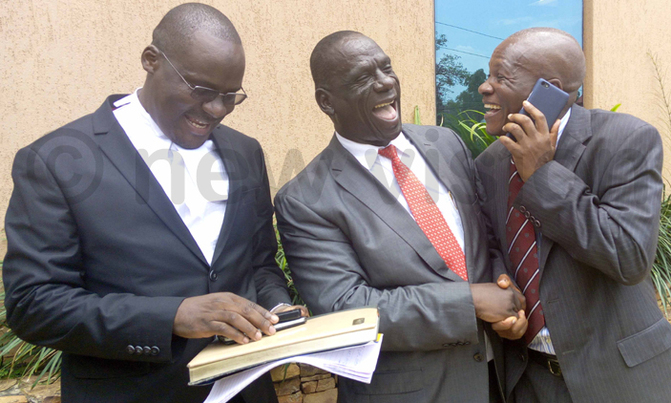 His opponent Michael Mawanda petitioned the High Court challenging the election
Michael Mawanda (C) celebrates with his lawyer Owen Murangira (L) and a colleague at the Court of Appeal after winning the election petition against NRMs Andrew Martial. Photo by Michael Odeng
The Court of Appeal has nullified the election of National Resistance Movement's (NRM's) Andrew Martial, as Igara County East Constituency MP and ordered fresh elections.
Today, a panel of three justices led by the Deputy Chief Justice Alfonse Owiny-Dollo ruled that Martial committed bribery contrary to section 61 (1) of Parliamentary Election Act (PEA). This, according to the justices, was an illegal practice.
"This appeal is allowed with costs against Martial. The election of Martial is annulled and fresh parliamentary elections are ordered for the Igara East Constituency in Bushenyi district," the Justices issued the directive in their joint ruling.
Michael Mawanda, who contested as an independent candidate in the parliamentary elections for the constituency in 2016, had petitioned High Court challenging the election of Martial as the validly elected MP, on grounds that it was marred with bribery.
Mawanda polled 15,091 votes while Martial polled 15,983 votes.