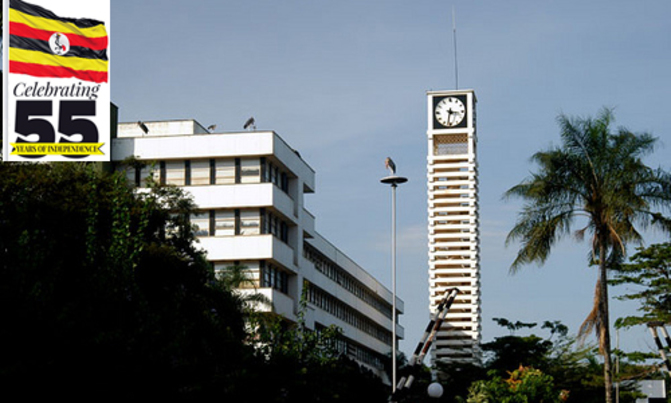 His worship Nasser Ntege Sebaggala 1998, was the first directly elected mayor of Kampala and the first one to lose office as Kampala mayor because of a court conviction.
Before the arrival of the British colonialists, the Kabaka of Buganda had chosen the zone that would become Kampala as a hunting reserve.
The area, composed of rolling hills with grassy wetlands in the valleys, was home to several species of antelope, particularly impala. When the British arrived, they called it "Hills of the Impala".
The language of the Buganda, Luganda, adopted many English words because of their interactions with the British. The Buganda translated "Hill of the Impala" as Akasozi ke'Empala - "Kasozi" meaning "hill", "ke" meaning "of", and "empala" the plural of "impala". In Luganda, the words "ka'mpala" mean "that is of the impala", in reference to a hill, and the single word "Kampala" was adopted as the name for the city that grew out of the Kabaka's hills.
Kampala was originally built on seven hills, but as its size has increased, it has expanded to more hills than seven. The original seven hills are:
Kasubi Hill.
Mengo Hill.
Kibuli Hill.
Namirembe Hill.
Lubaga Hill.
Nsambya Hill.
Kampala Hill (Old Kampala).
The city has been led by mayors since independence. The mayors wieleded political and administrative powers until the Kampala City Council law was changed to establish Kampala Capital City Authority.
Under KCCA, the mayor's title changed to Lord Mayor and his role was reduced to a ceremonial one. The executive director, appointed by the President, holds the administrative powers. He does this together with minister for Kampala
BELOW IS THE LIST OF THE MAYORS
1. Sir Amar Main (C.B.E) 1950-55 after serving as Kampala Municipal board chairman

2. K.H. Dale (O.B.E), 1955-56 (he died in office)

3. C.S Lewis (1956-58)

4. C.E Develin 1958-9)

5. S.W. Kulubya (C.B.E) 1959-61). Kulubya is the first African mayor of Kampala.

6. Mrs. B. Saben (C.B.E) 1961-2, was the first woman mayor of Kampala.

7. P.L. Patel 1962-3

8. P.N. Kavuma (O.B.E) 1961-5

9. W.Y. Nega 1965-8

10. A.G. Mehta 1968-9. He died in office

11. Nakibinge 1969-71

12. His worship Walusimbi Mpanga, one of Kampala's long serving mayors (1971-82)

13. Fred Semaganda 1982-6

14. Wasswa Ziritwawula 1987-9

15. Christopher Yiga 1989-97

16. His worship Nasser Ntege Sebaggala 1998, the first directly elected mayor of Kampala and the first one to lose office as Kampala mayor because of a court conviction. He was replaced by his deputy Sarah Nkonge who served as acting mayor until June 1999 when His worship Sebaana Kizito was elected as the second directly elected Mayor of Kampala.

In February 2002, Sebaana again stood as a mayoral candidate and was re-elected. Sebaana was replaced by Nasser Sebaggala who was also later replaced by Erias Lukwago.