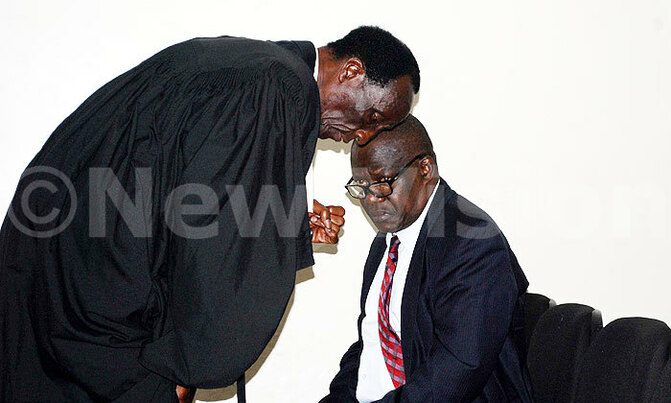 Abraham Byandala and six others are accused of causing financial loss of over sh24.7b to government.
COURT | KATOSI SCANDAL

The hearing of a case in which former works minister Abraham Byandala and six others are accused of causing financial loss of over sh24.7b to government resumes today.

Prosecution will submit on 'case to answer'.

The money was meant for the upgrade of Mukono-Katosi road from gravel to bitumen standard. The court is being presided over by Justice Lawrence Gidudu, the head of the Anti-Corruption Court.

Prosecution, led by Sarah Birungi will try to adduce evidence that will persuade court to put the accused on defence.

This comes after the defence team finalised with their submissions on 'no case to answer' two weeks ago.

Byandala, 66, was charged alongside four former Uganda National Roads Authority (UNRA) officials -- Berunado Ssebbugga (former acting executive director), Joe Ssemugooma (acting director finance and administration), and Wilberforce Senjako (regional accountant).

Others are city businessman Apolo Senkeeto and a former Housing Finance Bank official, Isaac Mugote.

According to prosecution, Byandala disobeyed the directives of the Inspectorate of Government (IGG) in a letter dated August 27, 2014, when he confirmed that CICCO received sh12b and started quickly mobilising equipment on behalf of Eutaw.

Prosecution alleges that Byandala influenced the procurement process that led to the award of tender and signing of a contract between Eutaw and UNRA, contrary to the principles and procedures of procurement in UNRA.

Prosecution alleges that Senkeeto uttered a false KCB bank bid guarantee for sh1.9b in support of a bid for procurement of the road upgrade.

Senkeeto is also alleged to have obtained execution of performance bond of sh16.5b from Insurance Company of East Africa and UAP, by misrepresenting to them that it was guaranteeing a pending payment for the road.

Meanwhile, UNRA officials were accused by the IGG of effecting payment of sh24.7b to Eutaw without establishing its authenticity.