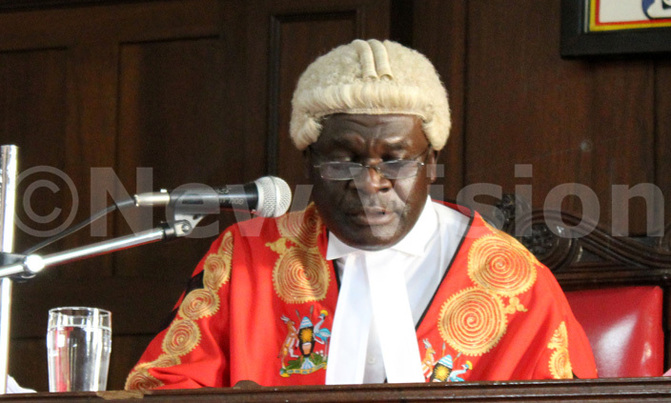 According to the Judiciary public relations officer, Vincent Emmy Mugabo, the swearing in ceremony will take place early Saturday morning at State House Entebbe.
Justice Alfonse Owiny-Dollo. Photo/file

JUDICIARY

President Yoweri Museveni will on Saturday, swear in Justice Alfonse Owiny-Dollo as the new deputy Chief Justice, replacing Justice Steven Kavuma who has served in the same position since 2015.

According to the Judiciary public relations officer, Vincent Emmy Mugabo, the swearing in ceremony will take place early morning at State House Entebbe.

"After the swearing in he will take over office as the new Deputy Chief Justice but the current one will be allowed three months to clear his desk," he said. Kavuma hit retirement age of 70 years on September 29.

Mugabo explained that when a judicial officer retires, they are normally allowed to work for more three months to complete work on his desk.

At the time of his appointment, Owiny-Dollo was heading the International Crimes Division (ICD) of the High Court. He beat off competition from Justices, Irene Mulyagonja who is currently the Inspector General of Government (IGG), Esther Kisaakye, Stella Arach-Amoko, Lillian Tibatemwa, Fredrick Egonda-Ntende and Hellen Obura.

His appointment was recommended by the Judicial Service Commission. He was appointed together with Justice Richard Buteera and Paul Mugamba, who were promoted to the Supreme Court from the court of appeal.

Owiny-Dollo shot to fame when he presided over the case against the masterminds of the July 11, 2010, Kampala twin bombing which left scores dead. He convicted seven of the masterminds, gave five a life sentence and two a 50 year jail term.

Before he joined the High Court 2008, he was President Yoweri Kaguta's legal counsel in the 2006 presidential election petition filed by presidential candidate Dr. Kiiza Besigye. The same year in December he met the notorious LRA leader Joseph Kony to negotiate peace for Northern Uganda.

Owiny-Dollo, who enrolled as an advocate in May 1985, was a defence counsel in the landmark high-treason trial, appeal and retrial of Prof. Isaac Nweton Ojok on charges of treason and convicted to death. However, later after a retrial, he was acquitted of the charges.

In 1988, he was the legal counsel in the peace talks between the then rebel Uganda Peoples' Democratic Movement (UPDM) and Government of Uganda. He drafted the legal document that was executed as the historic Peace agreement between the Government and UPDM, at Pece Stadium, Gulu on 3rd June, 1988.

As a politician, he was a Member of Parliament for Agago County and sat on the committee of appointments, defence and internal affairs from 1996 to2001.

He also served as a minister of state for in charge of Northern Uganda Reconstruction Programme (NURP) from 1996 to 1999 and minister of state for foreign affairs from 1994 to 1996.

Owiny-Dollo, who is the founder of Owiny-Dollo legal services, has also made several academic presentations on the conflict in Northern Uganda. They include; "Healing the Wounds of Conflict: The Challenges of Rendering Justice in Post Conflict Northern Uganda" in 2007 and "The Northern Uganda Conflict" in 2003.

The 61 year old who holds a Master's degree in conflict resolution from the University of Bradford, UK, has also served as a High Court and Court of Appeal judge.