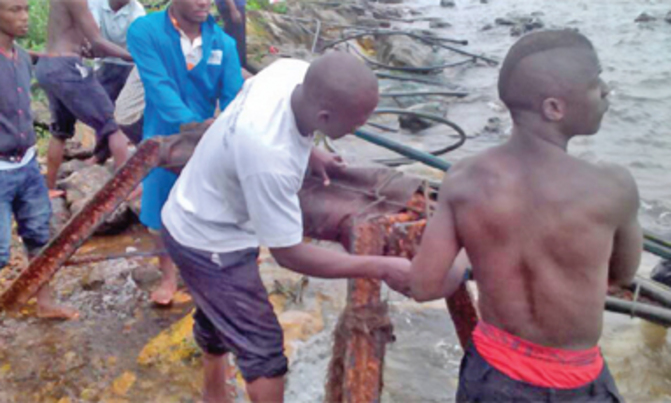 The Ministry of Water and Environment is working towards increasing access to clean and safe water across the country. Alfred Okidi Okot, the Permanent Secretary, highlights how far they have progressed towards decentralised service delivery

How have you managed to boost water service delivery across the country?

We introduced facilities and umbrella organisations to help boost service delivery. The concept of umbrella organisations was developed to ensure sustainability of the water supply system. They hire technical staff who are composed of an engineer, manager, water quality analyst and other professionals who help in maintaining the water supply system in the country.
What is the main function of the umbrella organisation?
The initial role was to offer backup support to communities managing water supply systems. They offer technical guidance, leakage detection and support for good quality water supply daily using their laboratories. In addition, they also train the new water board members.
How many umbrella organisations are there in the country?
We have six umbrella organisations. They include the southwestern umbrella based in Kabale, mid-western umbrella based in Kyenjonjo, the central umbrella based in Wakiso, the eastern umbrella of water and sanitation based in Mbale; the Karamoja umbrella of water and sanitation based in Moroto and the northern umbrella of water and sanitation based in Lira. The umbrellas do not focus on urban water alone, but also in rural areas.
What then are development facilities?
In fact, we had thought of calling them development funds because we hoped to use them for mobilising funds, but this became so big and we resorted to calling them facilities. The Water and Sanitation Development Facilities are an arrangement or decentralised ministry branches which support the development of water and sanitation projects. CLICK HERE FOR MORE ON THIS STORY
Supply expanded in central region


Umar Nsubuga Aisha Nakimuli, 22, is a resident of Kasalirwe village in Wakiso district. The stay-home mother, like most women her age does all chores at home, including fetching water singlehandedly.
"My husband is builder, who is always away. That is why I came here to fetch water," she says. However, she is worried about the quality of the water she takes home. "I fetch water from this pond surrounded by knee-high grass. Cows also drink from the pond," she says. Nangabo sub-county in Wakiso district did not have access to safe water and suffered severe water shortage. Some homesteads also lacked proper waste disposal facilities, such as pit-latrines. It exposed residents to the risk of numerous water-borne diseases.
New era
The situation in some parts of the central region will soon change this year when the Ministry of Water and Environment and Central Umbrella of Water and Sanitation (CUWS) provide sustainable water and improved sanitation facilities based on management responsibility and ownership by the users within easy reach of the rural population.
CUWS is an organisation that brings together all water supply and sanitation boards (WSSBs) to collectively solve their problems without waiting for the Government's intervention.
It is geared towards ensuring the operation and maintenance of piped water systems and enhancing sustainability of the systems based on management responsibility and ownership by users. CUWS comprises of schemes from the central region of Uganda.
CUWS is a funding mechanism for implementation of piped water supply and sanitation systems in small towns and rural growth centres in 25 districts in the central and mid-western regions of the country.
The CUWS project is under the Ministry of Water and Environment. "The situation in Kasalirwe was worrying and something had to be done immediately. It was as if Kasalirwe was not part of Uganda," Allan Sekate, a resident says.
Moses Bujure, the manager of the CUWS, says Wakiso water supply and sanitation project will benefit over 500,000 people in different parts of the district by providing safe and reliable water. CLICK HERE FOR MORE ON THIS STORY
ADVERT
KARAMOJA UMBRELLA OF WATER AND SANITATION
Former IDPs get safe water


Former Internally Displaced Persons (IDP) in the sub-counties of Agolo-potika, Omiya-nyima and Lagoro-Oryang in Kitgum and Lamwo districts are the latest beneficiaries of a multi-million shilling solar water project.
The $376,832 (about sh1.4b) Nordic Development Fund (NDF) project is geared towards promoting access to clean and safe piped water pumped using solar energy. The beneficiaries in Lagoro-oryang, Omiya-nyima and Agolo-potika have projected populations of 1,500, 2,800 and 4,500, respectively.
The water projects constructed by Davis Shirtliff, a water contractor, are an extension of the already completed solar water systems under the Energy for Rural Transformation (ERT-11), which was co-ordinated by the energy ministry.
Alan Mugabi, the project manager ERT-11 water component, says the funds helped in the installation of solar energy packages for pumping water in the three former IDP camps of Lamwo and Kitgum districts.
"We are the implementers of the water component, but the entire programmes of ERT are aimed at providing energy for the social transformation in the sectors of health, education and water as the main driver," he says.
Speaking during the commissioning of the projects in Lamwo and Kitgum, the sssistant commissioner for urban water and sewerage services, Richard Matua, noted that the implementation of phase two of the ERT projects started in 2012, however there was a part of the budget which was provided by NDF.
"There were three schemes which were identified by the Ministry of Water and Environment under the same phase. We are getting water from existing boreholes which were drilled long ago," Mugabi says.
Initially, the boreholes were constructed and installed with hand pumps, but when people returned into their homes, the boreholes were abandoned and we motorised them to supply the entire villages through use of solar," Mugabi adds.
He said the water will be billed to allow the locals pay user fees to ensure operation and maintenance of the systems. CLICK HERE FOR MORE ON THIS STORY
ADVERT
NORTHERN UMBRELLA OF WATER AND SANITATION
Over 200,000 access safe water


Thousands of residents of south western Uganda have a reason to smile after they got access to safe water and improved sanitation facilities, ending years of water shortage.
This follows the construction of water facilities in 26 towns in the region, benefiting an estimated 245,000 people. Additionally, in six other towns, construction works are over 70% complete.
The facilities were constructed by the Government with support from development partners who developed the water and sanitation development facility framework as a funding mechanism for developing water and sanitation facilities.
The project builds on the experiences and successes from two previous phases of the South Western Towns Water and Sanitation projects I & II that were implemented since 1996, with funding from the Austrian government.
According to the regional manager, Hillary Mutabazi, Water and Sanitation Development Facility-South West (WSDF-SW) is implementing support to water supply and sanitation development in small towns and rural growth centre under the EU-MDG initiative.
He says WSDF-SW, with its office in Mbarara town, covers 28 districts of south western Uganda. Their intervention covered construction and rehabilitation/ extension of piped water supply systems to the un-served areas.
They also constructed sanitation facilities including regional faecal sludge treatment plant and public water-born toilets, among others.
They also carried out personal hygiene and environmental sanitation promotion campaigns and built capacities of local authorities to sustainably manage and operate the investments.
Mutabazi said the above was achieved through a demand responsive approach where the local governments/communities express interest in the services and commit to fulfil their obligations through the signing of a Memorandum of Understanding (MoU). CLICK HERE FOR MORE ON THIS STORY
ADVERT
CENTRAL UMBRELLA OF WATER AND SANITATION
Motorised boreholes increase access to safe water in Busoga


While hand pump boreholes have for long been seen as the solution to access safe water in many rural settings, the energy required to pump the water made them an unattractive option.
All that is, however, beginning to change in eastern Uganda, thanks to the African Development Bank (AfDB), which has allocated funds to support the motorisation of boreholes in Kasolwe sub-county in Kamuli district.
According to Jane Achom, the water and sanitation specialist in charge of Busoga sub-region, motorisation of boreholes is geared at easing access to safe and clean water, especially to the marginalised groups such as the women, children and the disabled.
Achom, who represented the director of the Directorate of Water Development in the Ministry of Water and Environment, reported that the sh400m AfDB-funded Kasolwe mini solar powered water system, is a pilot project in the transformation of hand pump boreholes into motorised in the Busoga sub-region.
She said Kasolwe was taken as a pilot in the region, given the number of people who were accessing water through struggle. "We realised that this area was underserved, yet it has many women suffering, they used to trek long distances to get access to the nearby water source, which is not clean. They shared the water with the animals," she said.
She observed that the ministry, under the Rural Water Department, was constructing boreholes, but realized that many were being destroyed leaving the residents to suffer with no water which is against the ministry's mandate. CLICK HERE FOR MORE ON THIS STORY
ADVERT
THE EASTERN UMBRELLA OF WATER AND SANITATION
Rural water projects help over 900,000
Close to a million people in rural areas across the country now have access to clean and safe water, thanks to projects executed by the Rural Water Department. These projects include gravity flow schemes of; Nyarwodho, Bududa- Nabweya, Bukwo, Rwebisengo Kanara, Nyabuhikye-Kikyenkye, Bukwo, Lirima and Bukedea.
There are also Buwoya- Buboko and Butebo water supplies, solar-powered mini piped systems, boreholes with hand pumps and production wells.
The commissioner Rural Water Eng Joseph Oryono Eyatu says his department is committed to ensuring that the rural population gets 100% access to clean and safe water to increase on their productivity.
He says the department is prioritising the use of gravity flow schemes since they can supply a large population and can easily be expanded unlike the use of bore holes.
"Our focus now is to motorise most of the hand pump boreholes with high yield of water to ensure that the time spent on the hand pump is reduced to allow the population concentrate on other income-generating activities," he says Oryono adds that this has been majorly supported by the Egyptian government and the African Development Bank.
He says as they strive to extend water to the rural population, handwashing is still a problem, and that more efforts are being geared at improving sanitation.
According to Eng. James Seguya, an official in the Rural Water Department, they coordinate utilisation of the District Water and Sanitation Grant, which involves resource mobilisation and allocation, technical support to districts, monitoring compliance and capacity building to the district local governments. He says the department supports planning and development of water supply and sanitation projects.
They also promote use of appropriate technologies and sanitation practices in rural areas. Seguya says their projects cover communities with scattered population settlements of up to 1,500 and Rural Growth Centres with populations between 1,500 and 5,000.
The main technology options used for water supply improvements in rural areas include deep boreholes, currently standing at 42%, shallow wells (25%), protected springs (21%), public stand posts (6%), yard taps for public use (6%), kiosks (1%) and rainwater harvest tanks (1%). Boreholes, he says, are the predominant water supply technology in the rural communities. CLICK HERE FOR MORE ON THIS STORY
ADVERT
WATER AND SANITATION DEVELOPMENT FACILITY - EAST
WATER AND SANITATION DEVELOPMENT FACILITY - NORTH
WATER AND SANITATION DEVELOPMENT FACILITY - SOUTH WEST