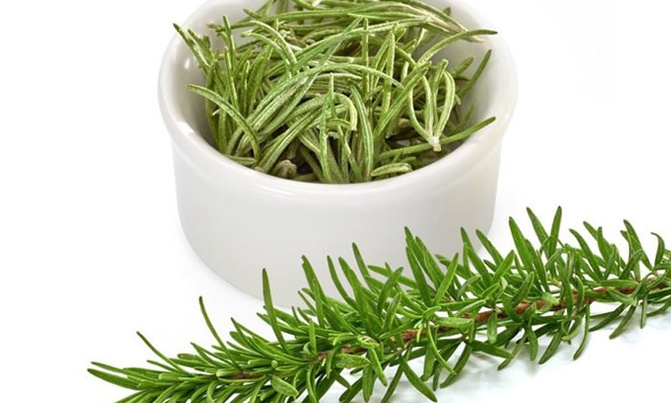 Rosemary has traditionally been used by dozens of cultures as a natural remedy for upset stomachs, constipation, bloating, diarrhea, and everything in between.
Some of the most interesting and unique health benefits of rosemary include its ability to boost memory, improve mood, reduce inflammation, relieve pain, protect the immune system, stimulate circulation, detoxify the body, protect the body from bacterial infections, prevent premature aging, and heal skin conditions.
What is Rosemary?
Native to the Mediterranean region, rosemary is one of the most commonly found herbs in a spice rack, and for good reason - not only does it have a wonderful taste and aroma, but also a wealth of beneficial health effects if regularly added to our diet. The scientific name of this perennial woody herb is Rosmarinus officinalis, but the world knows it by its common name. It has a warmer, bitter, and more astringent taste that gives wonderful flavor to soups, sauces, stews, roasts, and stuffing.
Although small amounts like those used to flavor food aren't typically considered large enough to have a major effect on the body, regular addition of the leaves to your food will allow your body to derive accumulated benefits from the organic compounds and unique phytochemicals present in the leaves.
Memory booster
One of the earliest reported or documented uses of rosemary for health reasons was as a cognitive stimulant. It was said to improve memory and help to increase intelligence and focus.
Mood and stress
The aroma of rosemary alone has been linked to improving mood, clearing the mind, and relieving stress in those with chronic anxiety or stress hormone imbalances. When the plant is consumed or applied topically in some sort of salve of the leaves, it can have similar effects.
Boosts immunity
The active components in rosemary are antioxidant, anti-inflammatory, and anti-carcinogenic in nature. This represents a three-pronged attack against many different diseases and pathogens that could threaten the immune system or damage the integrity of the body.
Antibacterial potential
While the general immune boosting qualities of rosemary are impressive enough, it is specifically powerful against bacterial infections, particularly those in the stomach.
Stomach soother
Rosemary has traditionally been used by dozens of cultures as a natural remedy for upset stomachs, constipation, bloating, diarrhea, and everything in between.
Breath freshener
As a natural antibacterial agent, rosemary works as a wonderful breath freshener that also improves your oral health. Steep rosemary leaves in a glass of hot water and then gargle or swish the water in your mouth to eliminate bacteria and give you naturally fresh and clean breath all night!
Stimulate blood flow
Rosemary acts as a stimulant for the body and boosts the production of red blood cells and blood flow. This helps to oxygenate vital organ systems and areas of the body, ensuring that the metabolic activities in those areas are running smoothly, in addition to stimulating the movement of nutrients to cells that require repair.
Pain relief
As an analgesic substance, rosemary has been topically applied in a paste or salve for hundreds of years to the affected area of the pain. When consumed orally, it acts as a pain reliever for harder to reach spots, such as headaches and pain from a condition.
Detoxifies the body
Rosemary is slightly diuretic in nature, meaning that it can help flush out toxins more efficiently during urination. Furthermore, by increasing the rate at which water leaves the body, it can also help push out pathogens, salts, toxins, and even excess fat when consumed regularly.
Skin health
The anti-aging properties of rosemary are quite well known. Although more commonly thought of in the essential oil form, the leaves of rosemary can also effect the skin internally or topically, and has been shown to improve the youthful quality of the skin, while also healing blemishes and increasing the natural shine and hydrated appearance of your body's largest organ.