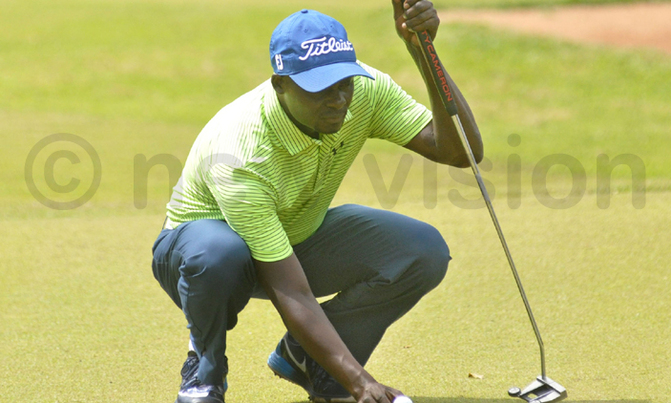 Akope hopes to employ the same strategy that propelled him to the top alongside Dismas Indiza
Deo Akope lines up a shot on day one at Kitante Golf Course. Photo by Michael Nsubuga
Uganda's Deo Akope and Kenya's Dismas Indiza shot an opening round three-under-par 69 each to take the lead as the Tusker Malt Lager Uganda Professionals Open started at Kitante on Wednesday.
After hitting three-over during the official practice round Akope knew that was not a worthy score on a home course and had to adjust accordingly.
"I just had a diagnosis of my Pro-Am score of 75, because when I took all matters into consideration after the Pro-Am I realized I had missed 9 out of 14 fairways; that mean I only got 5, and every time you miss fairways it means you're going to miss the greens as well," Akope explained.
"So my strategy today was to improve on my tee shots, hit more greens and take the putts that come, and indeed I got my putts right. I hit all the 7 greens on the first nine and missed only 5 and 8, but made 4 birdies, so it was a good round and I only had issues on hole-number 15 which I double bogeyed and hole-No.16 where I scored a bogey," Akope stated.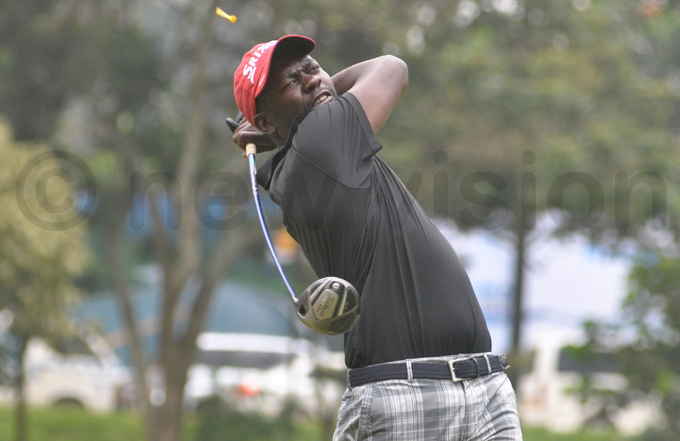 Uganda's Phillip Kasozi is two shots off the lead. Photo by Michael Nsubuga
Going into the sh145m competition's second round Akope hopes to employ the same strategy that propelled him to the top alongside Kenya's Dismas Indiza who returned a similar score.
Indiza a four-time winner was also happy with his round and is praying for an even wetter course following a twenty-minute down pour that halted play for some time.
"The course has changed since last year but the business end has started and everyone including me wants to win, so expect more changes in the leadership," Indiza who already has already pocketed sh1.5m from the pro-am noted.
Whereas the rain was a welcome occurrence for some golfers, it wasn't for defending champion South Africa's Joshua Seale who had completed 8 holes when the skies opened up.
Seale who has had five flawless rounds prior to the tournament in the past one week, was slowed down by the rain and was left complaining about the officials' failure to halt play when it rained.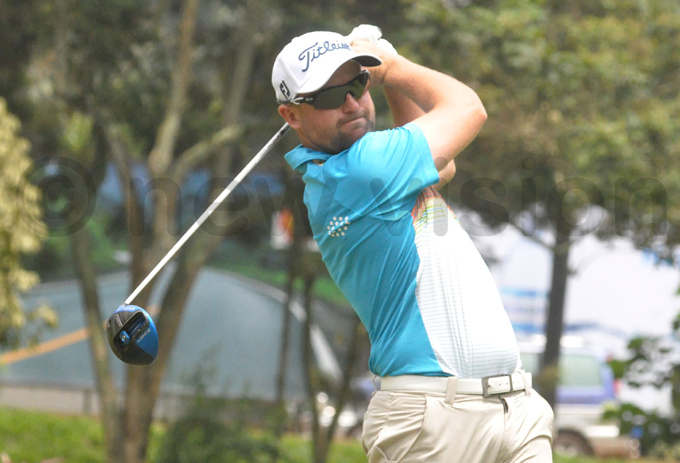 Portugal's Stephen Ferreira is the only European in the top 10. Photo by Michael Nsubuga
He settled for four-over-par 76 in the first round and is not even among the top 10 going into the second round.
Other Ugandans Phillip Kasozi and Brian Mwesigwa who won the championship as amateurs are joint second having carded 71 each in the first round. Grace Ocici is the other surprise Ugandan among the top ten after day-one, alongside Herman Mutaawe.
A tougher second round is expected as golfers fight to make the cut after the second round. Yesterday's round had eight golfers all tied at 74 gross with another eight tied on 75.
Top ten
Deo Akope (UG) 69
Dismas Indiza (KE) 69
Phillip Kasozi (UG) 71
Brian Mwesigwa (UG) 71
Giddie Ganeev Singh (KE) 72
Stephen Ferreira (POR) 72
Grace Ocici (UG) 73
Herman Mutaawe (UG) 73
Mohammed Mandhu (ZIM) 73
Brian Njoroge (KE) 73