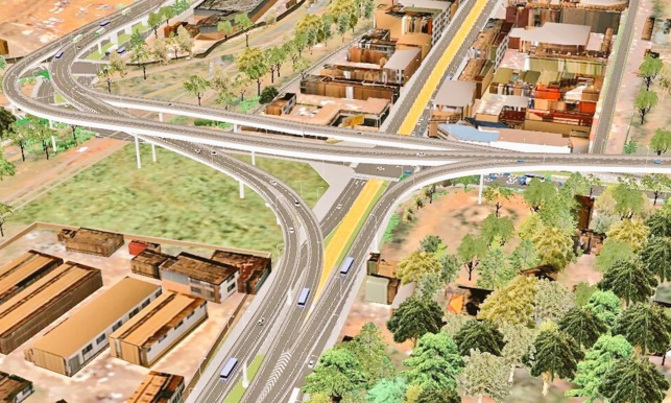 The Project will be financed by the Government of Japan through the Japan International Cooperation Agency (JICA).


The Uganda National Roads Authority (UNRA) on Wednesday launched the operationalization of the Kampala Flyover project by taking potential bidders on a site visit of the route and extents of the project covering Clock Tower, Mukwano road and Nsambya road.

The 32 months project described by UNRA as a milestone in it's effort to decongest traffic in Kampala is expected to start early 2018 after the procurement of the contractor.

The project will facilitate mobility along the East-West traffic route that bypasses the Central Business District of Kampala, by providing linkage with the upcoming Kampala-Mpigi and Kampala-Jinja Expressways.

The Project will be financed by the Government of Japan through the Japan International Cooperation Agency (JICA).

"The project is one of the measures UNRA is undertaking towards reducing the traffic congestion within the Greater Kampala Metropolitan Area (GKMA) by reducing the number of conflict zones at selected junctions/ intersections within the Kampala City," UNRA acting Head of Public and Corporate Affairs Allan Ssempebwa told New Vision.

The head of Bridge and Structures at UNRA Engineer Lawrence Pario said the reasons for the Kampala Flyover project include among others, increased and improved road capacity, reduction of congestion arising from reduction of conflicts at intersections, improvement in the driving standards and improvement non-motorised transport.

He noted that over 25 companies of potential bidders of the project had expressed interest and are expected at UNRA today (Thursday) at 10:00 a.m to attend the site visita dn return completed bids before the end of October.

Pario noted that the road will have an underpass at Gaba road/Mukwano road Junction and that the current road will be maintained during the construction and UNRA will ensure there were minimal interruption to the traffic flow in the city.

At Nsambya hospital junction, a link will connect to Kibuli through the former Nsambya barracks. Pario also noted that other key works to be done on the road will include; construction of bridges and underpass construction, installation of traffic and security lights among others.

In its plans to decongest the city, UNRA recently announced it had started the Kampala Flyover Project which is a large scale multimillion dollar construction plan that will be constructed from Clock Tower to Kitgum House on Jinja through Mukwano road.

UNRA also plans to set up a Flyover between Africana junction to Kitgum house junction, flyover between Kitgum House junction to Mukwano road; Nsambya to Queensway, Yusuf Lule to Jinja road.