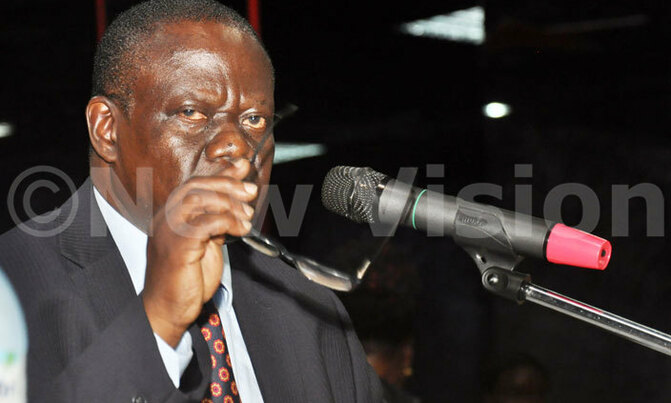 Prosecution alleges that the former works minister failed to comply with IGG's order to halt works by directing that it should proceed
Former Minister of Works and Transport, Abraham Byandala, has denied disobeying Inspector General of Government (IGG) directive, halting transactions relating to works on Mukono-Kyetume-Katosi Road.
Submitting that he had no case to answer, Byandala through his lawyer Nsubuga Mubiru on Wednesday morning told the Anti-Corruption Court presided over by Justice Lawrence Gidudu that Byandala never knew of the IGG's order.
According to Mubiru, prosecution could have called Byandala's secretary, a one Matilda, to confirm to court whether the IGG's order reached Byandala or not.
"There is no evidence in which a reasonable investigator could base on to have Byandala charged on disobedience of lawful orders when Matilda did not testify in court to confirm the same," Nsubuga argued.
Prosecution alleges that in a letter dated August 27, 2014 the former works minister failed to comply with the IGG's order to halt works on Katosi road by directing that it should proceed.
But Mubiru argued that Byandala wrote an internal memo to former Works State Minister John Byabagambi instructing him to make sure works continue before he left for China, a letter which was not copied to the IGG and UNRA.
"Byabagambi was aware of what was disclosed by Byandala but he did not act. The IGG's investigating officer neither interviewed nor called him as a witness to clarify on that position," he submitted.
According to Mubiru, charges of disobeying lawful orders would have stood, if Byabagambi had communicated Byandala's position to UNRA and IGG.
Byandala together with six others, are accused of embezzling sh24.7b meant for the upgrade of 72km Mukono- Katosi road from gravel to paved standard.
Others include UNRA officials Berunado Kimeze Ssebbugga, 54, Joe Ssemugooma, 54, Wilberforce Senjako, city businessman Apollo Senkeeto, 45, and Isaac Mugote, a former Housing Finance Bank official.
In regard to abuse of office, Mubiru argued that UNRA wrote to IGG, giving reasons why Katosi road works should proceed, showing how much government could lose if the contract was terminated but the IGG never responded to it.
He also submitted that Byandala wrote to UNRA, directing them to sign a contract between UNRA and Eutaw Construction Company Inc. after the Solicitor General had cleared it.
This, according to Mubiru, is not tantamount to abuse of office, as alleged by the IGG, adding that a prosecution witness earlier testified that it was normal for due diligence to proceed even after the contract has been signed and is fraud is detected then it could be terminated.
Also Norah Kaggwa, a lawyer representing Mugote submitted that it was untruthful on the part of witnesses who claimed that Mugote extracted emails confirming payment of advanced bank guarantee.
"Prosecution evidence against Mugote which is primarily computer based has largely been discredited and so it cannot sustain charges of conspiracy to defraud and abetting the offence of causing financial loss against Mugote," she argued.
It is said that Mugote, while performing his duties at Housing Finance Bank Ltd, Jinja branch, between November and December 2013, authorised the performance guarantee and advanced payment security as being authentic, whereas not.
She submitted the prosecution witnesses failed to answer questions in regard to authenticity of the email. "The emails relied on cannot be alleged to have been for Senkeeto and Mugote, since prosecution has failed to prove it".
Kaggwa further submitted that there was no audit to show of how much money was lost.
Meanwhile, Andrew Bwengye, the lawyer for Senjako submitted that the case is persecution rather than prosecution.
He argued that it was not Senjako responsibility to verify the authenticity of securities, as alleged by prosecution.
Prosecution alleges that Semugooma and Senjako between November 2013 and January 2014, in performance of their duties, omitted to properly verify performance guarantee and advanced payment security allegedly issued by Housing Finance Bank to Eutaw, knowing it would cause financial to government.
The case was adjourned to October 2, when prosecution is slated to respond to the defence team's submissions.