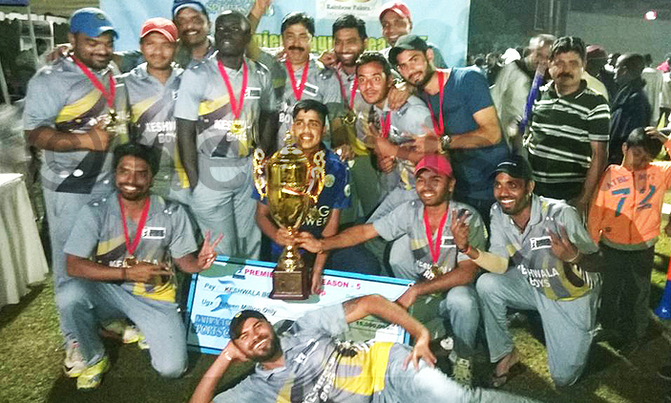 The winners were rewarded with a trophy and sh15m
KBSC Premier League Season 5 Rainbow Cup
The KBSC Premier League Season 5 Rainbow Cup is already behind us but it is quite hard to put the exciting memories in this particular night cricket showpiece behind us.
The experience was simply unforgettable!
Of course Keshwala Boys have all the bragging rights following a 7 wicket triumph against Cosmos Warriors on a rather cold Friday night at Lugogo Oval. The event ended Saturday when the trophies were handed out passed midnight.
"We showed our intent from day one. It always feels good to reap from your sweat and we have all the rights to celebrate" Lila Keshwala, captain of Keshwala Boys said.
Arun Singh stepped up on what would turn out to be the most important night for Lila Keshwala and co. His man of the match display (62 not out) ensured they won their maiden trophy. Afzal Sindhu's 4 wicket haul cannot go without mention.
Meanwhile as a matter of fact, the final pulled one of the biggest numbers in a single night sports event in Kampala.
"It's really crazy out here. I don't regret coming. I have just had one of the most exciting nights and I wish the tournament was longer" Sasha Clark one of the fans in the stands said.
The winners were rewarded with a trophy and sh15m while the runners up went home with sh8m. The event is no doubt the most rewarding contest in Ugandan cricket!
Cosmos' Usman Muhammad was a revelation in the contest, scoring from nothing and his highest score of 154 runs was unmatched. He accumulated 373 runs to emerge the best batsman in the tournament.
Similarly Haandi XI's Gurpreet Singh claimed 26 scalps at an economy of 3.7 to emerge the best bowler in the campaign.
Interestingly Ronak Patel had a total of 18 wickets and 236 runs with the highest score of 108, becoming the MVP in the T20 attraction.
In a more fun sense, members of the media took part in a 16 over recreational game against a KBSC XI where the former won by 28 runs in a memorable wrap up to the tournament which returns next year.
Results
Final: Cosmos Warriors 150/9 Keshwala Boys 154/3 (Keshwala Boys win by 7 wickets)
Best Batsman: Usman Muhammad
Best Bowler: Gurpreet Singh
MVP: Patel Ronak