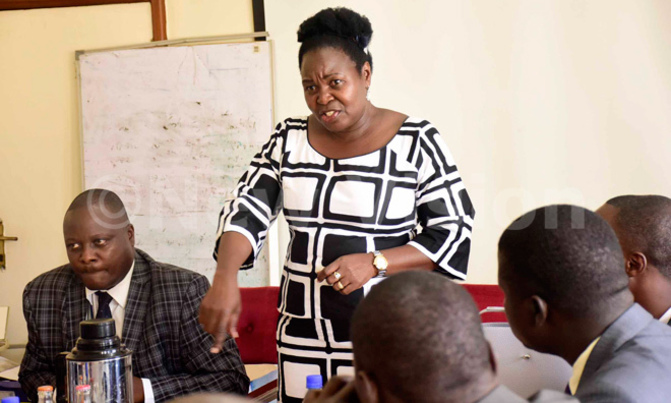 The over 20 liaison officers will liaise between ministries and the Office of the Prime Minister to ensure responses are delivered promptly on the floor of Parliament
Ruth Nankabirwa addressing the liaison officers at Parliament on Monday. Photo by Maria Wamala
CHIEF WHIP|PARLIAMENT
Government has appointed parliament liaison officers to assist ministers in making timely and quality statements on issues raised in parliament.

On several occasions, parliament has castigated cabinet/the executive for failing to respond to issues raised by legislators in a timely and satisfying manner.

Many government ministers have in the past suffered embarrassment when the statements they presented were challenged and rejected by parliament.

The Government Chief Whip Ruth Nankabirwa, while inducting the liaison officers today at parliament, said they would greatly help ministers in research and information gathering to enable them competently defend government and provide the necessary answers which cannot be questioned.

Nankabirwa expressed concern over statements that are pending presentation before Parliament by Cabinet Ministers, saying this portrays the Government in bad light.

"There is no reason why we should have such a huge backlog of statements because Members of Parliament raise issues expecting answers to take back to their voters," Nankabirwa said.