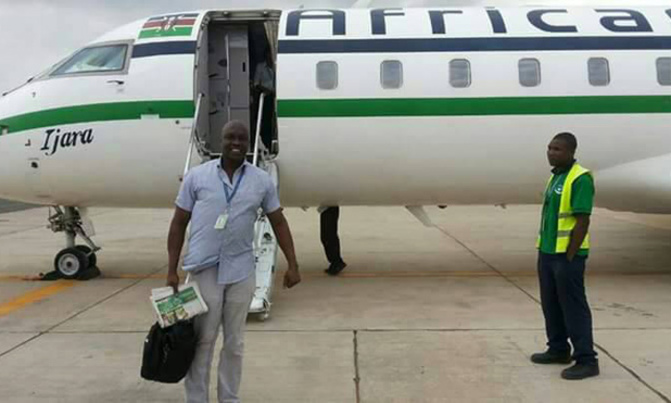 The African Express Airways is now flying passengers at a revolutionary rate.
The African Express Airways now operates on the Entebbe-Nairobi route

AVIATION

The African Express Airways has started flying the Entebbe-Nairobi/Nairobi-Entebbe routes for the first time since 1986.

This has been the most expensive route in the whole world for the distance covered.

The African Express Airways, represented by Blacklines Aviation (their general sales agent), is now flying passengers at a one-way revolutionary rate of US$99 inclusive of taxes, never offered on that route before.

The airway's chief executive officer (CEO) and managing director is Capt. Allan Katatumba, and Rugiirwa Katatumba is the chairman/commercial director.

Both are sons of the late Prof. Bonney Katatumba, a businessman and diplomat, who died earlier this year.
From left, Allan Katatumba, Rueben Gamero (director of operations) and Rugiirwa Katatumba

The development comes on the heels of President Yoweri Museveni's statements criticising major airliners on that route for taking advantage of Ugandans and the gap created by their lack of a national airline to charge the highest and most absurd rates for that distance.

African Express Airways will close this gap in the interim, pending Uganda Airlines' arrival into a fair competitive market.

It has been operating in the Kenyan capital Nairobi while stationing at Jomo Kenyatta International Airport.
Rugiirwa says they decided to start flying to Uganda to ease movement.

Their father was among the first black men in East Africa to own and operate an aircraft while he lived in Kenya.

The beginnings of African Express Airways date back to the 1980s when the founder used to hire aircraft from Prof. Bonney Katatumba.

African Express later purchased Katatumba's aircraft and proceeded to grow into the only fully African-owned major private airline in East Africa comprising a fleet of eight modern aircraft.