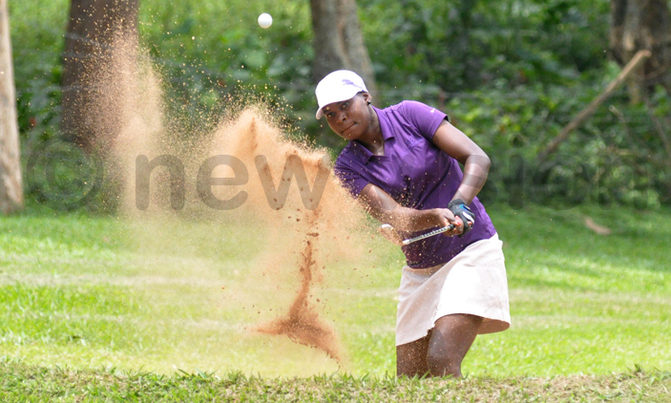 Despite putting up a poor show on day-two, the two time champion found herself on top
Angel Eaton is still in the lead despite a second round of 9-over-par 81. Photo by Michael Nsubuga
The battle for the Tusker Malt Lager Uganda Ladies Open Championship is between Uganda and Tanzanian golfers as the tournament comes to a climax on Saturday at the Uganda Golf Club course.
It is not the best golf we were looking forward to, but going into the final round of the 54-hole competition, Tanzania's Angel Eaton who led day one by a stroke is now joint top with fellow countryman Iddy Madina on 157 gross each after two rounds.
Despite putting up a poor show on day-two Eaton a two time champion found herself on top as the rest of the field and her rivals in the pressure group, also had a bad outing on the day.
"My game was not very good today, I had some bad time on the course, I couldn't putt and drive the ball very well today. But I'm hoping for the best tomorrow because my target was to win this competition but all the top players are playing well and it is challenging, but it is good to have such competition," Eaton who is coming off to winning the three-in-one Coastal Open in Tanzania said.
Uganda's charge is led by tournament favourite Irene Nakalembe who shares joint second place with the revelation of the tournament, Jinja Club's Martha Babirye on 158 gross each, one stroke of the leaders.
Babirye (handicap 10) who is rubbing shoulders with the region's best players for the first time hopes to control her nerves in the final round as she guns for her first major.
"This is my first time to play in the pressure group with players of such calibre, so I was nervous and couldn't putt well, but since I have had the experience, I will play my game because it is just one stroke separating us," Babirye stated.
Other Ugandans Meron Kyomugisha, Eva Magala and Gloria Mbaguta are 7 and 8 strokes off the leaders respectively.
Tanzania's Hawa Wanyeche who returned 90 on day-one carded the best score of the day, a four-over par 76 to propel herself among the top ten.
Day 2 Top 10
Iddy Madina (TZ) 77, 80 157
Angel Eaton (TZ) 76, 81 157
Irene Nakalembe (UG) 78, 80 158
Martha Babirye (UG) 77, 81 158
Agnes Nyakio (KE) 77, 82 159
Meron Kyomugisha (UG) 79, 85 164
Eva Magala (UG) 84, 81 165
Gloria Mbaguta (UG) 82, 83 165
Mercy Nyanchama (KE) 82, 83 165
Hawa Wanyeche (TZ) 90, 76 166