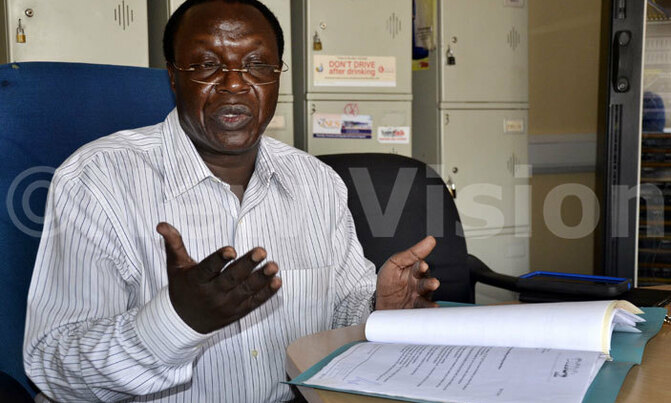 Businessman paid for two printers that were never delivered
A Ugandan businessman is crying foul after a German national fleeced him of 94,740 Euros (sh407m) in a botched printing machine purchase deal.
Christian Ssenabulya, the proprietor of St. Christian Graphics Limited located in Nsambya, Kampala, wired the money to Rolf Peter Mergell in February 2015 for procurement of two used printing machines.
But Mergell, who works with PM Graphisches Maschinen Contor UG based in German, never met his part of the bargain.
How it started
"I was introduced to Mergell by a Dutch friend and I travelled to Germany to inspect the machines he was selling in November 2014. One was a two-colour printer while the other was a four-colour printer. They were working and I felt it was better to buy used but running machines rather than those kept in the stores," explained Ssenabulya, who has been in the printing business for the last 27 years.
On returning to Kampala, Ssenabulya processed the money and wired it to Mergell so that he could in return ship the machines. But Mergell kept giving Ssenabulya empty promises until May 2015, when he (Mergell) committed himself to sending the printers in writing.
On July 29, 2015, however, Mergell sent Ssenabulya a letter claiming that his machines had been confiscated by the German revenue authorities. But Mergell, a resident of Schifferstadt 67105, Keltenstrasse 30 in German, did not give reasons for the alleged confiscation.
"That is when I realized that this man could have been lying all along. I contacted the Ministry of Foreign Affairs and sought their intervention. They contacted our embassy in German which crosschecked and found out that the machines had never been seized as Mergell had claimed," Ssenabulya narrated.
The Ugandan Ministry of Foreign Affairs in August 2015 contacted the German Embassy in Uganda about Ssenabulya's predicament, and the embassy advised Ssenabulya to hire a lawyer and sue Mergell. Ssenabulya also opened a case with the International Police (Interpol) against Mergell.
In a communication dated August 18, 2015 and tagged 'Note Verbale', the Embassy of the Federal Republic of Germany in Kampala regretted the case. "The Embassy unfortunately is not able to follow up in the case as requested. The Embassy would like to point out that the appropriate way of handling this case is for the mentioned company (Ssenabulya's) to mandate a lawyer in Germany who will then handle the case," it wrote.
In addition, the Germany Embassy suggested that the Foreign Affairs Ministry requests Uganda's Embassy in Berlin to assist Ssenabulya in identifying an appropriate lawyer.
A communication from Interpol Wiesbaden dated April 29, 2016, showed that Mergell had sold his company (PM Graphisches Maschinen Contor UG) to new management.
Matter in court
But with the help of Uganda's embassy in German, Ssenabulya subsequently got Prof. Dr. Nikolaus Schmidt, who filed a case of obtaining money by false pretence against Mergell in courts of law in Germany.
Mergell, who was represented by Closhen and Partner attorneys, later acknowledged that he owed Ssenabulya and opted for an out of court settlement. The case was before Judge Dr Gitzel at Frankenthal regional court.
According to a court judgement order dated January 12, 2017, a copy of which was sent to Ssenabulya, Mergell accepted to refund 70,000 Euros by March 15, 2017.
Although he accepted the money, Ssenabulya made a loss -Ssenabbulya paid Mergell 94,740 Euros but Mergell accepted to pay back only 70,000 Euros. Unfortunately, the date that court set as the deadline on which Mergell was supposed to pay the money (March 15, 2017) has since passed.
"I don't know what to do now. The lawyer I hired is asking for his legal fees yet Mergell has not even paid back a single coin," Ssenabulya said.
In a letter dated July 3, 2017, which was signed by Isaac Biruma Sebulime on behalf of the permanent secretary Ministry of Foreign Affairs, the ministry again requested Uganda's envoy to Berlin to assist Ssenabulya in recovering his money as per the judgement order. Attempts to get a comment from Mergell on why he has not adhered to the judgement order were futile.
According to Ssenabulya, Mergell has interfered with his retirement plans. "I had hoped to buy the machines to expand my business and become more competitive. I have lost a lot of opportunities because I cannot bid for some jobs. If you consider the opportunities and money I have lost, they are worth over sh1.4b. It is like I am starting all over again."
Located in Nsambya, Kampala, Ssenabulya noted that he was previously employing 20 people in his business, but he downsized his workforce to five people due to the problem.
Mergell has another case
This is not the only case of obtaining money by false pretence against Mergell. According to documents from Interpol Wiesbaden dated April 29, 2016, Mergell got another 58,500 Euros from another unnamed victim by false pretence.
Mergell had reportedly agreed to sell the victim a printing machine at 65,000 Euros between July 13, 2010 and March 20, 2011, but when the victim made a down payment of 58,500 Euros, he reportedly disappeared.