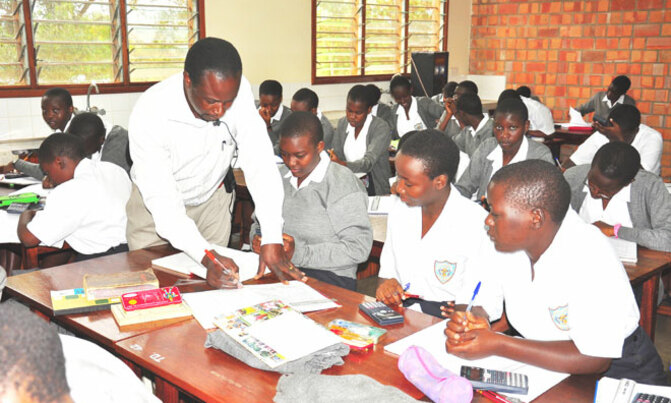 The SESEMAT programme aims to improve the performance of science subjects in secondary schools
National | Education
PIC: William Okor, a teacher at Mount St. Mary's College Namagunga, teaching a mathematics class

A total of 6,000 teachers have so far been trained under the Secondary Science and Mathematics Teachers' (SESEMAT) Programme since its initiation, the ministry has revealed.

The technical administrator of SESEMAT at the Ministry of Education, Gerald Muguluma, said the Government is focusing on improving the teaching and performance of science subjects at secondary school level.

"We have so far trained over 6,000 science and mathematics teachers, plus 300 trainers since the SESEMAT programme was established. The Government realised that there was need to change the attitude towards doing science subjects among students; that is why this programme was introduced," he noted.

Muguluma was speaking at the handover of a SESEMAT hostel at Kololo Secondary School in Kampala yesterday.

The three storied building cost sh2.5b and was funded by the Irish Government, through Irish-Aid.

Muguluma noted that since the SESEMAT programme started 12 years ago, there has been tremendous improvement in performance of sciences in secondary schools at all levels.

"Before the introduction of SESEMAT, only 10 of every 100 students were passing sciences. Today, the passing number has risen to 45. Many students used drop sciences for arts subjects, especially the girls. Today, sciences are compulsory and more girls take on the subjects and perform better than boys at A'level," he said.

He said the hostel will be used by teachers and the trainers. "We have been using as dormitories. They could only accommodate a few people and would, at times, disrupt students at Kololo. The new hostel can accommodate over 140 teachers," Muguluma noted.

While officiating at the event, the undersecretary of finance and administration at the education ministry, Aggrey Kibenge, said: "The SESEMAT programme is aimed at retooling and equipping our science teachers with new approaches and methods of teaching. Previously, it was more of theories and a few practicals to pass exams. Today, however, it is hands-on, so as to make it easy and attractive," he explained.

He said the advancement and development of any country in the world is seen through its technology and science innovations, the reason why the Government emphasises sciences.

Kibenge thanked the Ireland Government for its continued support to improve the quality of education, especially in Karamoja region.

He said the hostel will be directly supervised by the ministry to ensure it serves the purpose.

The head of Charge D'Affairs at the Embassy of Ireland, Aine Denise Doody, said her government is committed to promoting quality education in Uganda.

"We have been supporting infrastructure development and facilitating training of teachers to promote quality. We want to improve the learning environment to create motivation among children in doing sciences. The environment and methods used is key in science teaching," she noted.