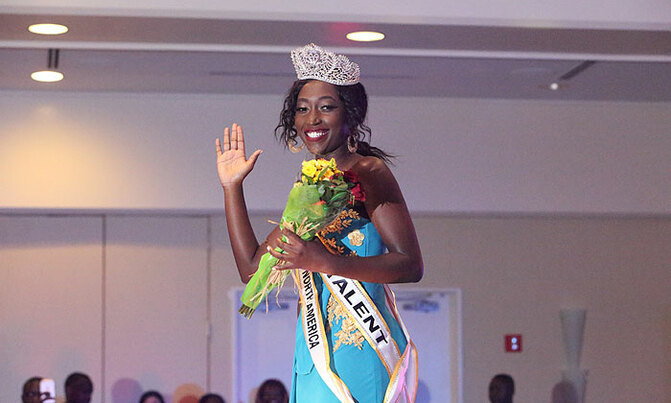 Yvonne Kushemererwa is the last beauty standing in the Miss Uganda North America 2017 pageant.
(Photo credit: Ronnie Mayanja)

BEAUTY PAGEANT

MIAMI - Yvonne Kushemererwa (pictured), a 25-year-old behavioral interventionist based in Vancouver, Canada, beat 11 contenders in a hotly contested race to be crowned the new Miss Uganda North America in six years.

The well-attended beauty pageant was held under the theme My beauty, my destiny on Friday.

It was the highlight of the 29th Uganda North American Association (UNAA) Convention that started Friday and ends Sunday at the luxurious InterContinental Hotel in Miami, Florida.

The annual UNAA Convention is North America's largest Ugandan social and business gathering, attracting hundreds of Ugandans and Ugandan well-wishers from across the world to discuss social, economic and political issues that affect them.

"I honestly never thought I would be here. Me? A girl from Kiruhura (western Uganda district) who used to sing to cows as a child being on this big stage? I am humbled and honoured to be Miss Uganda North America 2017," a visibly exhilarated Kushemererwa said shortly after she was crowned by Yvette Kibwika, Miss Uganda North America 2011.

Kushemererwa, who left Uganda in 2013 for Canada, worked as a presenter with Vision Group's XFM radio before her departure.
Kushemererwa was crowned by her predecessor Yvette Kibwika

Aida Doris Kinkufi Luswanga, 27, a multi-linguist who works as a translator for various immigration centres and is based in Madison, Wisconsin, USA, was the first runner-up.

Ratibah Ismail El-Gazzar, 26, a graduate of public health from Denver, Colorado, whose charismatic and charming personality had endeared her to the audience, was the second runner-up.
Aida Doris Kinkufi Luswanga models in an African print outfit

According to Tibba Murungi Kabugu, the event's head of operations and founder of Inzozi Fashion House (the event organisers), Kushemererwa will get a scholarship towards college expenses and leadership programmes from UNAA.

Together with the runners-up, she will also be doing a cultural, tourism and community building tour of Uganda in 2018.

"The event is a leadership programme," said Kabugu.

"The 12 contestants from across the United States of America and Canada each year are now inductees, and even though the main event is the beauty pageant, the leadership programme will last six months."

The other contestants were; Doreen Kazinduka (Bronx, New York, USA); Dorothy Leticia Nakibirige (Mankato, Minnesota, USA); Jennifer Lutalo (Centennial, Colorado, USA) and Juliet Chemisto Twalla (Hyattsville, Maryland, USA).

And: Phionah Nyangoma Klahn (Colorado Springs, Colorado, USA); Porshia Nakalanda (Los Angeles, California, USA); Priscilla Nankya (Los Angeles, California, USA); Ratibah Ismail El-Gazzar (Denver, Colorado, USA); Tekla Rudwin Nakazibwe (Los Angeles, California, USA); Tezira Khafswa Byabusha (New York City, New York, USA) and Yvonne Kushemererwa (Vancouver, British Columbia, Canada).

The girls were judged in four categories: talent show, swim and African print modeling and intelligence (question-and-answer session).
All the girls applied to the contest through the pageant's website and had three days of training before the competition.

Ugandan comedian Alex Muhangi and Ugandan Miami-based international model and Face of Ankara Miami, Adoch were the evening's MCs while singer Winnie Nwagi entertained the audience with her music.
How the pageant has evolved

Introduced to the UNAA convention in the early 2000, the Miss Uganda North America beauty pageant was last held at a UNAA convention in 2011.

"It was sidelined in the recent years in preference for a fashion show as UNAA strategized to give it more meaning," explains US-based Julius Kabugu the event coordinator, Miss Uganda North America.

"We needed it to add more purpose to the lives of the young women who participated and it has just taken a while in the works."

Kabugu adda: "But now UNAA has found serious partners who can give the pageant the value it deserves in organisers Inzozi Fashion House and Afrisent, creative design houses started by young empowered Ugandan women in Austin, Texas, USA."
A reveler tips singer Winnie Nwagi
Contestant Juliet Chemisto Twalla in African print outfit
Doreen Kazinduka showcases an African print outfit