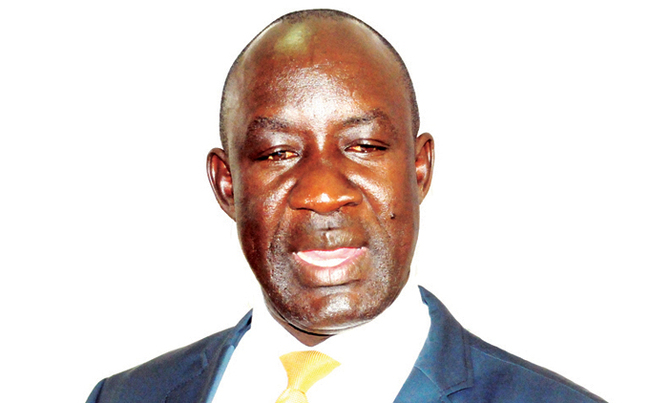 Government rapidly responded by dispatching inflatable boats, divers and relief food
Some districts in Bugisu, especially Sironko district have been hit by landslides. Recently, Elegu in Amuru district also faced massive flooding. The Minister of State for Relief, Disaster Preparedness and Refugees, Musa Ecweru, released a Government statement below explaining the state of floods, landslides and windstorm disaster in the country and mitigation actions taken
The second rain season has reached its peak in most parts of the country and heavy rainfall will continue upto about September 20, 2017. It has caused many destructive flooding in several low-lying parts of the country and landslides in the mountanious parts of the country. Destructive wind and hailstorms have ravaged plantations and crops across the country.
1.1 In Elegu town of Amuru district, one person was killed by the flooding of August 22, 2017 which is now subsiding. On August 24, 2017, a seven-year-old girl called Mariam Ithungu was killed when a landslide destroyed the parents' home in Kihoko village, Bupombli parish, Harugale sub-county in Bundibugyo district.
1.2 The situation in the Mt. Elgon sub-region is more worrying. On Sunday, August 27, 2017, landslides occurred destroying plantations and crops in three villages of Nabutsasi, Shikhuyu and Marobo in the sub-counties of Bulucheke and Bumayoka. You recall that the March 1, 2010 landslide occurred in these sub-counties, in Bududa district. There were no deaths and no injuries but 30 homes near the landslide site are at high risk. There is a widening long crack on the ground running across the two sub-counties.
1.3 In Sironko district, nine people are missing and one body of Topista Wanyenze has been recovered following a landslide of Monday, August 28, 2017, which occurred in Bulusasi village, Bufupa parish, Masaba sub-county. Those missing and feared dead include Ivan Wesamba, Akim Fungo Akim, Edwin Woniala, Jane Namono, Shedrick Wodeya, Sam Woyega, Michael Wolayngu, Oliver Nabuzale and Mika Gizamba. The landslide went into a steep valley which heavy earthmoving equipment (excavators) cannot easily reach.
Response actions by the Government and the community
1.4 In the case of Elegu floods, the Government rapidly responded by dispatching inflatable boats, divers and relief food (700 bags of 50kgs of rice, 100 bags of 100kgs of maize flour and 10 bags of 100kgs of beans). The situation has now greatly improved.
1.5 In the case of landslides, the Government Rescue and Emergency Officers from the Uganda Police Force lead by AIGP Joseph Mugisa have been on site in Sironko working with the community in an effort to recover bodies from deep in the valley, where the huge mass of mud and soil settled. A team of engineers from Ministry of Works have been dispatched to find ways of taking excavators down the steep valley.
1.6 Office of the Prime Minister has already delivered 50 metric tonnes (two trailers containing 500 bags of 100kgs of maize flour) to Sironko district for the survivors and those who have taken refuge in safe locations at their relatives, friends, Churches, Mosques and School buildings (now closed for holidays). Bududa district has received 30 metric tonnes (one trailer containing 300 bags of 100kgs of maize flour). More relief food and non-food commodities will be delivered to help our people who have taken refuge.
1.7 The killer flooding and landslides is not a new disaster in this country, you will recall on March 1, 2010 a landslide disaster in Bulambuli district claimed the lives of over 150 people and displaced over 5,000.
1.8 Cabinet then directed two solutions (1) resettlement of the survivors in part of the Refugee settlement land in Kiryandongo and two long term solution for those at risk of future landslides.
1.9 The 5,000 survivors were all transferred and resettled in Kiryandongo. The number of Bagisu from Bududa resettled in Kiryandongo, however, has now increased to 10,300 people as many others voluntarily followed on their own and settled alongside those brought to Kiryandongo by the Government. This is contrary to reports that most Bududa landslides survivors resettled in Kiryandongo have abandoned the place and gone back to their former homes in the risky steep slopes of Bududa because of alleged poor services.
1.10 The reality is that many of the Bududa men are polygamists having one family in Kiryandongo and another family in Bududa at the location where they were removed.
1.11 In 2011, a standing Cabinet subcommittee headed by Rt. Hon. First Deputy Prime Minister and Deputy Leader of Government Business in Parliament Gen. Moses Ali was appointed by Cabinet to establishe the population at high risk of landslides in the districts of Bududa, Sironko, Manafwa and Bulambuli.
1.12 The committee together with technical officers after three weeks of field work established that close to 100,000 people were at high risk of landslides and recommended their relocation to safer places, giving Bugisu sub region priority.
1.13 A 10-year resettlement project for the 100,000 people (12,500households) at risk of landslides was drawn and approved by Cabinet. It was entitled, 'Resettlement of landless persons and persons at risk of landslides.' The project was supposed to be implemented in a phased manner with on average 10,000 people each year.
1.14 The 12,500 households were each to be allocated 2.5 acres of land procured by the Government annually. The Government, therefore, planned to purchase 3,125 acres of land each year over a period of 10 years totalling 31,125 acres to complete the phased resettlement plan.
1.15 For each financial year, the Ministry of Finance is expected to allocate sh8b to cover both land purchase and resettlement (demarcate 800 plots of 2.5acres, build two-bedroomed houses, open roads, boreholes, health centres, schools, etc)
1.16 In the 2014/15 financial year, the Ministry of Finance, Planning and Economic Development released the first sh8b, but shortly after, there was massive famine in Karamoja and Teso, the Ministry of Finance authorised the Office of the Prime Minister to use the same funds for relief food as it could not find other funds to avert the famine situation of that year.
1.17 For FY 2015/16, the Ministry of Finance released another sh8b and the Office of The Prime Minister used it to procure 2,868 acres of land in Bulambuli district which will take 800 households (6,400 people at risk of landslides).
1.18 In 2017, due to budget constraints, the Ministry of Finance did not release funds to the 'Resettlement of landless persons and persons at risk of landslides project.
1.19 However, the following have been done with funds earlier released: (1) 2,868 acres of land have been purchased, (2) a settlement plan drawn, (3) 13kms of access roads opened, (4) 1,500 plots demarcated and (4) 1,619 beneficiaries registered. From Bududa (913), Sironko (305) and Bulambuli (401).
1.20 The resettlement programme temporarily stopped and currently there are no activities. The matter, however, was brought to the attention of His Excellency the President two weeks ago while meeting Members of Parliament from Elgon sub-region and he directed immediate re-instatement of the resettlement project. The Ministry of Finance is making arrangements for release of funds and once funds reach OPM, resettlement of the voluntarily registered households will begin
1.21 The Government regrets loss of lives and property due to landslides and flooding.
1.22 I appeal to the media, Members of Parliament from Bugisu sub-region, cultural leaders, opinion leaders and all persons in leadership positions to convince our people still keeping in their homes within the risky steep slopes to accept to relocate to homes of relatives, friends, churches, mosques and school buildings, as a temporary emergency safety measure. The Government will provide them with relief food while at those places of safety as it has done in the past. The above-normal rains are expected to subside within the next three weeks. That is, by September 20, 2017 and people can there after begin going back to their homes.
Writer is the Minister of State for Relief, Disaster Preparedness and Refugees