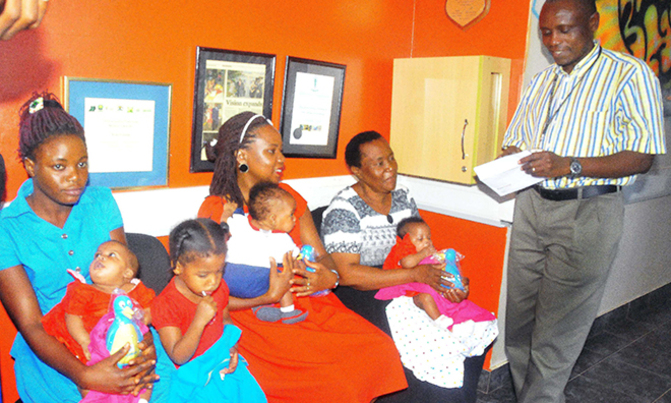 The twins festival, held at Kyadondo Rugby Grounds, Kampala on August 20, brought over 5,000 people.
The Vision Group has offered a shopping voucher to the youngest triplets at the Twins festival last weekend.

The triplicates include Samuel Katwebaze, Stephaney Kwanzi and Samather Kilirunga.

The voucher was handed over by Bukedde paper Geoffrey Kulubya on behalf of Vision Group to Dr. Suzan Mwesigye, the mother of the triplicates at Vision Group headquarters in Kampala.


Weekend deputy editor Hilary Bainemigisha giving gifts to triplets
"We would like thank you for your good gestures to have come with your children to participate in the twins festival. It was a great gesture though we did not sport you on that day at the event. I was told you left earlier before we would talk to you", said Kulubya.

The festival brought over 5,000 people to attend the festival in Kampala. The occasion was attended by Babirye Emilina and Christina Nakato who were the oldest twins who came all the way from Bamunanika in Luweero district.

Kulubya said although Dr. Mwesigye had left the function, New Vision team traced her and we say thank you for sharing with us this memorable day with other twins from all over the country.

The New Vision manager for the twins festival, Penlope Nankunda, said she was grateful to see that it was a pleasure that many people came to have the fun with twins.

She said the festival was supported by other partners like the Post Bank and Movit jelly.

Dr. Mwesigye said she has had always wanted to attend the festival before she even had twins.

"I prayed to God to get twins. I had to bring these twins as young as they are. I pray to you to God to bless twins."