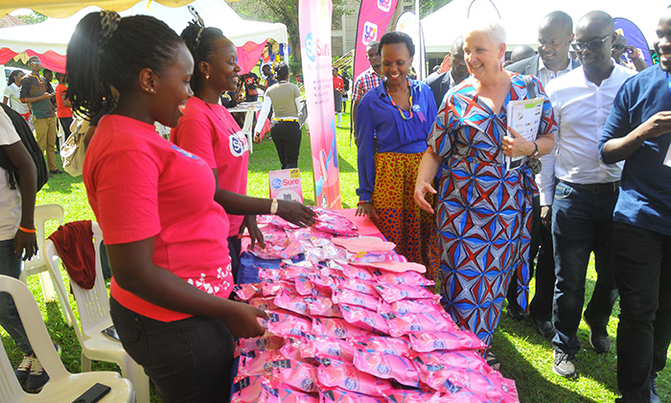 Malac commended Young African Leadership Initiative (YALI), launched four years ago, saying 99 youth were sent to the US for training.
Malac visiting some of the stalls by the youth. Photo by Wilfred Sanya
The US ambassador to Uganda, Deborah Malac, has asked the Government to implement and monitor policies set up to cater for youth participation in economic development

The envoy made the call recently while presiding over the 7th Youth Open Space Annual National Youth Festival at Makerere University in Kampala.

"Policies supporting the youth are well articulated on paper and show a great promise. However, their implementation is inadequate. Unemployment remains high, with corruption eroding the confidence in the government," Malac said.

She commended the Open Centre and it partners for rallying youth leaders to discuss issues affecting their generation.
MP Abbas Agaba greeting Rose Namayanja
Malac said the initiative is a demonstration of the positive role young people play as innovators, educators and citizens who care deeply about the future of their country.

"The US fully supports the youth of Uganda. The youth are at the core of everything we do here. We believe in your potential, creativity and energy to build the kind of country you want to live in," she noted.

Malac commended USAID'S Feed the future Youth involved in agriculture. She said careers in finance, marketing and Logistics that support agriculture, adds value to products, develop the economy and creates thousands of jobs.

She also commended Young African Leadership Initiative (YALI), launched four years ago. A total of 99 young people were sent to the US to train in civic leadership, public management, business and entrepreneurship.
Over 238 Ugandans have graduated at the YALI in Kenya. Malac cited one of the YALI graduates Simon Ojok, a beekeeper who lost his vision during the Lord's Resistance Army insurgency. Ojok won sh88m to train youth in beekeeping.

NRM national treasurer Rosemary Namayanja, encouraged the youth to pursue their goals.

She explained that she established the Rosemary Namayanja Foundation as a way of mentoring the young people in guidance when they are still youth.