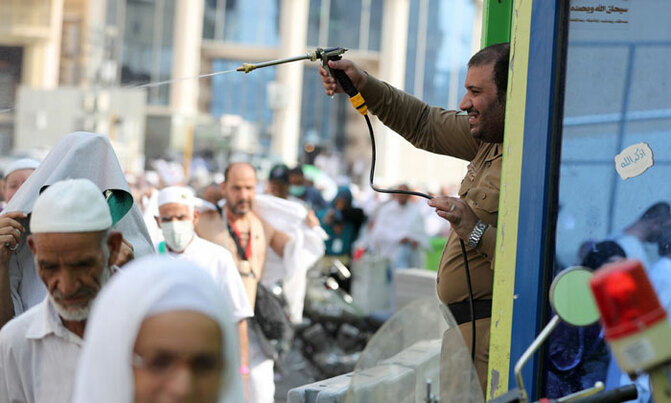 Tens of thousands of air-conditioned tents have been set up in Mina.
PIC: A Saudi policeman sprays Muslim pilgrims with water to cool them off near the Grand Mosque in the holy Saudi city of Mecca on Tuesday. (AFP)

The hajj pilgrimage, which starts at Islam's holiest sites in Saudi Arabia on Wednesday, is one of the world's largest annual gatherings.

Here are some figures illustrating its scale:

- More than two million pilgrims are taking part this year, according to official figures, compared to 1.86 million last year and just 24,000 in 1941.

- Some 221,000 Indonesians are currently in Mecca, the highest ever number from a foreign country, an Indonesian official told the Saudi Gazette newspaper.

- More than 100,000 security personnel have been mobilised to keep pilgrims safe, the Saudi interior ministry says.

- Some 17,000 civil defence employees backed by 3,000 vehicles are also helping with security.

- Thousands of security cameras have been set up along the pilgrimage route, according to a civil defence spokesman.

- Tens of thousands of air-conditioned tents have been set up in Mina, between Mount Arafat and Mecca, to house pilgrims.

- The Saudi Red Crescent has mobilised 2,468 employees and 500 volunteers, who will work with 326 ambulances and eight helicopters.

- More than 700 Saudi cooks have been recruited to feed the faithful, Arab News reported.

- Saudi Arabia hopes to welcome 30 million pilgrims annually in the kingdom by 2030, the Saudi Gazette said, up from the current 8 million. Muslims also flock to the country for the umra pilgrimage, which can be performed at any time of the year.

- Last year, 712,000 animals were slaughtered during the hajj, according to the pan-Arab Asharq Al-Awsat newspaper.