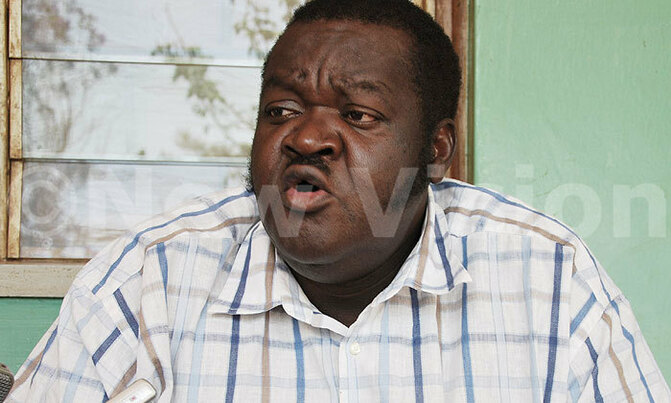 "I request that Ochora's family returns our late mother's watch and the two families meet and reconcile."
PIC: The late Col. Walter Ochora pictured here in 2011

REAL-LIFE | FAMILY

Recently, Sunday Vision's 'Our History' column on Obote's overthrow reported how Margaret Abonyo, the manager of Acholi Inn and a relative of Obote, was shot dead after being suspected of leaking coup plot details to the then regime. Now, Abonyo's daughter, Jackline Kia (pictured below), has come out to shed more light on the circumstances surrounding the death of her mother. She spoke to Carol Natukunda.
I was eight years old and in Primary Three at Ngetta Girls'. One morning as my mother, Margaret Abonyo, took me back to school, she told our headmistress to take care of me. "Sister Christine (Ataala), please keep my daughter well," mummy said and left.

I was in the boarding section.

Maybe she could read the signs of the day. There were bad relations between Acholi soldiers and the then president, Dr Apollo Milton Obote and his ethnic group, Langi. As a child, I did not make much sense out of this. So, when mama told the headmistress to take care of me, I thought it was just because of her protective instinct as a mother.

When I got my holidays, Sister Ataala took me to my grandmother's place. It is then that it dawned on me that mummy might have gotten into trouble.

People spoke in hushed tones about her whereabouts. Some thought that she was in hiding and would probably return. It was never to be. One day, as we were sun-drying sunflower seeds in granny's compound, someone came to tell us that there was a rumour that my mother had been killed about two months earlier.

Until her disappearance and death, mother had been the manager of Acholi Inn in Gulu.

A second cousin to president Obote, mother was also an intelligence officer — the reason that might have unknowingly earned her enemies. So, when the rumours of her death continued making rounds, our immediate family started looking for her body.

In my mind, however, I thought even though mummy was dead, she was going to come back. I did not fully understand the meaning of death, until one day when I saw a body floating on a stream. A bus driver had been killed and his body dumped there. I asked someone what would happen to the man after that.

The person I was with explained what death meant. That you do not come back to life.


Mother (pictured left) had left three of us: Ida, George and I. Our mother was our sole provider for we did not have a father. And now she was gone, just like that. This was July 1985. Luckily, a lot of people knew her. In fact, some soldiers were supportive and gave us leads as to where her body could be.

My relatives later traced the body to have been buried near the Sudan-Uganda border, at a place known as Atiak. One of my aunties stealthily travelled there to ascertain if indeed this was true. The grave was shallow. Together with neighbours and friends, they dug it up. Her shoes and clothes were still intact; she was the one! We later buried her at our ancestral home in Akokoro, Lira district.

WHAT HAPPENED?

As I grew older, I tried to dig deep and find out what might have actually happened leading to mummy's death. Is it possible that as an intelligence officer, she was privy to some information? Was it possible that she was killed because she was a relative of President Obote?

I kept asking myself. We learnt that weeks before her death, Brig. Bazillio Olara Okello, then one of the top army officers, had tried to get close to our mother and her sister Joyce Alaba in vain. It is said every time he passed by Acholi Inn, he would refer to them as royal ladies from the royal family of (Obote).

Some people thought that he was interested in a romantic relationship with my mother. But it was not true. He had for long wanted to get close to her for reasons best known to himself — maybe because he knew that she was related to the president. My family learnt that on the day she would be killed, mother had travelled to Kampala, when she suddenly remembered that she had forgotten a communication gadget at Acholi Inn.

The government had entrusted these gadgets to a handful of people. Mother decided to quickly travel back to get it.

That day, there was a meeting of some coup plotters at the inn. During that meeting, it is believed that the then army commander, Gen. Tito Okello Lutwa, who was an Acholi, okayed the coup against Obote. To that end, Bazillio would be in charge of organising the militias.

Perhaps they thought my mother had heard everything they were planning and was going to report them to the president. She was picked and killed. As a woman, I think she was brave given the killings that were taking place at the time to have gone back to pick the gadget. She deserves a national medal for having the heart to protect government property.

THE OCHORA FACTOR

Through several informants, we came to learn that my mother was killed by soldiers under the command of the late Col. Walter Ochora who was a soldier by then.

We believed this was true because Ochora had our mother's wrist watch which had her names engraved on it. Mother had won that watch as an award during a cooking competition held in Australia. Ochora kept on wearing our mother's watch and would come with it up to Lango until one day when some concerned people told him to stop wearing the watch as it evoked sad memories of those who knew my mother.

Sometime later on April 13, 2010, the late Ochora was appearing on a talk show on the Voice of Lango in Lira. He was talking about the issue of reconciliation between Langi and Acholi.

I called in and asked Ochora to reach out to my mother's family and ask for forgiveness. Ochora there and then on radio requested to meet me. The next day on April 14, 2010, with the help of an NRM cadre Abdu Olal Agaisaki, I met him at Lillian Towers Hotel in Lira town.

Ochora accepted to take up the blame over the killing of my mother and looting her property and asked for forgiveness. He admitted having my mother's watch and promised to hand it back. He said he was going to tell his wife to look for it.

He also recommended that we meet President Yoweri Museveni over my mother's death, once he (Ochora) returned from his scheduled trip from the UK. Unfortunately, he died soon after his trip. We never got to meet.

SEEKING JUSTICE

Our mother worked for the government and died on duty. For much of my adult life I tried to get compensation from the government in vain. Everything my mother had was looted. This included three cars, land plus a house in Kampala as well as another plot of land and a house in Gulu.

I tried to contact Omara Atubo when he was still minister but in vain. I later tried to talk to another minister, Sam Engola and he advised that I talk to the president.

In July 2015, I wrote a letter to President Yoweri Museveni and someone introduced me to him; and I had the privilege of handing over it to him at, during a rally in Kole.

He passed it on to his aides. I have not heard from him. I tried to follow him to Kanungu when he was campaigning for the 2016 general election. I never got the chance to see him.

I request that the family be compensated; that Ochora's family returns our late mother's watch and the two families meet and reconcile to relieve us of the mental anguish we have suffered over the last 32 years.