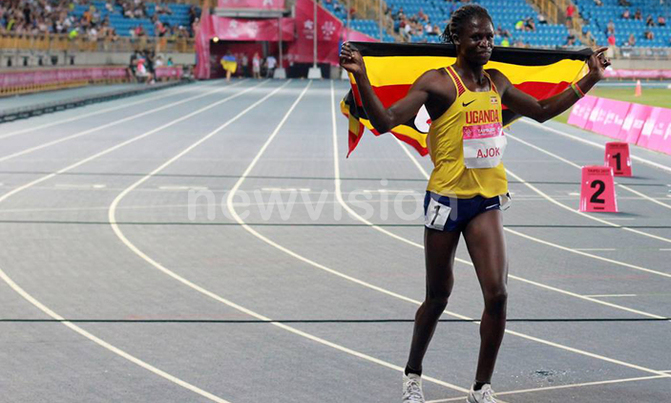 Ajok failed to defend the women's 1500m title
Results:

Basketball:

South Korea 90 Uganda 88

Athletics:

1500m (w)

T. Amela (SRB) 4:19.18

D. Ajok (UGA) 4:19.48

M. Kristiina (CZE) 4:20.65

Team Uganda will return home with three medals after Ndejje University pair of Dorcus Ajok and Sadic Bahati bagged gold, silver and bronze after six days of athletics at the 29th world University games that climax Tuesday.

Ajok failed to defend the women's 1500m title she won two years ago in South Korea, coming home in 4:19.48 behind Terzic Amela from Serbia who won gold in 4:19.18.

"I think it's been a great championship, I came from London unhappy but now I return home with two medals. Thank God," an excited Ajok.

10000m gold medalist Sadic Bahati failed to leave up to the billing finishing eighth in the Men's 5000m finals at the Taipei stadium. Bahati set a personal best 14:10.38.

"I wasn't myself in the last 1000m, I tried to kick but felt my legs too heavy...hmmm.... am still proud of my performance," Bahati.

On Friday, Ajok won Bronze in the Women's 800m while Bahati won the Men's 10000m with a personal best 29:08.68.

The last time Uganda won more than two medals at these games was in 2005 when Ndejje's Wilson Busenei Kipkemei won gold in the 5000m, 10000m and the Half Marathon in Izmir, Turkey.

In basketball, the script wasn't any different from two years ago were the ladies team finished 16 in Gwangju, South Korea. The Uganda Christian University dominated side was subjected to a 90 - 88 loss in the hands of South Korea for position 15th - 16th.

The games will climax today with the closing ceremony with Uganda is expected to return on 1st September.