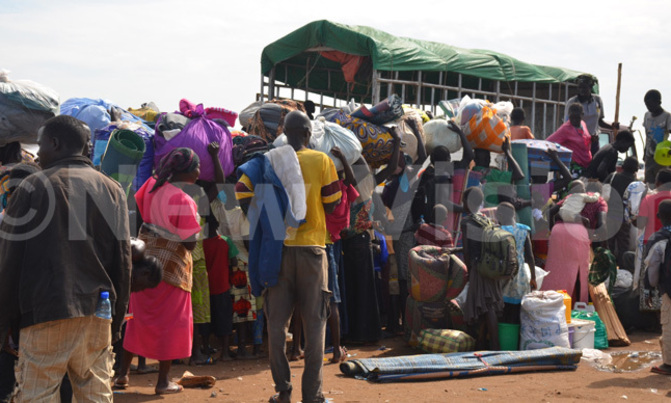 The high number of refugees is stretching resources in the host communities.
IMMIGRATION | REFUGEE CRISIS

The international community has so far raised $354m (over sh1.2 trillion) to support the emergency response for refugees in Uganda, a record of the disbursements reveals.

In June, Kampala hosted the Uganda Solidarity Summit on Refugees, attracting over 1,000 world leaders to drum up support for refugee programmes.

The two-day solidarity summit held at Speke Resort Munyonyo in Kampala was meant to showcase Uganda's much-acclaimed model of refugee management, protection and social integration.

At the heart of the meeting was a funding appeal for $2b (sh7 trillion) required by Government, the United Nations and partners to meet the needs of refugees over the four-year period.

Uganda is home to refugees from 13 countries. By far, the largest response comes from South Sudan, where fighting persists as numerous ceasefire agreements have been torn since war broke out in 2013.

Over two million South Sudanese have fled the country since then, following civil unrest resulting from a power struggle between President Salva Kiir and his former deputy, Riek Machar.

More than half (one million of them) are living in Uganda, 82% of them women and children, according to the United Nations High Commission for Refugees (UNHCR).

The high number of refugees is stretching resources in the host communities. In some districts, refugees outnumber the host community, leaving public services stretched.
Shot in the arm

As at Monday, Pledge Tracker, a mechanism for capturing all funding to the agencies after the solidarity summit, showed that a total of $354m has been released by donors.

Although lower than the target, UNHCR said the funding will help to strengthen the bonds between refugees and Ugandans, who live together side-by-side on land provided by local host communities.

"The contribution will also help to provide newly arrived refugees with core relief items including blankets, mattresses, kitchen sets and other key items," the agency said in a statement.

According to the agency, a sports stadium and market place in the districts of Adjumani and Moyo respectively, will be upgraded to benefit around 580,000 refugees and people in host communities.

This was after the government of Japan released $10m (sh35.9b) for South Sudanese refugees and Ugandan host communities in Northern Uganda.

"We are tremendously grateful to the people of Japan for their ongoing support to UNHCR and the refugee response," said UNHCR Representative to Uganda, Bornwell Kantande.

"This contribution will go a long way towards assisting some of the most vulnerable people in society with a life of dignity, while providing richly-deserved support to host communities in northern Uganda, who continue to generously welcome refugees with open arms."
The funding channelled through UNICEF will provide access to safe water, sanitation and hygiene and immunization services, reaching 160,000 people in the districts of Yumbe, Arua and Moyo.

Aida Girma, UNICEF Representative in Uganda, thanked the Government of Japan for the timely support.

With this contribution, which is the second received from the Government of Japan this year, WFP has purchased nearly 4,600 metric tons of food to reach one million refugees.

"WFP relies entirely on the voluntary support of governments and other donors to provide basic food assistance for refugees in Uganda every day," said WFP Country Director El Khidir Daloum.

"Every dollar we receive from donors contributes to saving the lives of refugees, the large majority of whom are women and children. We thank Japan for its commitment to addressing hunger."

Globally, Uganda is considered a model case in the handling of refugees. The country's refugee law grants them rights to documentation, social services, freedom of movement, work or business.

The National Development Plan II provides for specific interventions to improve their livelihood and create an enabling environment for refugees to live in safety, dignity and harmony.

A 2015 World Bank assessment found over 78% of respondents in refugee settlements were engaged in agriculture. They are also granted access to social services enjoyed by host communities.