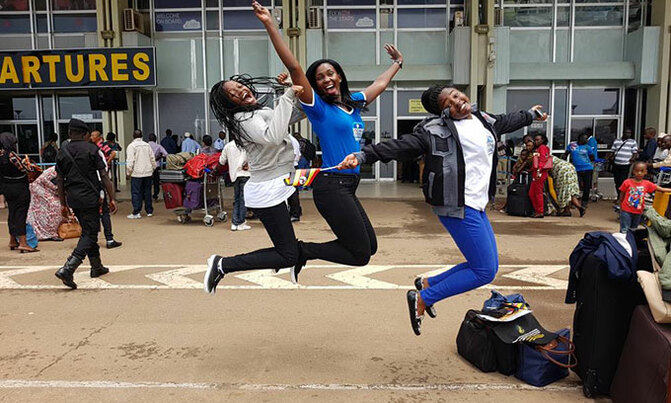 This is part of the top prize for emerging as the overall winners of the Stanbic Bank National Schools Championship 2017 competition.
Stanbic Bank Uganda (SBU) has flown off Tracy Arinda and Evelyne Mugisha, students of Mary Hill High School Mbarara from Western Uganda, for an educational all-expenses paid trip to South Africa.
This is part of the top prize for emerging as the overall winners of the Stanbic Bank National Schools Championship 2017 competition.
In partnership with the Ministry of Education and Sports, SBU launched the championship in February 2017. It saw over 3,000 students from 40 secondary schools participate in a series of educational activities ranging from class debates, quiz competitions and dynamic group projects.
While seeing off the winners, Daniel Ogong, Head of Marketing at Stanbic Bank Uganda said, "One of our core initiatives as Stanbic Bank is investing in education, with a strong belief that the development of any country begins with the proper education of its young people.
He said, "We trust that competitions such as these, among students, are one clear way to improve academic performance. This competition therefore aims to encourage and challenge the students in critical thinking and provide exposure to vast knowledge beyond the classroom."
Cathy Adengo, Head of Communications and CSI Stanbic Bank said, "Mary Hill High School managed to impress the judges and the audience with their 'Co-operative Union Project Proposal'- Bank Simulation Project that scored 83%. On top of an all-expenses paid trip to South Africa, part of the prize was a solar system for the school worth UGX20 million."
She suggested more schools participate in next year's competition.
The first runners up was the team of Kibuli SS from the Central region who walked away with an Apple iPad Air 2 each on top of winning a fully installed water system worth UGX10 million for the school.
The second runners up was Sacred Heart Girls' Secondary School from the Northern region, who won savings accounts worth UGX 1 million for each participant while the third runners up, Teso College Aloet Secondary School from the Eastern region, earned themselves a savings accounts worth UGX500,000 each.
About Stanbic Bank Uganda
Stanbic Bank Uganda is a member of the Standard Bank Group, Africa's largest bank by assets. Standard Bank Group reported total assets of R1,98 trillion (about USD128 billion) at 31 December 2015, while its market capitalisation was R184 billion (about USD11,8 billion).

The group has direct, on-the-ground representation in 20 African countries. Standard Bank Group has 1 221 branches and 8 815 ATMs in Africa, making it one of the largest banking networks on the continent. It provides global connections backed by deep insights into the countries where it operates.

Stanbic Bank Uganda provides the full spectrum of financial services. Its Corporate & Investment Banking division serves a wide range of requirements for banking, finance, trading, investment, risk management and advisory services. Corporate & Investment Banking delivers this comprehensive range of products and services relating to: investment banking; global markets; and global transactional products and services.
Stanbic Bank Uganda personal & business banking unit offers banking and other financial services to individuals and small-to-medium enterprises. This unit serves the increasing need among Africa's small business and individual customers for banking products that can meet their shifting expectations and growing wealth.
For further information go to www.stanbicbank.co.ug
Issued by WMC Africa on behalf of Stanbic Bank Uganda
For more information contact: Yona Namawa WMC Africa E Mail: yona@wmcafrica.com Mobile: +256 (0) 78 252 1215