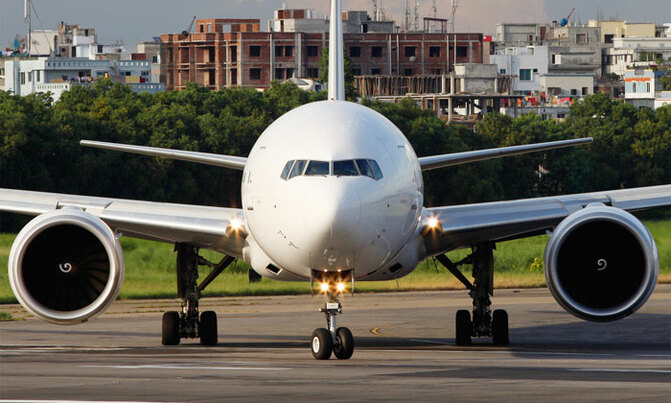 Vule Airways, a Ugandan registered airline, could be flying the giant of the skies soon.
PIC: The Biman Bangladesh Airlines Boeing 777 (Credit: AFP/Source: Wikimedia.org)

AVIATION

The Boeing 777 is one of the iconic passenger jetliners ruling the skies today.

It is a family of the world's largest long-range, wide-body twin-engine aircraft, and a Ugandan registered airline could be flying one soon.

Vule Airways, registered in Kampala in March this year, has applied to the Civil Aviation Authority (CAA) for a license to operate a B777-200 on scheduled and non-scheduled passenger and cargo services.

As per a notice published in New Vision on August 23, 2017, Vule Airways also intends to operate another one of Boeing's legendary aircraft: the B-737-700 and also a DHC8-200/400.

American aircraft manufacturer Boeing started the 777 programme in 1994, the first commercial aircraft designed entirely by computer, kicking off a new era of modern, wide-body passenger jets.

The aircraft can sit up to 280 passengers.
Kuwaiti civil aviation officials stand in front of the first Boeing 777-300ER ordered by Kuwait Airways after it landed at Kuwait International Airport on December 9, 2016, in Kuwait City

The beautiful B777 will not be entirely new at Entebbe International Airport. In 2015, Emirates replaced their Airbus A330-200 with the larger Boeing 777-200LR on the daily Dubai to Entebbe route, as passenger numbers surged.

Today, the Dubai-based global carrier is the only airline operating the aircraft to Uganda.

Before Air Uganda closed in 2014, the company operated far smaller aircraft compared to the B777 such as CRJ-200. The airline acquired aircraft on lease arrangement. Uganda Airlines, too, operated smaller aircraft before it closed in 2001, such as the B707 aircraft that crashed in Rome in 1988.

It is not yet clear whether Vule Airways will buy the new aircraft or just lease them, although the latter is the more likely option.

According to USA Today, a brand new 777-200ER costs $261.5 million (about sh939b). Yes, that's close to a billion shillings for a plane.

Will Vule Airways buy one or just lease one? The airline could not be reached for comment by the time of writing this.

However, these answers will become clearer when the airline defends her application before CAA on September 8.