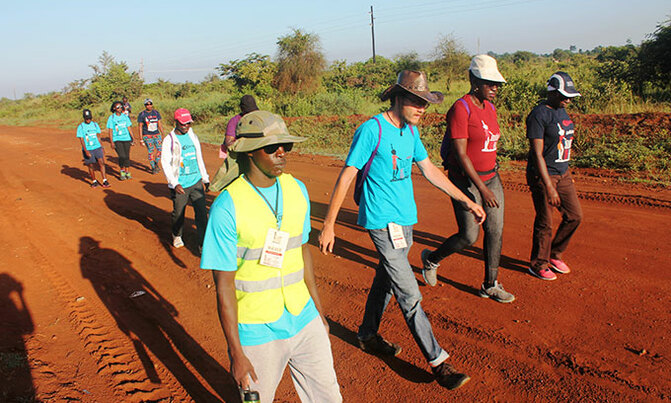 The organisation has for long supported the school with the support of its funders like the ICCO cooperation and Terre de homes.
See that Karamojong child, begging on the street, do not give him a cold shoulder, do not give him the go-by- he needs your help to get in school.

Termly fees in Karamoja costs less than you spend on a beer; a paltry shs 2000.

With that said, would you walk for 467kms to Karamoja if a friend suggested that it is a means of helping to get Karamojong children off the streets and placing them into school?

Would you after being given the low down and also bearing in mind that the Police does not budge people walking for good causes , agree and sign up as one of the people willing to change the status quo, given that many of those children end up being a nuisance and a shame to the nation.

It takes some willpower to walk for 467kms.
In all honesty, however nobody ever wants to see a child suffer in narrow circumstances; begging to survive and even worse; missing out on school.

For some people, walking those many kilometers would mean being away from the never ending high off the hog and vanity fair lifestyle that Kampala offers, so needless to say, they would demure.

Luckily however, you will always find many big hearted Ugandans out there, willing to bear a hand in good causes.

Case in point is the Journey of Hope walk initiative, an eventful initiative that concluded last week on Thursday.

Championing the Journey of Hope initiative which essentially aims at reversing the flow of child trafficking and unsafe migration from Karamoja was Rita Nkemba-the Founder of the Christian non-governmental organisation-Dwelling Places.

Nkemba and her Journey of Hope brawlers walked for 18 days, covering 444kms before they reached their last stop- Napak district in Karamoja.

By all accounts, Napak is where most street children on the streets of Kampala and other Ugandan urban centers emanate.

It made sense that the walkers designated the district as their last stop because besides championing the cause to reverse the cycle of child trafficking and unsafe migration from Karamoja, Dwelling Places also plans to construct a classroom block, teacher's quarters and a standard water harvesting system at the rural Lomaratoit Primary School.

The organisation has for long supported the school with the support of its funders like the ICCO cooperation and Terre de homes.

For good measure, there are also plans to build a secondary school in Iriiri sub county-Napak district.

Though it seemed unattainable to many at first, the walkers made light work of the Journey in the end.

Drenched to the skin with sweat and treading through gusts of dust principally on the penultimate leg of the walk (Soroti-Katakwi-Amuria), the walkers parleyed with people of all persuasions along the way, rescued children they met (8 in total), paid fees for those they met who had been chased from school, preached the gospel and taught chess to whoever showed interest.

Ugandan chess champion-Christine Namaganda and her team of players were at the forefront in teaching chess and to all appearances, they had a whale of a time.

The watershed was of course her teaching chess to some Karamojong food traders in the boisterous Iriiri trading center in Napak.

Wearing and walking in a blue tee's clearly emblazoned with the words-Journey of Hope and carrying the Ugandan flag however, had some people mistakenly referring to the walkers as FDC acolytes.

On the Tirinyi road stretch, walkers silently endured as isolated groups of people shouted-One Uganda! One people.


"Anti-climatic as it was, our Journey of Hope publicity teams went out of their way to bring them to terms with what the initiative stood for," states Sanyu Roberts, one of the walkers.

The Journey of Hope set objectives

The Journey of Hope's set objective was to sustainably empower street-connected children, their families and communities.

It was organised to raise awareness and funds to help address the challenges of street-connected children in Kampala and other towns.
It took place from the 31st July to the 17th of August 2017.

On the 18th of August, the Journey of Hope organising team launched 100 days of resource mobilization to raise USD 1.0 Million dollars towards several infrastructure, policy and program solutions to decisively address the challenges of street-connected children in Uganda.