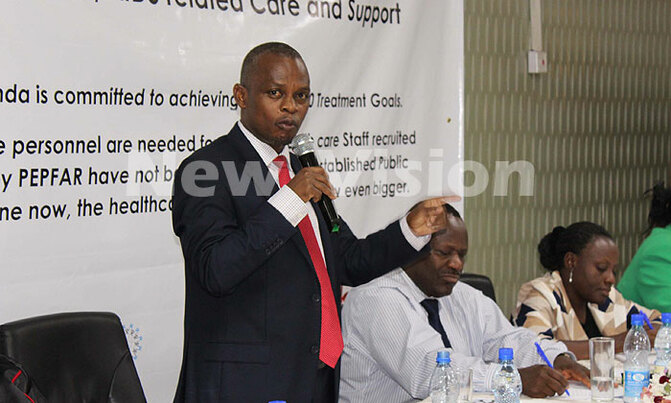 Uganda currently has a human resource gap of over 25,000 healthcare workers.
PIC: Dr. Vincent Oketcho, the Chief of Party for USAID/Strengthening Human Resources for Health, makes a case for the absorption of PEPFAR-funded health workers. (Credit: Elvis Basudde)

HEALTH

Civil Society Organizations and Service beneficiaries have decried the low absorption of PEPFAR-funded healthcare workers, saying Uganda is at risk of losing critical, well-trained and committed health workers if government doesn't regularize already-trained PEPFAR-supported staff.

Uganda currently has a human resource gap of over 25,000 healthcare workers.

At a high level stakeholder's dialogue meeting held in Kampala, service beneficiaries emphasized the urgent need to absorb the PEPFAR-funded health workers in the government system else the gains made in the fight against HIV would be lost.

The meeting was organized by the Ministry of Health in partnership with the International Community of Women living with HIV Eastern Africa (ICWEA) and supported by USAID/PATH/Advocacy for Better Health (ABH).

The US President's Emergency Plan for AIDS Relief (PEPFAR), through partnership with Uganda, complements the Ugandan government's effort in addressing the Human Resources for Health (HRH) shortage as a key partner in the fight against HIV/AIDS in Uganda.

The support was aimed at scaling up HIV/AIDS prevention, care and treatment interventions in light of the rising HIV prevalence in the country.

PEPFAR, through its implementing partners in Uganda, supported the recruitment of health workers especially medical officers, pharmacists, dispensers, clinical officers, laboratory technologists, laboratory technicians, laboratory assistants, enrolled nurses, and enrolled midwives for regional referral hospitals, general hospitals and health centre IIIs and IVs.

Health workers recruited under this support were contracted by the implementing partners and seconded to identified hospitals and health centers. The contract was for one year with a provision for extension to two years subject to availability of funds and performances of the health workers (District Service Commissions of Uganda/PEPFAR Human Rights for Health recruitment support districts).

According to reports from Ministry of Health, out of 2,677 contracted staff, 637 have been absorbed. As many as 1,458 are not absorbed but are still working as contract staff and 513 have left.

Sixty-eight contract staff belong to a category of health workers who are not in the government structure as of July 2017 but critical in HIV response. Only 23% have so far been absorbed and yet 65 out of the 117 districts in Uganda are still below 75% of staffing levels.

During the meeting, the Executive Director for the International Community of Women living with HIV Eastern Africa (ICWEA), Lillian Mworeko, suggested that there was no need for the PEPFAR-funded staff to go through the recruitment process because they passed through the same process before they were recruited.

"They just needed to be regularized. Ministry of Health should make performance appraisal of the non-absorbed PEPFAR-funded staff and produce a report which will inform the process for regularizing them," she said.

Dr. Vincent Oketcho, the Chief of Party for USAID/Strengthening Human Resources for Health, explained that the number of health workers per 1,000 populations in Uganda is still far below the World Health Organization threshold of 2.28 doctors, nurses and midwives per 1,000 populations.
Lillian Mworeko, Executive Director of International Community of women living with HIV Eastern Africa, speaking during the meeting. (Credit: Elvis Basudde)


While giving the human resources for health statistics, Oketcho said that in the 2015/2016 financial year, the number of doctors, nurses and midwives per 1,000 population was 0.74/1,000, of which doctors were 0.33/1,000, midwives 0.25/1.000 and nurses 0.46/ 1,000.

Central level health (public) institutions are better staffed (74%) than at local government level. However, local governments have registered a marginal increase in staffing level from 68% in 2014/15 to 70% in 2015/16, while there was a decline in staffing level at central level, from 77% in 2014/ 15 to 74% in 2015/16.

Oketcho regretted that staffing at the regional referral hospitals has fallen dramatically from 79% in 2014/15 to 69% in 2015/16. One main reason for the decline is massive retirement of health workers that is not backed by timely replacement recruitment. The regional referral hospitals with the most severe shortage are Moroto (56%), Soroti (56%) and Hoima (59%) (Annual health sector performance report FY 2015/16).

Overall, the total number of clinical officers and laboratory cadres appears adequate relative to the Health Sector Development Plan targets, although these numbers may be skewed towards the larger health facilities, noted Oketcho.

According to the Second National Development Plan 2015/16-2019/20 (NDP11), of the essential cadres required to deliver the reproductive, maternal, newborn and healthcare (RMNCAH) package, the cadres who are severely short in number include theatre assistants (57%), doctors (49%), pharmacists (40%), dispensers (40%) and aesthetic officers (27%). This shortage makes the health sector run short of the HSDP target of achieving 80% staffing level by 2019/20.

Results from the short study by PATH/Advocacy for Better Health (ABH), indicate that the major limitation to filling the staffing gaps in both public and Private Not for Profit sector is inadequate wage bill for districts to recruit health workers.

This has limited the recruitment of new health workers especially in local governments as most of them (LGs) are understaffed because they do not have funds to recruit or fill the vacant positions. As much as sh61bn is required in the next three years for the local government to hire and recruit the required health workers. However, the projected health sector budget shows that it is unlikely the required funds will be available.

Other commonly cited factors include: limited capacity for systematic human resources for health planning and inadequate advocacy for wage and human resources for Health support, limited capacity to attract and retain qualified staff, difficult working conditions (e.g. no accommodation), inadequate social amenities, inadequate supply of some priority health cadres, poor quality of graduates affecting their employability, unattractive compensation (PHN, Anestthetist, Dispensers), limited capacity of some districts to recruit; and dynamics in the labor market - rapid private sector growth causing variation in terms and conditions of service.

Other barriers are use of outdated structure in health sector staff recruitment, employment opportunities are for "son/daughter of the soil" phenomenon (it was reported that in some districts, if there are vacant positions, they cannot be filled with contracted staff unless they are sons/daughters of the soil), poor social services in rural areas, lengthy recruitment processes at district and national level etc.

Ronald Segawa, the undersecretary from the health ministry, explained that the issue of human resources for health had been discussed at the ministry and particularly at health policy advisory committee level but the solution has never been found.

Segawa noted that there was need to examine what has not been done well and fix it. He explained that MFPED has always requested the health ministry for wage requirements that are well-defined, well-costed and with clear justification but the process has taken much longer time than expected, meaning something was not done as expected.

The meeting ended by forming taskforce/team members to follow up with the recommendations of the meeting.

The membership included the Ministry of Health, Ministry of Public Service; MOFPED, Ministry of Local Government, Ministry of Gender Labour and Social Development, Health Service Commission among others.

The committee that would be chaired by the Ministry of Health was tasked, among others, to map out the PEPFAR-funded staff including location, numbers and qualification, and secondly to develop a detailed and costed absorption plan for PEPFAR-funded and contract staff.