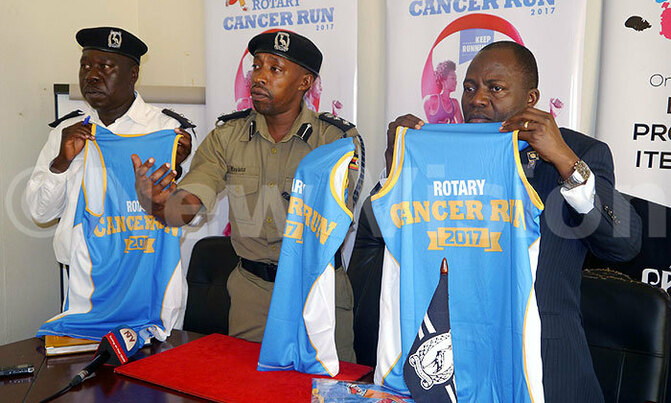 The Cancer Run is this Sunday.
PIC: Rotarian Stephen Mwanje (right), Kampala Metropolitan Police spokesperson Emilian Kayima and Deputy Traffic Commander Israel Wambesyo (left) unveil the kits to be used at the Cancer Run this weekend during a press conference at CPS. (Credit: David Namunyala)

ROTARY CANCER RUN

When: This Sunday (August 27)

Fee: sh20,000

KAMPALA - This year's Rotary Cancer Run will happen at the same time in 31 major towns, including Kampala.

And with only five days to go, Jude Color Solution have encouraged Ugandans to kick out cancer by supporting the charity run scheduled for this Sunday.

"Like any other contributors and sponsors we have contributed towards this event so that we can save life in Uganda," the company's sales team leader Madrine Nabatanzi told a press conference at the Central Police Station on Tuesday.

She later handed over a cheque of sh4m to the Uganda Rotary Cancer Programme chairman Stephen Mwanje.

"Our contribution towards the run is meant to send a message to other companies and individual to come out strongly and join hands in fighting cancer," said Nabatanzi.
Jude Color Solution's sales manager Madrine Nabatanzi (right) hands over a dummy cheque of sh4m to Rotarian Stephen Mwanje as Police's Emilian Kayima looks on. (Credit: David Namunyala)

The Kampala edition is scheduled to start and end at the Kololo Ceremonial Grounds and according to Mwanje, they will host the run countrywide at the same time.

They are looking to collect shs3.6b from the run which will be used to build a bunker at Nsambya Hospital.

"If we have our own bunker here in Uganda, our sick relatives and friends will not have to spend more on transport and treatment in India, Kenya or South Africa," he told reporters.

The proceeds from the previous runs were directed towards building a cancer treatment centre at Nsambya Hospital, a Rotary Blood Bank at Mengo Hospital and buying a Linear Accelerator, which came to fruition.

At the press briefing, Kampala Metropolitan police spokesperson Emilian Kayima and the Deputy traffic police commander Israel Wambesyo also assured runners of safety on Sunday.

"We will make sure that there is safety of all participants and we urge everyone to also maintain peace on D-day," said Kayima.

Tickets for the run are on sale at Centenary Bank branches, Game Stores, Café Javas, and all Capital Shoppers branches.

Contributors towards the run include;

Centenary Bank, sh130m

Members of Parliament, sh449m

Isuzu Motors, sh10m

Bank of Uganda, sh5m

Professional Engineering Consultants, sh5m

Goldstar Insurance LTD, sh5m

Jude Color Solution's, sh4m