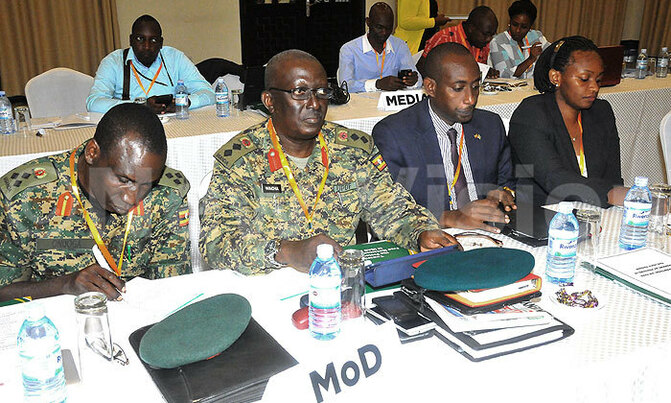 "One of the core ambitions of IGAD was to enable migration."
PIC: A cross-section of delegates attending an IGAD meeting on free movement of people at Entebbe. (Credit: Wilfred Sanya)

REGIONAL COOPERATION

The Intergovernmental Authority on Development (IGAD) began Monday a consultative process within member states which is expected to lead to a pact that will enable free movement of people in the region.

According to the IGAD secretary general, Amb. Mahboub Maalim, when the body was established on January 16, 1986, one of its core objectives was to enable free movement of people among member states.

"One of the core ambitions of IGAD was to enable migration. Unfortunately we have been dogged by many challenges such as internal conflicts in member states. We were thus forced to focus on priority areas such as peace, security and disaster management," he said.

He added that regional co-operation has been vital in solving conflicts in Somalia and South Sudan, citing Uganda's contribution as key in stabilising both nations.

"Migration is not about to stop anywhere. People cross borders every minute. It is unfortunate that many of the migrants dying in the Mediterranean Sea are from the IGAD region, yet we could have worked out a mechanism to help them by easing intra-migration. And that is why the entire world is concerned about migration," said Maalim.

The three-day consultative meeting (August 21-23) dubbed The Protocol on Free Movement of Persons in the IGAD Region, brings together key players in the migration sector, including civil society, academia, private sector, the media, the Police, the military, and the ministries of health, internal affairs and foreign affairs.
IGAD secretary general, Amb. Mahboub Maalim (left) and Uganda's state minister for regional cooperation Philemon Mateke

The stakeholders are expected to give their views on free movement of persons and recommend a way forward on the subject.

The IGAD team is also expected to visit the border towns of Malaba and Busia to meet with migration officials and other stakeholders about the general landscape of migration. They intend to study on reducing barriers and expose the benefits of free movement of persons in the region.

Uganda's state minister for regional cooperation Philemon Mateke, who opened the meeting at Premier Best Western Garden Hotel in Entebbe, said Uganda joined IGAD to foster regional co-operation and it welcomes the idea of free movement as enshrined in the 1991 Abuja Protocol, establishing the African Economic Community.

"We shall borrow experiences from the East African Community that has to some extent succeeded in establishing free movement of persons and a customs union. There are also great lessons from the Economic Community of West African states (ECOWAS) as stated in the ECOWAS protocol of 1997 and the 1998 COMESA protocol on free movement of persons," the minister said.

Mateke called on IGAD member states to promptly pay their contributions to the regional body and not default, adding that free movement of persons will create more opportunities for the citizens of the region and enhance trade and investment among member states.

Meanwhile, Maalim said the consultations are expected to last until June next year. He said they are going to first have to interact with all member states before giving a final stand on the findings. Uganda was their first stop, from where they will proceed to other member states.
From left, Acting director of social development at IGAD Fathia Alwan, Amb. Mahboub Maalim and state minister Philemon Mateke

IGAD was established in 1996.

It succeeded the earlier Intergovernmental Authority on Drought and Development (IGADD), a multinational body founded in 1986 by Djibouti, Ethiopia, Somalia, Sudan, Uganda and Kenya, with a focus on development and environmental control.

IGADD's headquarters were later moved to Djibouti, following an agreement signed in January 1986 by the member states. Eritrea joined the organization in 1993, upon achieving independence.

Refugees and pastoralists

Uganda is already burdened with an almost full-blown refugee crisis as the IGAD region faces multi-faceted migratory patterns and member states are home to internal displacements and refugees.

Uganda hosts an estimateD 1.3 million refugees as by the end of June 2017, mostly from South Sudan after violence erupted in the world's youngest nation in December 2013.

The Burundi crisis has also resulted to major refugee influxes. Approximately 190,000 Congolese refugees are hosted in south west and mid-western Uganda.

The protocol, therefore, intends to protect the freedom of refugees and pastoralists due to their seasonal mobility and climate variability.

Funding

IGAD has received a grant from the EU emergency Trust Fund with the intention of facilitating the establishment of a free movement regime within the IGAD region.

It is aimed at promoting the regularization of the high volume of informal movement and increase opportunities for legal mobility.