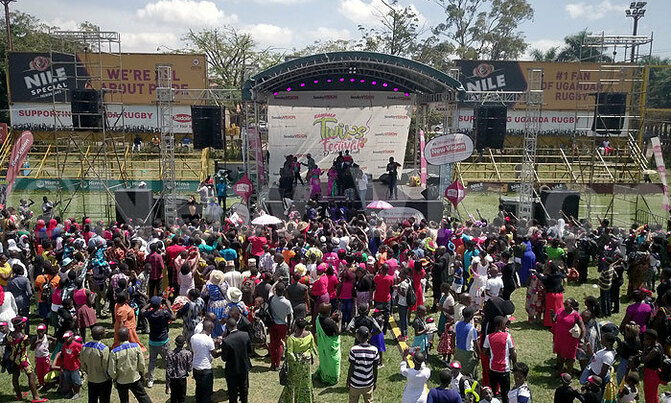 Pairs of twins of all ages are soaking in as much fun as they can at the ongoing Kampala Twins Festival at Kyadondo.
ENTERTAINMENT

WHAT : 2017 Kampala Twins Festival

VENUE : Kyadondo Rugby Club, Kampala

WHEN : Today (Sunday, August 20)

ENTRY FEE : Sh10, 000

TIME : Gates are open

_____________________________________________

KAMPALA - Two by two, twins of all ages are making their way through the gates of Kyadondo Rugby Club at Lugogo for yet another day of fun, a day of double love, a day of pairs.

The 2017 edition of the Kampala Twins Festival is on!

Ahead of the official 10am time for gate opening, there were already long lines of twins waiting patiently to make their way in.

There is a kids play area, bouncing castle, face painting, candy machine, outdoor games, entertainment as well as a photo booth. It cannot get any better than this, can it?

And today's special entertainment is featuring some of your favorite musicians including Rema Namakula, Mun G and B2C.
It's a huge turnout at Kyadondo on a warm Sunday early afternoon. Better slap on your shoes and head straight to Lugogo. Oh, and an umbrella could be of help!
Uganda's oldest twins Babirye Emirina and Nakato Christine have not missed out too.
Three beautiful princesses. They don't need tiaras to emphasize their cuteness.
Being twins doesn't mean you must have the same taste of colour. And you both don't have to carry a handbag. Call it being different when you are DNA-similar.

Looking neat and fly there young ladies!
Expect a number of eating points where you can grab yourself a snack or two.
There is a good security presence at the venue.
They sure have come in twos.
There is plenty of fun stuff to dig into. Not many people get a chance to ride atop a camel . . . especially together with their twin sibling.
_____________________________________________



Around the cyber . . .
Same Rank twins

From the UPDF, meet Kato Naboth and Kakuru Moses, 40 year old corporals from Mbuya Barracks. #Twins2017 #UgandaTwins pic.twitter.com/FHoNgqjOq4

— New Vision UGANDA (@newvisionwire) August 20, 2017
#Twins2017 #UgandaTwins [PHOTOS]: Kampala Twins Festival 'Kids play area, Bouncing Castle, Face painting'

VENUE: Kyadondo Rugby Club pic.twitter.com/DsbIcL6Je4

— The Sunday Vision (@thesundayvision) August 20, 2017
#Twins2017 #UgandaTwins: HAPPENING NOW - @postbankug cash machine challenge on stage!

Cc. @newvisionwire @JoeKats1 @hbatuuka @Penkunda pic.twitter.com/RU1gxBbGCK

— The Sunday Vision (@thesundayvision) August 20, 2017

Meanwhile, on the eve of the much-anticipated event, preparations were in high gear to plug all the round pegs into the round holes and the square ones into their respective square holes.

Want to see how the committed teams got down to some stage-setting work? Go over here.