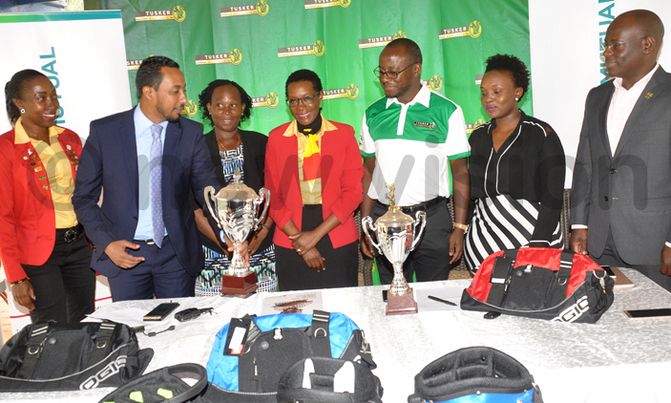 With the absence of Namakula last year's runner up Irene Nakalembe will lead the charge
Uganda lady golfers will have to be at their best to stand any chance of winning the Tusker Malt Uganda Ladies Open slated for September 7-9 at Kitante.
A strong field of foreign competitors including two-time winner Tanzanian golfer Angel Eaton are headed to Kampala to challenge for the now vacant title which was last won by Flavia Namakula last year.
With the absence of Namakula last year's runner up Irene Nakalembe will lead the charge for Ugandan ladies as they come up against golfers from six foreign countries in the 64th edition of the tournament.
Uganda Ladies Golf Union president Maxi Byenkya told a press conference at Kitante, Wednesday that they expect close to 150 players both in the main and subsidiary events of the ladies annual event.
She said the main event will have 75 competitors from Uganda, Kenya, Tanzania, Rwanda, Zambia, Zimbabwe and 13 from Nigeria who had confirmed their participation.
"We expect very stiff competition this with the like of Tanzania's Angel Eaton, Hussein Madina, Hawa Wanyeche, Aine Magombe and Vicky Elias all having confirmed participation," Byenkya said.
"From Kenya we expect Mercy Nyanchama and Agnes Nyakio, as well as Zimbabwe's Loyce Chingono; these are all good players who will give our locals good competition, so we hope everyone who participates enjoys the competition," Byenkya stated.
Tournament Director Innocent Kihika said the event which will be laced with side bets like the nearest and putting competitions will tee off with a practice round on September 6.
"The men in the subsidiary event of Groups A and C will join the field on day-2 while those in Group B will join on day-3. We expect an exciting and successful open in the one-moth golfing bonanza," Kihika noted.
UAP-Old Mutual business development manager Dogo Singh, one of the co-sponsors of the event said the tournament has the potential to become international the reason they came on board to make it a success.
Grace Namutebi the Brand Manager premium brands, UBL, said they were working with the UGU to ensure a flawless tournament.
"The kit for the event will be ready by next week and we thank UAP for coming on board and encourage others to join us. As UBL we shall continue to work with UGU to grow the sport," Namutebi noted.