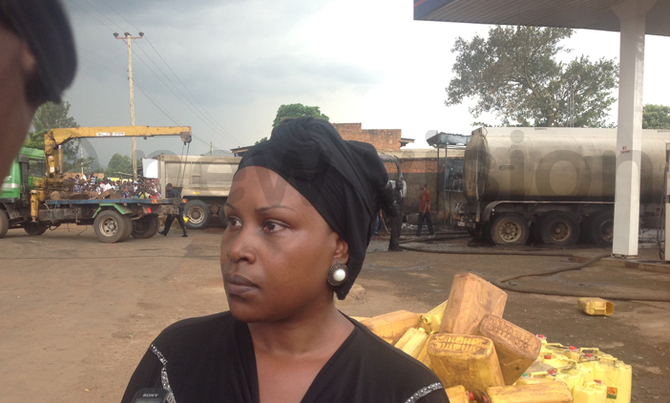 Three cars were destroyed in the inferno
Fire on Tuesday gutted Net Gas fuel station that is located along Mbale-Soroti highway in Namunsi village just four kilometres from Mbale town.
The fire outbreak started at about 12:30pm and it took Police over two hours to put out the fire that was spreading at a very fast rate.
Three cars were destroyed in the infernal that is suspected to have started from sparks from a generator that was near a cement truck belonging Tororo Cement and a fuel tanker that was offloading fuel.
Eyewitnesses said that the fire first burnt the generator and spread to the cement truck that had been parked at the petrol station, before it engulfed the fuel tanker.
It also burnt another car that was parked at the petrol station.
Hussein Manyigampologoma, a resident of Namunsi who also had just parked at the station to fuel his car saw fire gutting the generator and decided to drive off.
He said that it took Police about 15 minutes to arrive at the scene to put out the fire.
Mbale Deputy Resident District Commissioner, Pamela Watuwa, who was also at her home that is located few meters away from the fuel station told New Vision that she was alerted by her daughter who saw dark cloud in the sky.
"We are lucky that no death has been recorded apart from the three cars burnt down. We also thank God that one of the fuel tankers that was full of fuel did not burst into flames," Watuwa said.
She also said that they are going to launch an investigation to establish the cause of the fire, adding that the same fuel station was also being used as a depot.
However Mbale District Police Commander Godwin Ochaki refused to comment on the incident.