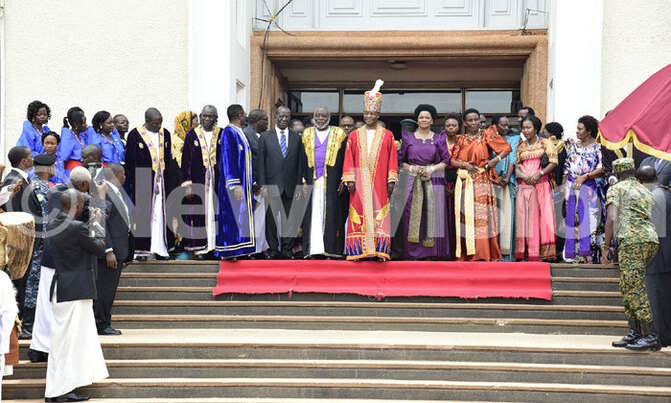 A recap of the event through the camera lens.
BUGANDA LUKIIKO

KAMPALA - The king of Buganda Kingdom, Ronald Muwenda Mutebi II, officially opened the 25th Lukiiko (parliament) session on Monday. The event was headlined by a colourful ceremony at Bulange Mengo, the seat of Buganda.

If you missed, here is a recap of the event through New Vision photojournalist Kennedy Oryema's camera lens . . .
Smartly-dressed guests began sauntered into the neat well-manicured Bulange compound in the morning.
But before gaining access to the premises, they had to go through a security ring.
They came in all ages. This elderly guest walked through wearing a red jumper over a white kanzu (tunic) and sandals.
Monday's event was seen as special as it marked 24 years of Kabaka Mutebi's reign and it did attract a lot of media attention.
Kabaka Mutebi would sound the royal drums (Majaguzo) to mark the opening of the Lukiiko.
A number of religious leaders also made their way to Bulange.
The weather was kind, and male guests didn't have much trouble keeping their coats on.
Traditionally, Ganda men wear tunics on important occasions. It was no different on Monday.
At the event, the Buganda king would go on to recognize seven eminent people who served the monarchy diligently and with a selfess attitude. One of those would be former Katikkiro Joseph Mulwanyammuli Ssemwogerere (pictured).

His was for outstanding contribution towards the restoration of the kingdom in 1993. Ssemwogerere served as the Katikkiro from 1995 to 2005.
There was plenty of stuff to keep the guests entertained at the event that the Kabaka would later describe as "historic" and "prestigious".
The royal drums were set for some beating.
Buganda Kingdom's attorny general David Mpanga made appearance looking characteristically smart and uhm, relaxed.
Tents were pitched in the Bulange gardens and screens and speakers put up for people to follow the proceedings that would go on inside (Buganda parliament).
Kampala Lord Mayor Erias Lukwago slapped on a grey suit and majestically marched into Bulange in high spirits.
FDC's Joyce Ssebugwawo did attend too.
KCCA executive director Jennifer Musisi kept her look traditional plus trendy. Smart!
One by one, they kept walking in. Well, some walked in threes . . .
Among the high-profile guests of the day was Vice President Edward Kiwanuka Ssekandi.
And there to receive him was Katikkiro Charles Peter Mayiga.
Guess who that is.

Not her. Cummon!

I mean, the one whose back is facing us.

Anyone?

OK, that's renowned radio personality and entertainer and actor Abbey Mukiibi.
Whatever spooked him . . . only he knows.
Some guests were uhm, camera-shy? Really?

Well, one thing for sure is, they looked sharp.
Prince Daudi Kintu Wasajja calmly took each step at a time.
The xylophone (madinda in Luganda) players were also ready and set to get musical.
All eyes were turned on the steps leading into the building.
The drums were sounded as Kabaka Mutebi's appearance was nigh.
Don't be fooled by their advanced age. These royal guards have the tenacity, stamina and guile to take you down.
Then the king and his wife, Sylvia Nagginda emerged from the building to a huge cheer and ululations from the excited guests. By his side was Katikkiro Mayiga and others followed.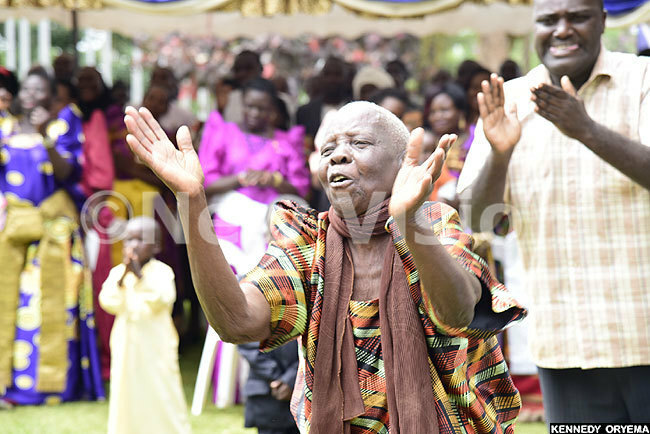 This elderly subject could not hide her excitement upon seeing her king.
Kabaka Mutebi waved to his subjects as they made their way down the steps. The Nnabagereka appeared characteristically calm and composed in her purple gomesi.
Kabaka Mutebi was then escorted to where the royal drums were and was handed special sticks to have his way.
And just like a pro, he sounded the Majaguzo in synch with the other royal drummers to mark the opening of the Lukiiko.
After there, he walked over to the opposite side to sound another set of royal drums.
When young and old meet, all the boundaries of age and time disappear.
Kabaka Mutebi was led back in to officially open the 25th Lukiiko, where he delivered a speech. Guests outside watched the proceedings off giant screens.

Once the special session was done, Kabaka re-emerged, this time accompanied by Vice President Ssekandi.

He would go on to sound the royal drums again to mark the closure of the session.
What's a function of this magnitude without a group photo!
For some, there was a better vantage point to watch the proceedings.
From then on, it was meet-and-greet time, with various guests mingling and catching up.
Some you may be able to identify, others you may not.
ALSO RELATED TO THIS

Kabaka honours Mulwana, Ssebaana