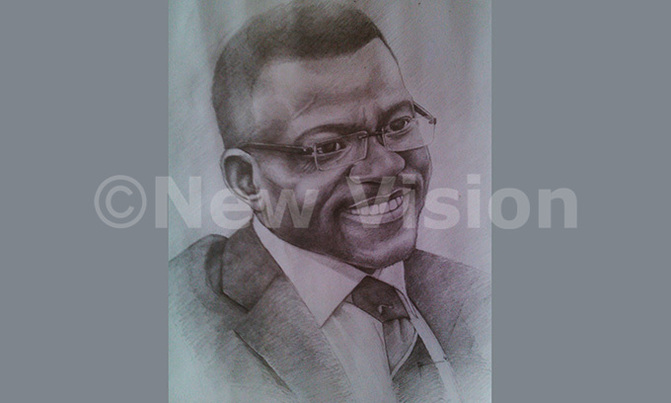 In a day, Bwanika says he does not earn less than, shs 100,000.
Now days art cannot longer be a speciality of a few individuals. More Ugandans are learning to incorporate African art not only in what they do, but also what they put on.

Simon Peter Bwanika, the founders of Art wonders Uganda, is one of Ugandans who have noticed changes in people's preferences

"Whatever you have in mind," Bwanika reveals, "we bring it to reality on the items you wish to." These can be T-shirts, capes, tents, pair of shirts, banners and handkerchiefs.

Besides that, Bwanika says they can also paint a person if they have time or they can simply copy from his picture.

In a day, Bwanika says he does not earn less than, shs 100,000. This has enabled him take care of his family, buy land and also set up another business. Since the workshop is near Kyambogo University, Bwanika finds himself dealing with students who want to polish their art skills. For two months, a student can pay shs 500,000 to the workshop and he is able to get all the skills.

How he started

After graduating in Bachelor of Arts in design and fine art from Kyambogo University in 2011, instead of looking for jobs, Bwanika teamed up with his other three friends and opened up an art work shop.

"Looking around, no one was feeding people with art," Bwanika remembers. "We wanted local people to appreciate art and also earn a living." In addition to that, the three boys wanted to apply what they had studied.

Bwanika says they got a room in Kireka near Kyambogo University and it cost shs 1.2m. Each person had to contribute some money shs 400,000 to pay for rent

The fresh graduates were able to get that money because they had had part time jobs while studying.

"I am a decorator so I used to decorate during my free time at campus," Bwanika says. "We used to get over shs 50,000 per-function and this enabled us to save some money and also take care of our immediate means."

Despite that, two of Bwanika's partners dropped out to pursue other dreams. James Katushabe and Bwanika are the only active partners.

Bwanika says that the workshop mostly specialises in printing T. shirt and they have no standard price. The prices are negotiable but affordable between shs 20,000 and shs 150,000.

"The cost depends on the nature and the concept of the designs and the person," he says. He gives an example of Wild life, Masai, and African women as some of the concepts he paints on the T-shirts.

Even though, what you have in mind might not be clear, Bwanika says they breathe life into it. This is usually done free of charge for their customers.

Before fully taking over the arts business, Bwanika used to teach in Mengo Secondary School. When he became too engaged with the worship, the artist left the teaching profession to concentrate on his work.