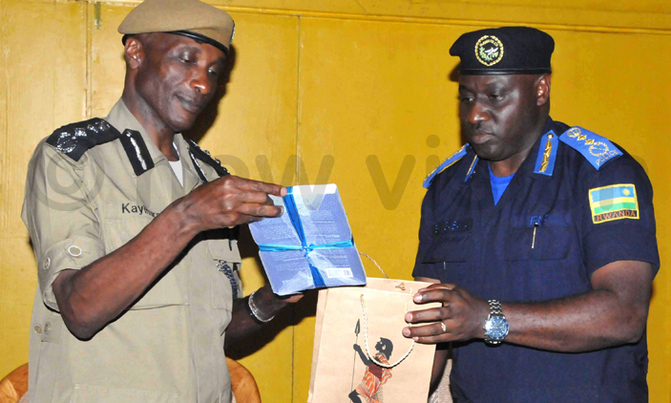 Police chiefs will be searching for ways to combat cross-border crime in an era of free movement
Gen. Kale Kayihura (L) pictured with Rwanda IGP Emmanuel Gasana during a meeting on bilateral cooperation in Kabale in August 2014. Photo by Abdukarim Ssengendo
The Inspector General of Police, Gen. Kale Kayihura, is meeting his Rwandan counterpart, Emmanuel Gasana, in Kampala.
Without disclosing the details of the IGPs discussions, the Police spokesperson, Asan Kasingye said the meeting is in line with the upcoming Annual General Meeting (AGM) of Eastern Africa Police Chiefs Cooperation Organization (EAPCCO).
Explaining the EAPCCO AGM, Kasingye said from August 24-30, Uganda will host the 1st ever EAPCCO games which will be held at Uganda Christian University (UCU) sports grounds in Mukono and Kigo range grounds.
The theme for this year's games is 'Promoting Community Policing and Regional Cooperation through Sports' and 400 participants are expected to compete in the games and trophies shall be awarded at the end of the competition.
The games to be played will include; volleyball, boxing, taekwondo, football, netball, athletics and shooting.
A fortnight ago, Police authorities revealed that the rise in cases of human trafficking and car theft in East Africa will be top of the agenda when Police chiefs from the region meet in Kampala for their summit late August.
The Police chiefs will be searching for ways to combat cross-border crime in an era of free movement of people, goods and services across the region in the spirit of regional integration.
Recently, a group of ministers from Uganda and Tanzania met in Bukoba to discuss cross-border issues, including security along their porous borders.
While addressing a press conference at the Police headquarters in Naguru, a city suburb, the International Police chief, Fred Yiga said EAPCCO chiefs will discuss how to topple transnational crime.
During the meeting, the EAPCCO chiefs will also discuss illegal drugs, terrorism, cyber and financial crimes and environmental crimes.
The Police chiefs under EAPCCO meet annually to forge ways of curbing crime within the region. Gasana is the current EAPPCO chairman.
In 2016, while addressing chiefs at the Serena Hotel in Kampala, Gasana called for practical cooperation among countries to weed out crime.
"The exchange of intelligence, training and establishment of centres of excellence will help pursue crime," said Gasana.
EAPCOO has Burundi, Djibouti, Ethiopia, Eritrea, Kenya, Rwanda, Seychelles, Somalia, Sudan, South Sudan, Tanzania, and Uganda as its members.