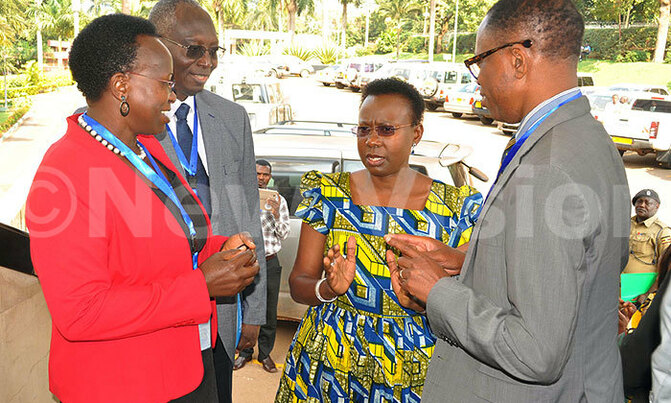 River blindness, also known as onchocerciasis, is a disease transmitted through bites from black flies.
PIC: From left, The acting Commissioner Health Services Vector Control Division (VCD) Edridah Tukahebwa, WHO representative Abdoulie Dodou, health minister Dr Jane Aceng and the Director Uganda Mectizan Donation Program Yao Sodahlon interacting during the tenth Uganda Onchocerciasis elimination conference to discuss the situation of River blindness in Uganda held in Kampala. (Credit: Shamim Saad)

HEALTH

Two more river blindness transmission zones in Uganda are free from the parasitic infection that that causes intense itching, rashes, eye lesions and blindness, the health ministry announced last week.

The two zones, known technically as foci, cover five districts of Ibanda, Kamwenge, Rubirizi, Buhweju and Hoima, where the disease is certified to have been eliminated.

It brings the number of districts that are free from the disease to 20 out of 37 in the 1990s when at least 6.7 million people were at risk.

Transmission of river blindness has also been interrupted in several more districts and experts await research findings to determine more zones can be declared free from the disease.

If Uganda manages to pull it off and cover the remaining regions within the next three years, it will be the first African country to eliminate the disease by the year 2020.

Debilitating disease

River blindness, also known as onchocerciasis, is a disease transmitted through bites from black flies which breed in fast-flowing rivers and streams and forested regions.

After a bite, the larvae enter the host's skin where they slowly grow into adult worms. A female worm can produce 1,000 worms per day. Skin nodules along the waistline and leopard skin are common signs.

Onchocerciasis is one of the Neglected Tropical Diseases (NTDs), a class of diseases that generally afflict the world's poor and historically have not received as much attention as other diseases.

Globally, the disease is endemic in 35 countries where more than 120 million people are at risk of acquiring the infection.

In Africa, the disease is endemic in 31 countries where 37 million are infected, 800,000 visually impaired and 270,000 have gone blind as a result of the infection.

Uganda became an African success story in the campaign for elimination of river blindness through mass drug administration and killing of black flies, the vectors that spreads the disease-causing parasite.

Since the 1990s, the country has successfully halted transmission of river blindness in 15 out of 17 localized areas, according to the health ministry, with about 4.5 million people free from the infection.

1.3 million still at risk

An estimated to 1.3 million Ugandans living in two localized transmission zones covering 10 districts are still getting infected with river blindness.

These affected areas are either complete or small regions in the districts of Moyo, Adjumani, Amuru, Lamwo, Kitgum, Pader, Gulu, Oyam, Nwoya and Kasese.

The most affected areas are those along Uganda's borders with South Sudan and the Democratic Republic of Congo, where movement of people on either side is affecting the response plan.

Dr Moses Katabarwa, a senior epidemiologist at Carter Center, said eliminating the disease in Uganda over the next three years would require regional effort driven by strong inter-country friendship.

"For us to achieve elimination across the borders, we have to go beyond just pushing letters to our respective health ministries; there has to be personal friendship to drive these efforts," he stated.

Cross-border campaign

Ugandan health experts are working with health workers in DRC to conduct tests on blackflies and screen people in affected communities in the border regions.

However, for South Sudan, the civil unrest that flared last year has halted plans for similar joint efforts to fight river blindness, thereby slowing efforts to eliminate the disease on the Ugandan side.

For the last 10 years, a team of experts from government and global health agencies meets in Kampala every year to assess the country's progress in elimination of onchocerciasis.

At the 10th Session of the Uganda Onchocerciasis Elimination Expert Advisory held in Kampala last week, the team of experts was upbeat about Uganda's campaign to eradicate onchocerciasis by the year 2020.

Prof Thomas Unarsch, who chairs a committee of experts advising Uganda on elimination of river blindness hailed the country's progress in taming the debilitating illness.

"I feel confident that Uganda will be the first country to be certified by WHO to be clear of onchocerciasis by 2020," he said.

The experts are convinced that Uganda will need more funding and human resources to cover the last mile of the stretch to eradicate the disease.

The campaign against onchocerciasis is largely donor-funded, with support from the Carter Center, World Health Organisation (WHO) and Merk, the drug company that produces and offers drugs free.

Health minister, Dr Jane Ruth Aceng says treatment for river blindness is covered in the national master plan for treatment of NTDs including trachoma and lymphatic filariasis (elephantiasis).