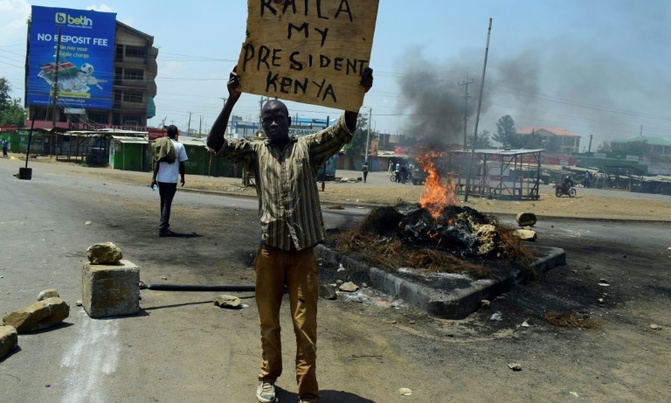 Fueling the rage in Kisumu was Odinga's repeated claims that the election results had been tampered with to deny him victory.
While some celebrated with flags and vuvuzelas, others burned tyres and attacked businesses in a show of rage over an election they believe was stolen from opposition veteran Raila Odinga.

The post-election anger comes a decade after a disputed 2007 vote that degenerated into two months of politically motivated ethnic bloodshed, which killed 1,100 people and left 600,000 displaced.

"Why are they shooting at innocent people who are expressing their views?" said a protester in Kisumu, a city in Kenya's west where there is little love for Kenyatta.

"Why are they forcing Uhuru on people?"

Fueling the rage was Odinga's repeated claims that the election results had been tampered with to deny him victory.

As soon as the country's electoral commission called the vote's outcome on live television, angry people spilled on to the streets of the poor Kisumu neighbourhood of Kondele to be met by squads of riot police.

"They're trying everything, but they can't make it," an officer said into his radio as fires of protest were lit a few hundred metres from a traffic circle that had already been the site of clashes in the days before the result was declared.

The angry voices of wailing women and screaming men rose above the banging on metal sheets and volleys of tear gas that ripped through the night.

Soon, gunshots could be heard from Kondele and neighbouring areas as a police helicopter hovered overhead, its spotlight trained on the violence below.

The rage in Kisumu was echoed in other opposition parts of Kenyan cities, including the capital Nairobi.

In Nairobi's largest slum Kibera, where Odinga is an MP, people poured into narrow alleys and targeted businesses whose owners were thought to be loyal to the president.

They tore metal from walls and ripped down wooden doors, prompting police to open fire into crowds.

The scene was repeated in poor neighbourhoods across Nairobi, where wood and tyres became kindling for protesters to set ablaze.

The explosion of anger among Odinga loyalists was matched by an outburst of joy in Kenyatta's strongholds from his supporters.

In cities in the Kenyatta-supporting Rift Valley, the streets were clogged with thousands of the president's backers who waved flags and held burning flares aloft.

"Let Uhuru rule. He is the best leader we have had," said Simon Kipkoech in the town of Eldoret.

But amid the joy, the resentment that fuels Kenya's politics was still strong.

In the town of Nyeri, a Kenyatta supporter cheered: "Raila will never be president!"

The unrest that bookended Kenya's hard-fought election on Friday could degenerate into a political crisis comparable to the one faced after the 2007 vote dispute.

Supporters of both candidates believe their side is right.

A day before Kenyatta's victory became official, a crowd of hundreds gathered in Kisumu, joyfully celebrating the oppositions' claim that Odinga's victory was imminent.

"Raila was elected by everyone in Kenya," said 21-year-old Michael Omondi. "We the Kenyan people will not concede. This is just the beginning."