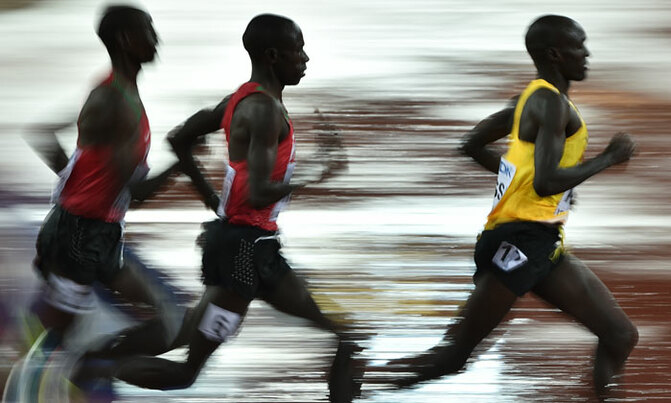 The likes of Ronald Musagala are taking part this evening.
PIC: Uganda is being represented in London and has picked up one medal so far. (AFP)

IAAF WORLD CHAMPIONSHIPS LONDON 2017

STRATFORD - Six Ugandan athletes are taking part in various track events tonight at the Olympic Stadium at the ongoing the IAAF World Championships in London.

First up will be the duo Mercyline Chelangat and Stella Chesang in the women's 5000m heats starting 8.30pm Ugandan time.

Chelangat will race in heat one while Chesang will take part in heat two.

Each heat will have 17 athletes who will compete for five automatic qualification spots each for the final. The five fastest losers across the two heats will also make it through.

Later on, starting 9.25pm, Winnie Nanyondo, Halima Nakaayi and Dorcus Ajok, who flew to London this week after finally securing visas, will participate in the women's 800m heats. Here, they will be vying for slots in the semi-final.

In this event, there will be six heats.

Nanyondo will be in heat one, Nakaayi in heat four while Ajok will take part in heat five.

The last Ugandan interest of the day will be Ronald Musagala, who will race for a place in the men's 1,500m semi-final.

Here, Musagala will be in the second of three heats each with 15 athletes. This event will start at 10.25pm.

Uganda's only medal so far at this edition of the global competition came from Joshua Cheptegei, who won silver behind Great Britain's Mo Farah in the men's 10,000m final on Friday.
Cheptegei missed out on a potential double after he pulled out of the men's 5,000m heats due to injury.

The 10-day athletics event ends this Sunday.


STATISTICS
NAME SB PB

Women's 5000m

Chelangat 15:09.45 15:09.45

Chesang 15:17.91 15:10.30

Women's 800m

Nyanyondo 2:00.22 1:58.63

Nakaayi 2:00.80 1:59.78

Ajok 2:00.79 2:00.79

Men's 1500m

Musagala 3:33.65 3:33.65


Note: SB = Season's Best 2017, PB = Personal Best
ALSO RELATED TO THIS ARTICLE

Cheptegei wins world silver in London