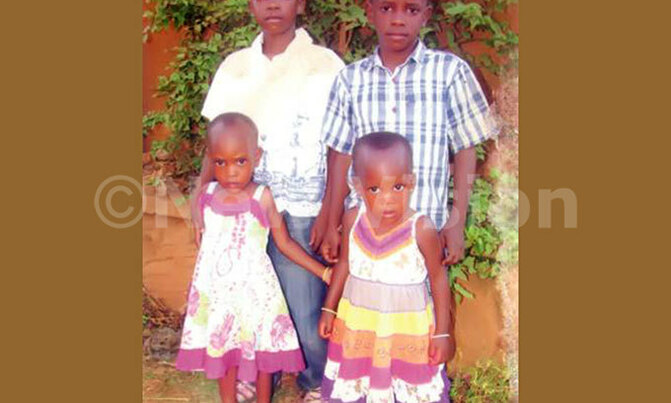 "I am scared of getting pregnant because I think I will have twins again," Mugaya says.
Nalongo Kuruthumu Mugaya, a housewife and resident of Kirombe, Lusaka in Makindye division, Kampala, who is married to Salongo Robert Walugembe, says she got pregnant with her first pair of twins at the age of 23.

During the fifth month, she realised that her tummy was too big and her legs swollen, which prompted her to go to hospital. "I went for a scan, which detected twins boys. Because they were my first children I got scared because I had never been a mother; Salongo also got scared," she says.

Mugaya says throughout the nine months, the pregnancy only troubled her during morning hours, but the rest of the day she was capable of doing house work. At exactly 12:00am on August 20, 2004 at St Francis Hospital Nsambya, Mugaya gave birth to Albert Waswa, weighing 2.1kg, followed by Herbert Kato at 12:05am weighing 2.2kg.

"On seeing my babies I felt a strong bond between them and when I was discharged from the hospital, my in-laws welcomed me with happiness and looked after me," Mugaya recalls.

Bringing up the twins, she says it took her a while to get used to the new title as Nalongo that God had blessed her with.

She breastfed one twin at a time and this would be the one who cried first. However, after three months, the twins stopped breast feeding because she ran out of breast milk and they started fresh milk.

"When they cried, I would carry them or feed them on their bottles. At night, Salongo would wake up and attend to them in case they were crying, we shared responsibilities," she says. "We had financial challenges, but my husband made sure the twins were well taken care of," Mugaya says.

She adds that the twins did not get along and sometimes they fought, but as they joined school things changed. It was only when we were going for an outing that I dressed them in similar clothes.

Although Waswa was stubborn, Kato was faster than him in things like talking, crawling and walking. "Whenever Kato crawled, Waswa cried so that he waits for him, but Kato did not," she recalls.

At school, they liked singing, traditional dancing and sports, though they were in different house colours.

Another set of twins

It took Mugaya a long time to get a child because she using a birth control method.

She conceived again after seven years. "When my pregnancy was two months, I went to the hospital because I was bleeding. The doctor told me I was going to suffer a miscarriage. That is when I went for a scan and got to know I was carrying twins again," she says.

To her, it was sad news that she fainted and on waking up she was lying on a bed. "I am scared of getting pregnant because I think I will have twins again," Mugaya says.

She adds that when she told Salongo that she was pregnant with twins, he could not believe and he took her for another scan after one week.

We had to pull ourselves together and accept the situation, but I prayed that they would be girls. Similar to my first pregnancy, my tummy was big and legs swollen. At nine months, I was rushed to hospital, where the doctor told me that one of my babies was lying in a horizontal position. "Although I delivered the first set normally, on the second pair, I had to go through section," she says.

"Salongo was scared, he was not present when I was taken to the theatre, he even refused to put his signature on the consent forms. "My only prayer was that one twin would be a girl, because I was scared of having boys again," she says.

On August 18, 2011 at St Francis Hospital Nsambya, I gave birth to Annet Babirye weighing 2.1kg and Anges Nakato weighing 2.6kg. Like their brothers, the girls too like singing and dancing. The four of them get along well; Waswa resembles Babirye whereas Kato resembles Nakato.

Like the first pair, at three months, I began feeding the twins on fresh milk because I had run out of breast milk. This time around, both twins were stubborn, but still Nakato was first in doing everything unlike Babirye. She would hold Babirye's hand and help her walk.