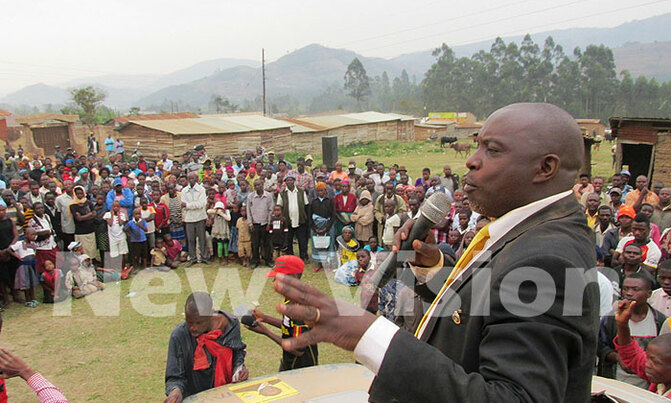 Six are for Woman MP while two will be contesting for LC5 chairperson.
PIC: Denis Nkaswibwe is eyeing the LC5 seat. (Credit: Job Namanya)

RUKIGA ELECTIONS

KAMPALA - Eight people have been nominated by the ruling NRM party to contest in the primaries for District (LC5) chairperson and Woman Member of Parliament for the newly-created Rukiga district.

In the nominations closed on Wednesday at the NRM party headquarters at Kyadondo in Kampala, six people were nominated to stand for Woman MP and two for LC5 chairperson.

NRM electoral commission chairperson Dr. Tanga Odoi named the Woman MP contestants as: Abigail Victoria Atukunda, Pamela Kihumuro, Alice Basobokwe, Caroline Kamusiime Muhwezi, Charity Tumubweine and Maureen Kyarisima.

Jackson Asiimwe Rwamwehare, former Kamuli RDC and the Kashambya sub-county NRM chairperson and Denis Willey Nkwasibwe, former Kabale district youth chairman, will vie for the LC5 seat in the primary elections.

Dr. Alexander Kampikaho, a former contender for the Rukiga MP seat in the last elections, had hoped to take part but was undone by failure to produce the required documents.

The NRM primaries will take place on August 15, two weeks before the general polls (August 29).

Meanwhile Odoi warned all aspiring candidates to desist from divisive campaigns since they all belong to one party.

"We would like to observe a peaceful campaigning season as we look forward to these elections. As NRM, we are one family and therefore unfair campaigns are not healthy for our party," he said.

Rukiga was carved out of Kabale district since it has four sub-counties (Rwamucucu, Kamwezi, Kashambya and Bukinda) and two town councils, Mparo and Muhanga.