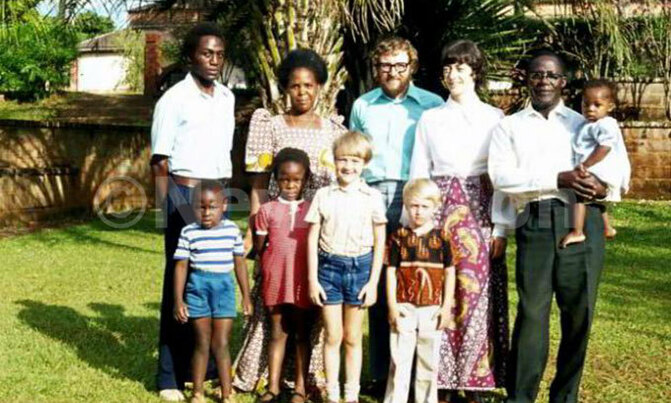 Keith had successfully applied for a teaching job in Uganda. Jeanette his wife was also a teacher in her own right.
They first arrived here in the 70s: two young British teachers, with a keen interest to work in Uganda. But Keith and Jeanette Mills were not just random teachers.

Keith had successfully applied for a teaching job in Uganda. Jeanette his wife was also a teacher in her own right. The couple had completed a three year teaching stint in Zambia. They came with their two young children- Nick and Rogan- ready to start a new life in Uganda.

It was an exciting four year stay for the Mills family; characterized by teaching in a remote school Koboko in Western Nile, seeing President Idi Amin at very close range and once having a run in with his vicious soldiers on a roadblock.

Mills later taught at St. Mary's college Kisubi while Jeanette taught at Lake Victoria primary school in Entebbe. In 1974, Mills teaching contract ended. They went back home to England. For a moment their relationship with Uganda was over. Or so they thought.

Forty years later, this ageing couple still maintain a very close relationship with Uganda. This time in a more proactive sort of way.

Keith and Jeanette are the founders and operators of Les Amis d'Ouganda (French for "Friends of Uganda), a charity established in 2006 to support education for poor young children in rural areas in Uganda. Through fundraising in the UK and France, Les Amis d'Ouganda has paid school fees for more than 100 young people.

It has also helped set up classrooms and provided scholastic equipment to several vocational, primary and secondary schools.

They have also initiated exchange programmes that connect Ugandan teachers to their counterparts in the UK to share and enrich each other's experiences.

Today, some of the young people they first sponsored ten years ago are now attending university.

Recently, they formed another charity called Forever Friends of Uganda through which they continue to support the education of several youngsters in rural communities here.

The March visit

Five months ago, Keith and Jeanette returned to Uganda to monitor the progress of several of their education projects. During their visit, they opened a new vocational training centre at Golden College Nsaggu in Wakiso district.

They also opened a new three-room classroom block at Little Angels Primary School, Bulumbu, a place that only 15 years ago was mere bush.

They also had some fun visiting several tourist sites in Kampala, Jinja and other places that evoked such nostalgic memories for the couple.

The Nsaggu and Bulumbu projects are only a fraction of various projects that Keith and his wife have been working on over the last 15 years since they returned Uganda following a long absence. These include funding the construction of a school hall, solar panels, teacher accommodation as well as planting of trees and provision of water in Bubebbere, Bulumbu and other areas.

Spreading the love

The Mills are not wealthy pensioners looking to change the world. Rather, they are hardworking people with a heart to make a difference in the lives of less privileged people in the country they once lived in.

The funds that they have contributed to support local communities come from vigorous fundraising led by Keith and his wife back home in Normandy France (where they currently live) and in the UK.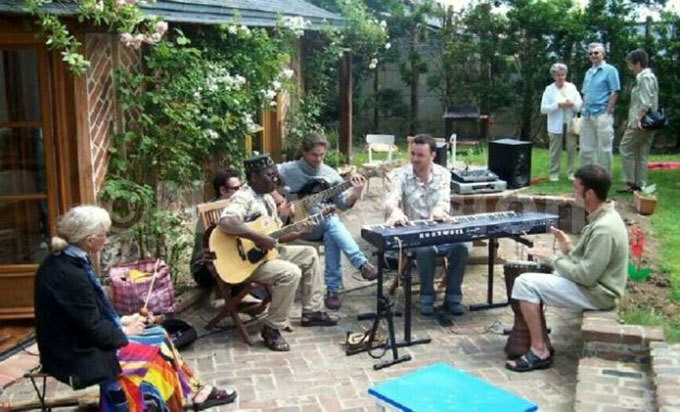 The Mills first fund-raising music event in a neighbour's garden in France.
This involves organizing fundraising events at which they invite people of good will to contribute to their cause back home. In France they organize an annual countryside walk codenamed "
Balade Contée" where they invite
story-tellers, singers and sometimes musicians to entertain the public.
The artistes give their time for free while the patrons part with some money towards Keith and Jeanette's Uganda initiatives. They have also held charity runs and walks in Normandy at which generous people have contributed money to support their work in Uganda.
The couple also sells Ugandan crafts whose proceeds go towards supporting their projects here. The campaigns which started in 2006, raise about 20,000 Euros (About sh85m) every year through those various activities. And the work of their hands has been blessed with a number of fruits.
Thanks to these generous contributions, more than 100 children in primary and secondary schools as well as vocational institutions have had their school fees paid.
Keith and Jeanette Mills have also helped to set up a number of structures in the rural confines of Bubebbere, Bulumbu and Nangabo all in Wakiso district.

A birthday present

All this may not have happened had Keith and Jeanette Mills not decided to return to Uganda in 2002 to celebrate a major life milestone.

"In 2002 Jeanette and I reached the milestone of our 60th birthdays and decided that we should like to celebrate the start of our next decade by returning to Uganda where we had been teachers in the early 1970's," recalls Keith Mills.

The idea, he says, "was to hire a car and travel around the country to places that we had known and loved in those times when our two sons were still very young."

However, what was initially meant to be an easy trip back the good old days turned poignant as the Mills prepared for their trip to Kampala. "Those plans started to go awry when we listened to a BBC "Woman's Hour" broadcast, an interview about a British involvement in setting up the Ugandan arm of a UK charity called Dream Scheme," recalls Mills.

Once they got here, they spent the best part of their holiday with staff from Dream Scheme visiting several poor communities in and outside of Kampala.

They were so moved by what they saw they promised to support the charity's initiative when they returned to France. But one particular visit to Bubbere, a village along the shores of Lake Victoria had left them wondering if they might do more than support Dream Schemes.

The Mills returned home and started mobilizing support through friends and other generous people.

Bubebbere became the first beneficiaries of this elderly couple's fundraising effort. Fifteen years later, many people's lives have been impacted in different ways.

Sometimes Mills himself does not believe that what surely started as a visit back to a country they once called home has resulted into so much good.