Kenyans cast their ballots on Tuesday for new leadership. Check out how voting went.
ELECTIONS | KENYA

Kenyans on Tuesday voted for their new leaders, with incumbent Uhuru Kenyatta and rival Raila Odinga in the presidential race headlining the polls. Here's how the voting transpired across the country and beyond.

Presented by Joseph Kizza


_____________________________________________

4.40pm: 'I had no labour pains'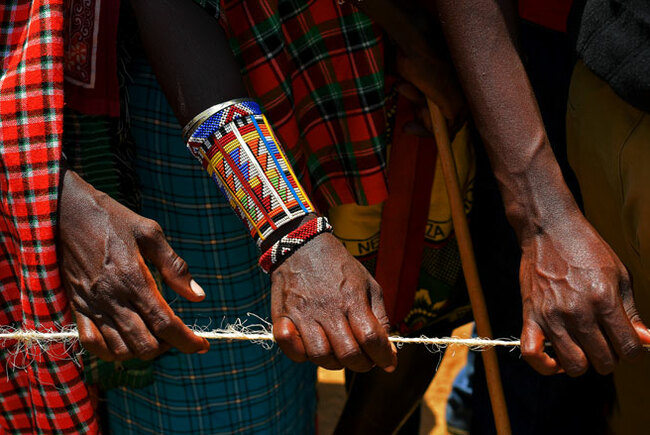 While some Kenyans braved long queues, others rain and chilly weather, one woman gave birth Tuesday while in line to vote in general elections and still made sure to vote.

A heavily pregnant Paulina Chemanang was feeling fine as she left to vote early at a polling station in remote West Pokot country, she told local radio Capital FM.

"I had no labour pains, and they just came as soon as I arrived here. I was not feeling anything since yesterday," she said.

Shortly after she arrived, she went into labour, and, with the assistance of bystanders, gave birth to a baby girl while still at the polling station.

More on this story HERE

4.10pm: Kenya since 2007-2008 post-election violence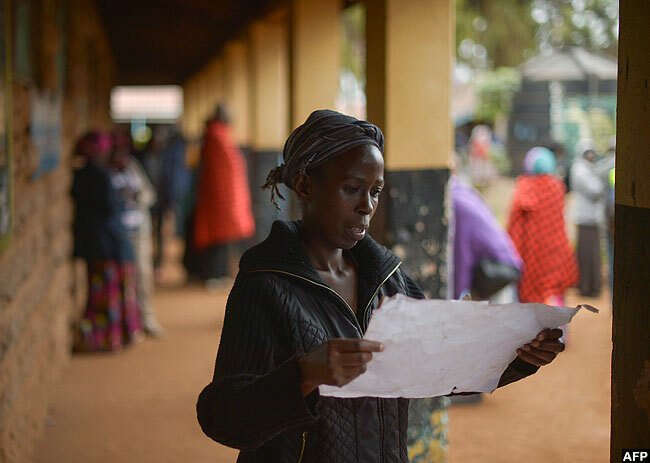 Below are key dates since post-election violence in Kenya in 2007-2008 left more than 1,100 people dead, the worst violence in the east African country since independence in 1963:

2007-2008: post election violence

On December 27, 2007, outgoing president Mwai Kibaki is proclaimed winner again but his challenger Raila Odinga says the vote was rigged.

Clashes in the following weeks kill more than 1,100 people and force 600,000 from their homes, in a country that had previously been renowned for its stability.

The epicentre of the violence is the Rift Valley, pitting members of the Kalenjin and Luo ethnic communities, who mainly back Odinga, against the Kikuyu, to which Kibaki belongs.

On February 28, 2008 an internationally-brokered power-sharing agreement is signed under which Kibaki keeps his job and Odinga becomes prime minister.

In March 2010 the International Criminal Court (ICC) authorises the opening of a probe for crimes against humanity over the 2007-2008 violence.

In 2012 its judges confirm accusations against four Kenyans, including Uhuru Kenyatta and William Ruto.

2013: Uhuru Kenyatta in power

On March 4, 2013, Kenyatta, the son of Kenya's first post-colonial leader Jomo Kenyatta, narrowly wins the first round of the presidential vote with Ruto as his running-mate.

On April 9, Kenyatta is sworn in in the presence of several African heads of state, but in the absence of western leaders. Ruto becomes vice president.

2014: First sitting president before the ICC

On October 8, Kenyatta becomes the first sitting head of state to appear before the ICC. But on December 5, the Court drops its case against him, while denouncing intimidation of witnesses.

The ICC's proceedings against Ruto, also for crimes against humanity for the 2007-2008 violence, are dropped in April 2016 due to lack of evidence.

2015: Massacre at Garissa

Kenya has been targeted by a spate of attacks since its military intervened in neighbouring Somalia in October 2011 to fight Al-Qaeda-linked Shabaab militants.

On September 21, 2013, gunmen storm Nairobi's Westgate mall killing at least 67 people.

And on April 2, 2015 commandos attack the university at Garissa in eastern Kenya. They separate out Muslims and non-Muslims, killing the latter. In all, 148 people are killed, including 142 students. Shabaab claims responsibility.

2017: Violence mounts

On July 22, 2017, a parliamentarian is arrested for inciting violence at a meeting attended by Odinga. He had already been charged in March for encouraging the invasion of land.

The region of Laikipia, which he represents, has seen periodic invasions of farms by herders seeking pasture for their livestock, against a background of drought.

On July 30, an attack takes place at the country home of Ruto, who is away. An attacker and a police officer die during a 20-hour siege. A day later a top official overseeing Kenya's electronic voting system is found dead, his body showing signs of torture.

Many observers express concerns over violence in the districts of Laikipia and Baringo, in the Rift Valley, which forces inhabitants to flee their homes.
3.15pm: Uchaguzi

This voter seen here keenly searches for her details on one of many copies of the voters-roll strewn on the floor before they can identify their respective voting centres to cast their ballots at Old-Kibera primary school polling centre in the Kenyan capital Nairobi.
2.55pm: Five things to know about Kenya

As voting continues at polling stations across Kenya, and beyond, here are a couple of things to reflect on about Kenya . . .

One, Kenya was a British colony until independence on December 12, 1963.

Two, Kenya has been overtaken by Ethiopia as east Africa's biggest economy, but remains the region's main trading hub.

Three, Kenya is renowned for its athletes, especially its long distance runners.

Four, . . . uhm, how about you read all this in a little more detail HERE
2.20pm: Keeping the situation under control

The Kenya Administration police at Kariokor Community Centre in Nairobi have been on high guard, keeping the situation as calm as it should be.

Not sure whether this rugged-looking elderly fella had come to vote. He looks quite sloshed and the security officer at the polling station has dished out some conspicuous warning to him.

Is he even listening?
"Hey, hey, hey! Wewe, you. Wacha commotion. Nataka kuona order hapa, okay?"



1.50pm: Meanwhile . . . apparently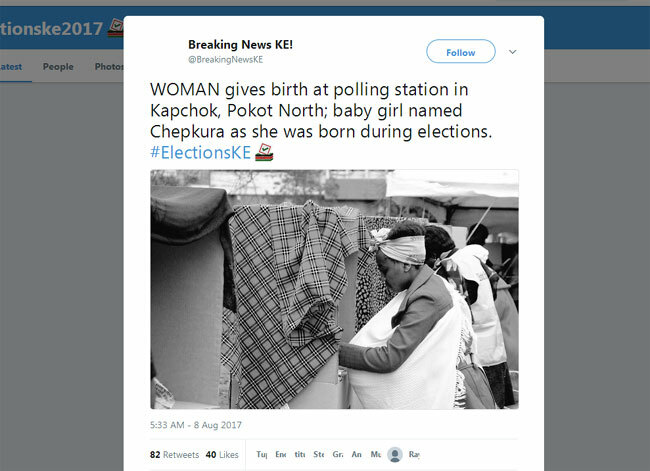 Perhaps little Chepkura toyed with her options from within the womb, before finally electing to knock at the door on Election Day!

Just thinking out loud
Around the cyber . . .
This was fast. Done in less than 10 mins well done @IEBCKenya #ElectionsKE2017 #ElectionKE2017 pic.twitter.com/nJm90BVh2b

— iampetervic (@iampetervic) August 8, 2017
@IEBCKenya Chiloba says ballots mistakenly marked rejected in Imara Daima will be counted after consensus by party agents #ElectionsKE2017 pic.twitter.com/Q0jUPheL2d

— Rob N Jillo (@robjillo) August 8, 2017
1.30pm: Shosho Wainana voted too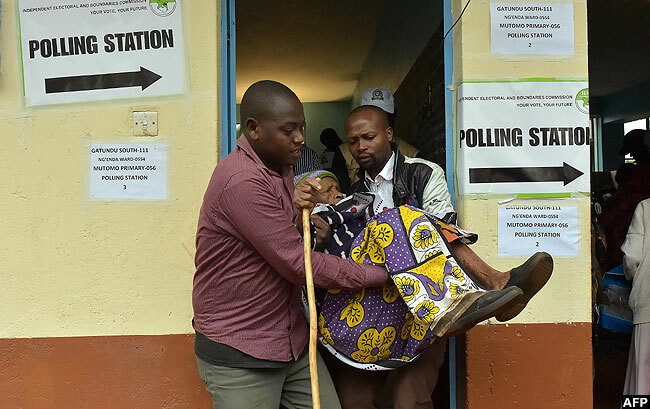 In Kiambu district, 81-year-old Withira Wainana was assisted after voting at this polling station in Gatundu, Kiambu county.


Miles away, in Mombasa, this woman also cast her ballot as voting continued across and beyond the country.
1.10pm: RAILA CASTS HIS VOTE

Raila Odinga, the flagbearer for the National Super Alliance (NASA) coalition, is taking his fourth and likely final shot at the presidency. He claims that elections in 2007 and 2013 were stolen from him.
On Tuesday, the 72-year-old politician cast his ballots mobbed by a battery of photo journalists at Old-Kibera primary school polling centre, in Nairobi
1.00pm: Lunch time

I may not be eligible to vote in the Kenyan election (since I am Ugandan) but I certainly have a right to eat.

And so considering I am stuck on my desk, I have decided to go all vegetarian today. Join me if you can.

Karibu nyinyi nyote
12.45pm: Prisoners vote for first time ever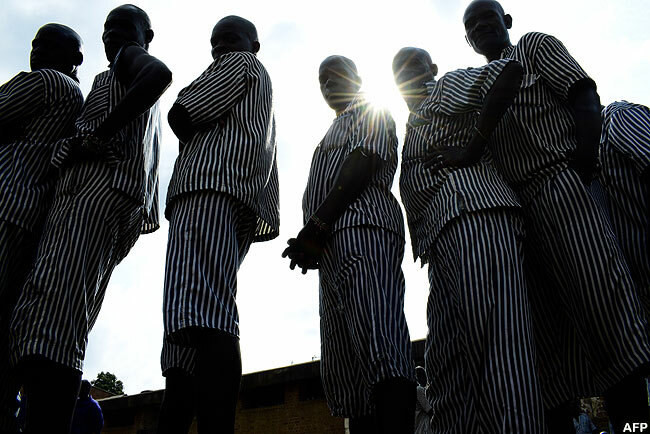 For the first time, Kenyan inmates are being allowed to vote. But they are casting ballots for the presidential candidates only.

Well, at least it's something, right?

Pictured above are inmates waiting in line to cast their vote in Kisumu maximum prison in Kisumu.
At least 145 inmates have cast their ballot at the Kisumu maximum prison.

And here's one of them . . .
12.15pm: ALL-SMILES UHURU KENYATTA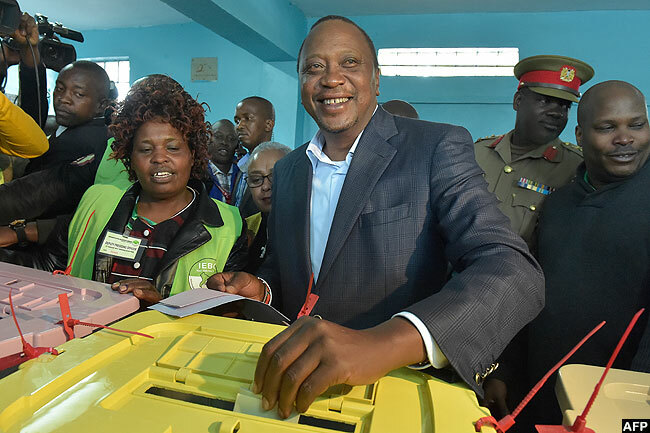 Incumbent Uhuru Kenyatta appeared in great spirits as he cast his ballot a little while ago in Gatundu, Kiambu county.

Can he shake off the force that is rival Raila Odinga?

It won't be long until we find that out.

Meanwhile . . .
. . . Kenyatta's running mate and current Deputy President, William Ruto was in equally positive moods as he shook hands with supporters after voting at Kosachei Day School in his home constituency of Sugoi village near Eldoret in Uasin Gishu county.
11.43am: He went, he voted and he left

So what's the main course on today's political menu?

Anyone?

Uhm, of course no prizes for guessing right.

The Kenyan election is a staple for regional and international media alike. And in Eastern Province in Kenya, this Samburu warrior did what millions of other fellow Kenyans are doing today: Vote.

He was pictured arriving at this polling station in Nkirish to cast his ballot.
And after making his choice, he left the polling station as majestically as he had walked in. Head held up and proud to have exercised his right to vote.
11.30am: 'Reject violence and incitement' - Obama

On the eve of the crucial Kenyan election, former US president Barack Obama urged Kenyans to hold a peaceful and untainted election in the East African country where his father was born.

Full story HERE

This man pictured (above) waiting at a polling station in Kilimani Primary School, Nairobi reads a newspaper with the headline "Great day for Kenya". The same paper ran the Obama story on the opposite page, if you have the critical eye.
11.05am: From the young to the old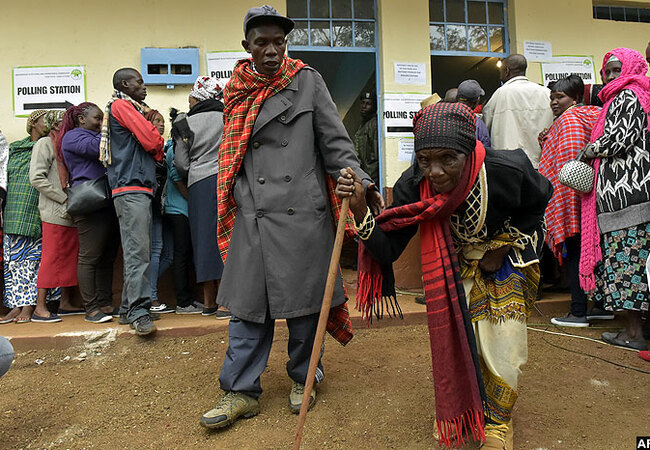 It's an election for all . . . from those voting for the first time to those bent with age, thousands have descended upon polling stations to cast their ballots.
Snacking away in the queue

#ElectionsKE2017 This is how we do it #WeweNdioKusema #NTVNews pic.twitter.com/e3ebYMsAXH

— Cornelius Kirwa (@CorneliusKirwa) August 8, 2017
Did you fail to fix a quick breakfast during an elan to get into the line early? You should've at least carried along some njugu (Kiswahili for groundnuts) to keep yourself busy in the line.

One voter read the culinary memo just in time!
10.45am: Voting 'relatively smooth'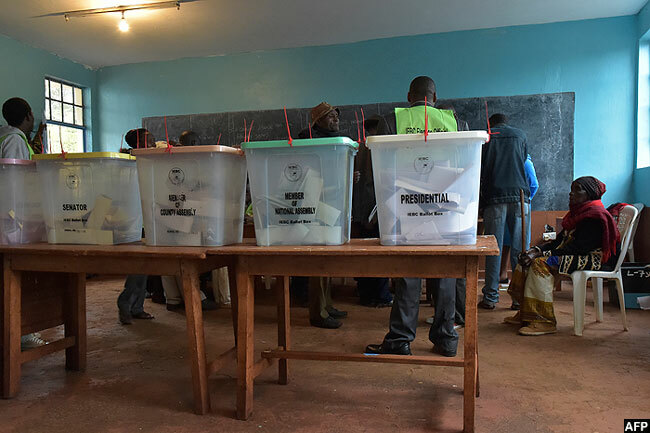 The AFP reports that voting began relatively smoothly, with minor delays and technical hiccups, while all eyes are on a biometric voter identification and tallying system whose success is seen as crucial to a smooth election.
Watu wa Kiambu wanapiga kura

#ElectionsKE2017 County: KIAMBU,
Constituency: RUIRU,
Polling Centre Code: 021,
Polling Centre: KWANGETHE PRIMARY SCHOOL #KenyaDecides pic.twitter.com/sxeyIaDd8K

— TUPO news (@NewsTupo) August 8, 2017
Je, umeshapiga kura au bado? Ulijiandisha wapi?

Join the discussion on Twitter using the hashtag #ElectionsKE2017
10.25am: 'We have our weapon'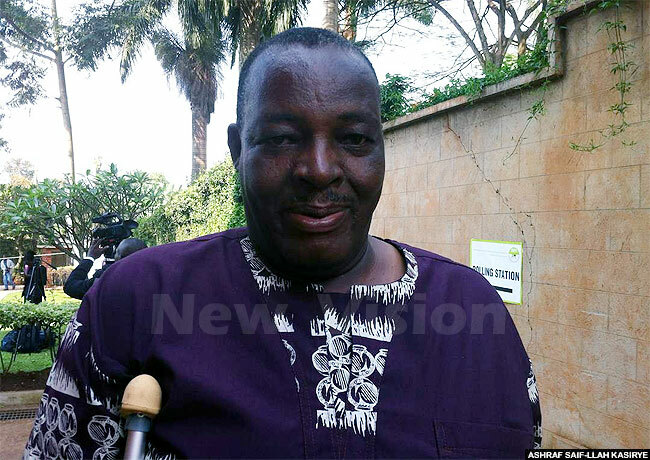 Mzee James Jenga, a Kenyan national who has lived in Uganda for the last 20 years, says this is his second time to vote in Uganda. "We wananchi have our weapon and that is the vote. I'm happy that Kenyans have turned up to vote and I believe things will get better after this election. We don't expect any violence," he tells New Vision's Ashraf Kasirye.
10.10am: 1184 Kenyans registered to vote in Uganda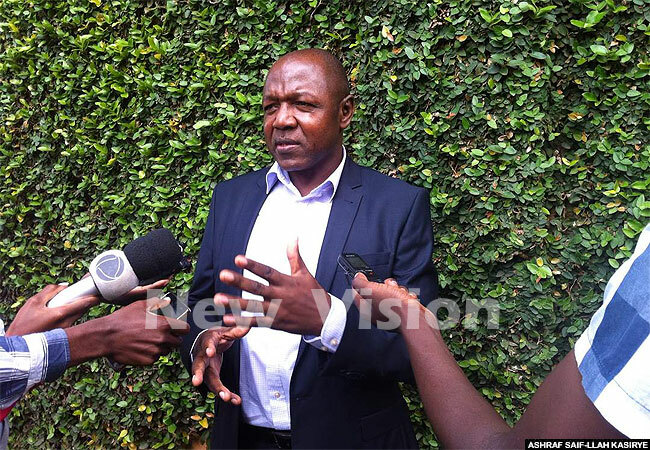 New Vision's Ashraf Kasirye at Kenya High Commission in Kampala:

"The chairman of the Assoiation of Kenyans in Uganda, Isaiah Kojwang (pictured above) has told reporters that the two main candidates incumbent Uhuru Kenyatta and Raila Odinga have agents here but the rest did not bother.

"Kojwang says out of the more than 15, 000 Kenyans who live in Uganda, about 1200 registered voters expected to vote from here, others went back to Kenya to cast their votes from there.

"William Kahindi, the deputy returning officer of the Diaspora Constituency, says the exact number of registered voters is 1184, with 592 at each of the two polling stations. He says results will be counted and declared here and today."
10.00am: High-stakes vote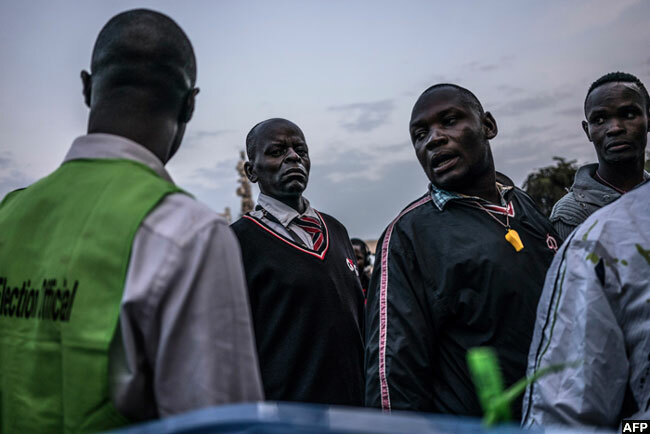 Voting going on . . .
9.45am: Kenyans in Uganda vote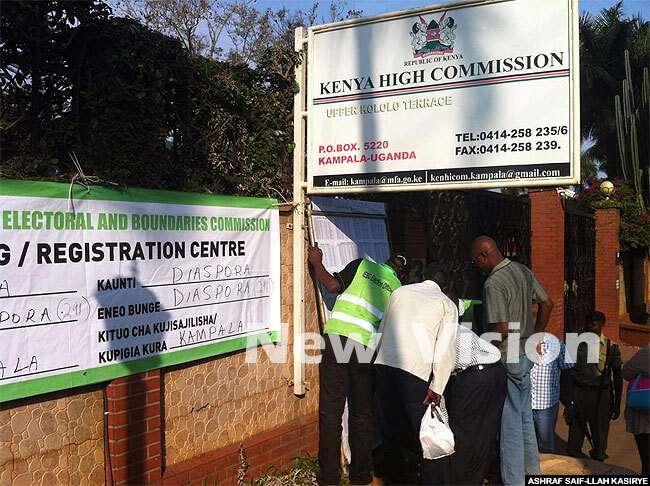 Meanwhile, Kenyans in Uganda are not MIA*. They have joined their fellow countrymen and women in all matters ballot.

Those who registered to vote are doing so at the Kenya High Commission in Kololo, Kampala.
* Missing In Action
9.30am: Down at the coast . . .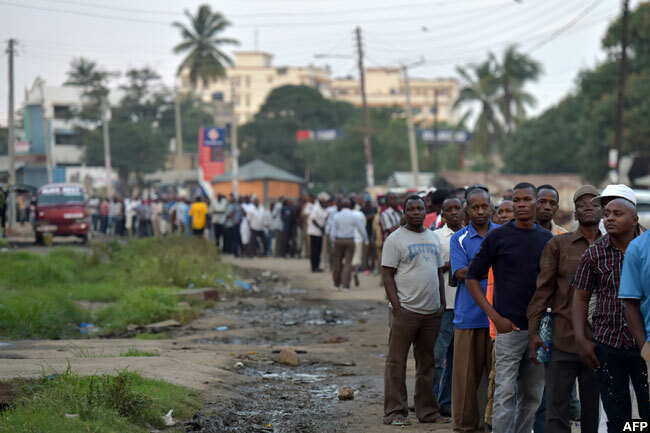 It's long lines everywhere. Voter turnout impressive. Even at this polling station in the suburb of Nyali in Mombasa, at the Kenyan coast.
Kenyans are voting in six different elections, choosing a president, governors, lawmakers, senators, county officials and women's representatives in local races.

Each ballot paper is a different colour, with a corresponding ballot box.
9.25am: 19 million registered voters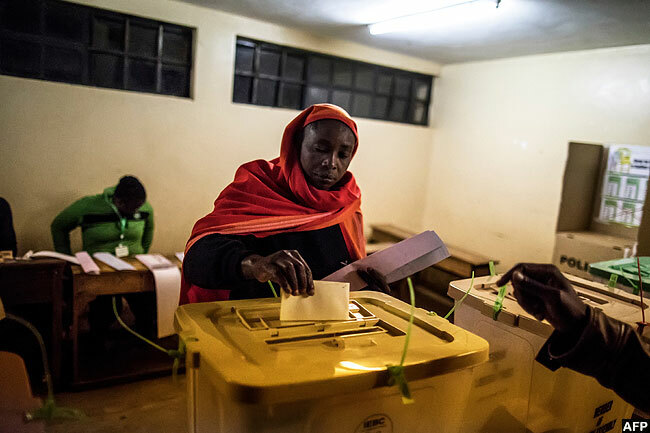 There are more than 19 million registered voters in the nation of 48 million. Half are aged under 35.
In Kenyatta's home town Gatundu, north of Nairobi, this voter carrying a baby verifies her identification at a polling station
9.00am: Kenyatta or Odinga?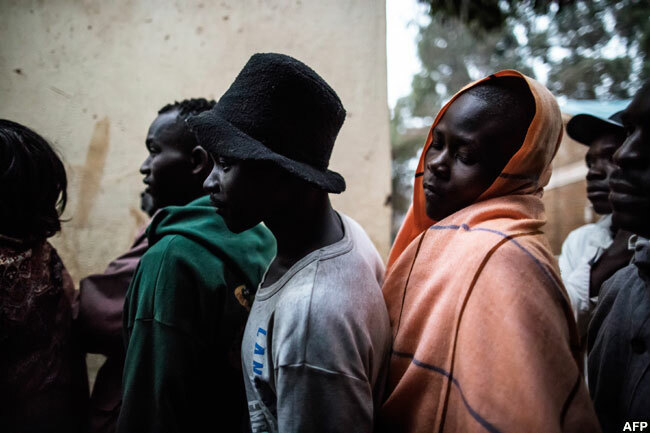 Incumbent Uhuru Kenyatta and his rival Raila Odinga are headlining this election which appears too close to call. Who will take the day?

The voters have the say. And they are doing well to exercise that constitutional power.
Wondering how today's polls will work? Here you go . . .

#ElectionsKE2017: How today's Kenyan elections will work https://t.co/lVjQu0MS3u pic.twitter.com/R7MjgTdn2U

— Al Jazeera English (@AJEnglish) August 8, 2017
Kenyan football star wishes Kenyans 'peaceful' polls

To my fellow countrymen exercising your democratic right tomorrow,I want to wish you all the best and have a peaceful one #ElectionsKE2017

— Victor Wanyama (@VictorWanyama) August 7, 2017
8.35am: Litmus test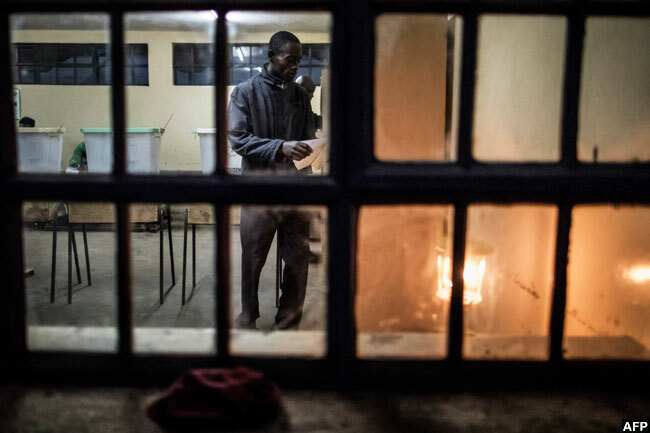 This voter looks at his ballot at a polling station in Kibera.

This edition of the Kenyan elections is seen as a litmus test of Kenya's progress since a disputed 2007 election sparked violence that left over 1,100 people dead and 600,000 displaced.
8.25am: Security tight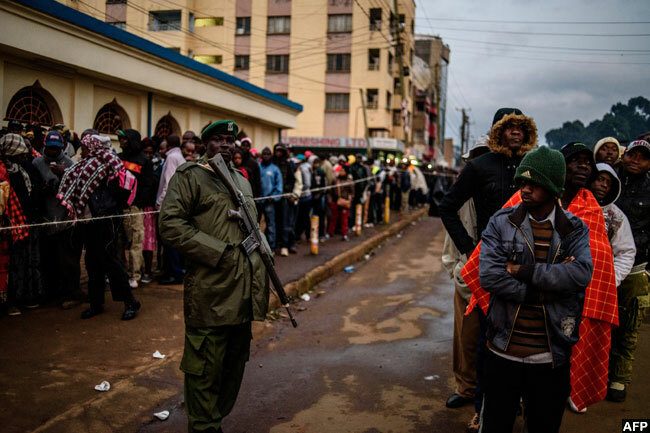 By the way, many people planning to vote camped out several hours before official polling time. As you can see, long lines are snaking outside of polling stations arouind the east African nation under heavy security



8.05am: Chilly morning in Eldoret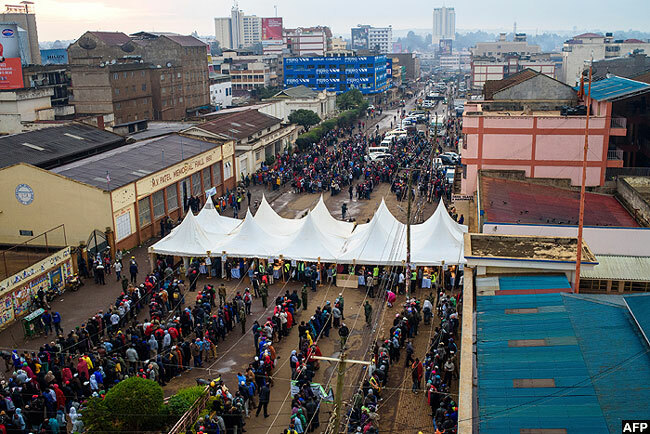 Kenyans slapped on their jackets and scarves, and marched to the various polling station across the country to elect their new leaders.

The aerial shot immediately above is of a polling station in the Rift Valley town of Eldoret.

Chilly Tuesday morning. Brrr!
7.50am: Checking names, joining the queue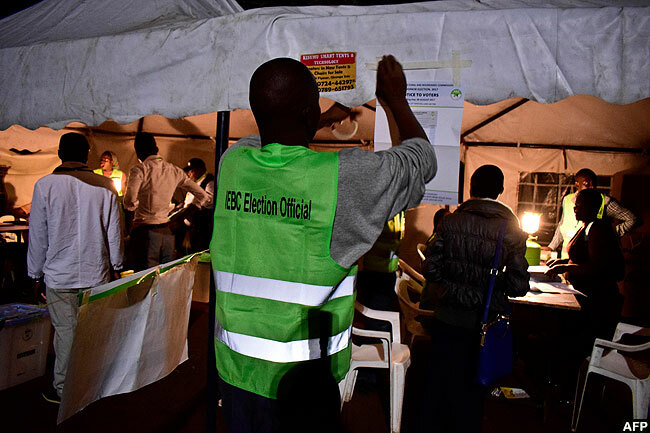 Earlier, before opening of polling at this polling station in Kisumu, Kenyan Independent Electoral and Boundaries Commission (IEBC) officials made sure to check paperwork first.
7.20am: Checking names, joining the queue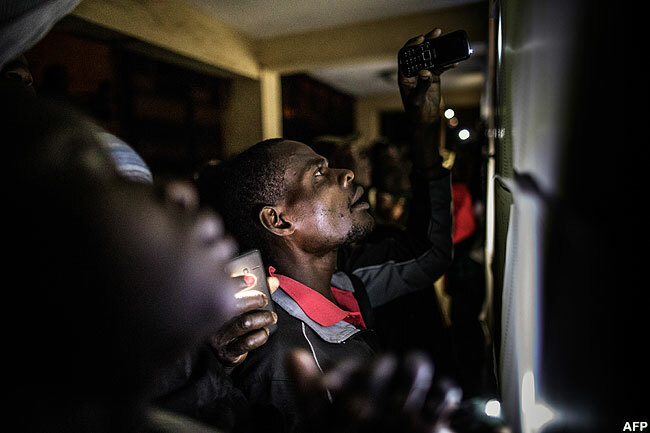 People use the lights from their mobile phones to check names on the voters' roll at a polling station in Kibera.
In Kisumu, in the western part of the country, Kenyans were seen waiting in line to cast their ballot.
7.00am: Rise and shine, Kenya
After Rwanda, it's election day in another of Uganda's immediate neighbours, Kenya, and voters got out of their beds earlier than the cocks could clear their throats for routine crowing.

By as early as 6.00am East African time, and even much earlier, voters were already at their respective polling stations waiting to cast their ballot.

All the best at it, dear Kenyans.