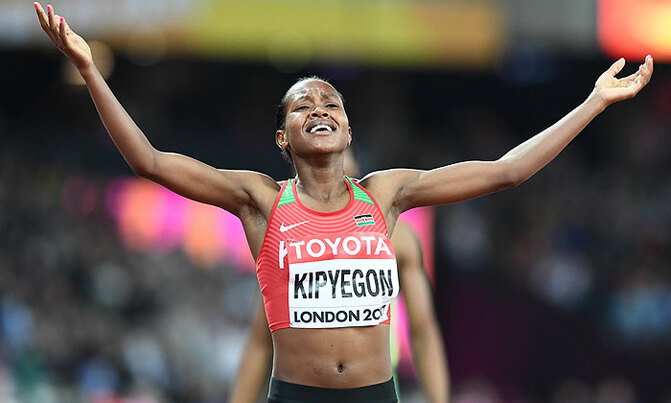 Kipyegon clocked 4min 02.59sec, holding off allcomers down the home straight.
PIC: Kipyegon beat a stellar cast in Monday late night's 1500m final. (AFP)

IAAF WORLD CHAMPIONSHIPS LONDON 2017

STRATFORD - Faith Kipyegon of Kenya added the world title to her Olympic crown after sprinting to a thrilling victory in the women's 1500m on Monday as Caster Semenya snatched bronze.

In a fantastic race that erupted on the final lap, Kipyegon held off allcomers, including double-hunting Semenya, down the home straight to clock 4min 02.59sec.

"I knew it would be fast, it is such a quality field," Kipyegon said.

"The best was going to win here. It was always going to be quick and competitive.

"I'm looking forward to celebrating this with my family."

American Jennifer Simpson claimed silver, at 0.17sec, with South Africa's 800m specialist Caster Semenya taking bronze (4:02.90).
Defending world champion Genzebe Dibaba finished 12th and last, more than 4sec off the winning pace.

Simpson said her coach had told her to "be willing to run your guts out and you'll be great".

"So I did exactly what she did. The last 300m in particular I ran my guts out and it paid off," said Simpson.

"Having the experience is huge because having the ability to stay calm is so hard, especially at the world championships when you're racing in a beautiful stadium like this. To come out with a medal, I think it was down to keeping my wits about me."

Semenya, who will now turn her attention to winning a third world 800m title, added: "It was like music to me coming back to this stadium with all the memories and I'm perfectly satisfied with the bronze.

"Obviously a lot can not go your way in a final, so to come out with a bronze is amazing but I was hoping for a better time.

"1500m is a tactical race, I tried to find my own space but fortunately I managed to get away with third."
Semenya plays down controversy

Semenya played down the ongoing controversy surrounding her elevated levels of naturally occurring testosterone.

"For me I have no time for that," she said.

"It's been like this since 2009. For me, when you listen to music and have one song playing each and every time... it's been almost nine years and it's quite boring. I have no time for that."

Laura Muir, one of two Britons in the field led from the off, laying down a 65sec first lap, with Kipyegon a constant companion on her outside shoulder.

Semenya was her usual comfortable self in the middle of the pack, with Dibaba behind her and the Netherlands' world indoor champion Sifan Hassan, who took bronze two years ago in Beijing, bringing up the rear.
They went through 800m in a relatively sedate 2:17 before Hassan moved up the field and kicked, Kipyegon following.

Suddenly the pack split, Hassan and Kipyegon looking to have the battle for top of the podium to themselves.

But it was not to be, at least for the Ethiopian-born Dutchwoman.

Semenya left it late for her attack, eating up the yards from ninth place with 200 metres to run.

As they hit the home stretch, Hassan tied up in dramatic fashion, 2011 world champion Simpson timed her tactically astute race to near perfection and Semenya powered through for bronze on her coattails.

Muir pipped Hassan for fourth, while world record holder Dibaba could muster nothing worthwhile in the sprint finish as she went backwards.