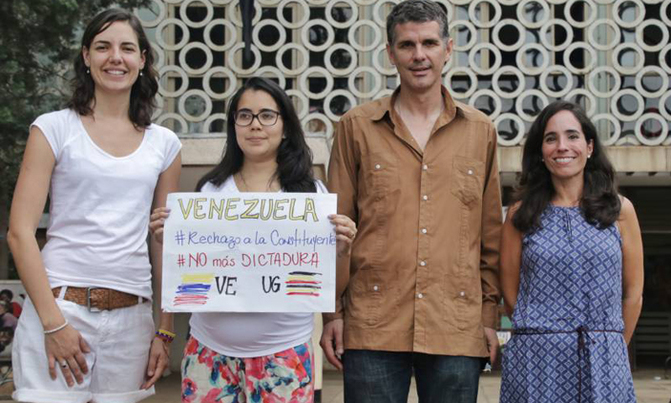 The movement scattered in various parts of the world is engaging in peaceful demonstrations against the new Constituent Assembly
Venezuelans scattered across the world are up in arms against the country's election of a 545 member constituent assembly tasked with reforming the constitution.
They say that the election which has spurred deadly street protests especially among the youth is a step meant to disenfranchise the opposition because it left it out by far.
In the election organized a week ago, Venezuela's President Nicolas Maduro, overturned the mandate of the opposition-controlled Parliament which was popular at the beginning of the year.
The global movement dubbed Rechazo Mundial a La Constituyente 30 July which loosely means global rejection of the constituent assembly 30th July has also been joined by the Venezuelan community of Uganda.
The movement scattered in various parts of the world is engaging in peaceful demonstrations against the new Constituent Assembly since it was elected on 30th July.
The Venezuelan community in Uganda led by Igor Markov said during their protest staged at the National Theatre in Kampala that the election is a desperate move toward dictatorship by the increasingly unpopular Maduro to cling onto power.
"The current mind blogging crisis has enraged voters both at home and in the diaspora. We feel that Maduros' is a disastrously incompetent government that should change but now they are struggling to maintain their status quo that they can't even hide their disregard of renowned democratic principles" Markov said.
Markov's counterpart Patricia Corell told New Vision that, "we want to go home but there are no services, crime rates are high and government and military authorities are infested with mafias. We don't know what will happen next in the situation this president has created. We don't want Maduro but we are extremely nervous."
Rebeca Briceno said that the small community in Uganda is testimony to what is happening across the world in Venezuelan communities.
The Ugandan community of Venezuelans also joined the globe in voting for the now ousted Parliament last year at Entebbe Sailing Club that was overwhelmingly in favour of the opposition. Venezuela's High Commission in the East African Community is based in Nairobi Kenya.
The Organization of American States an umbrella body for north and southern America has come out to contest the election as well as one where the representatives have been singly picked by the incumbent regime leaving out the opposition which they say is not good for Venezuelan progress.
For the last four months, tension has been growing in the oil blessed nation leading to violent protests that have left scores dead and the economy in tatters.