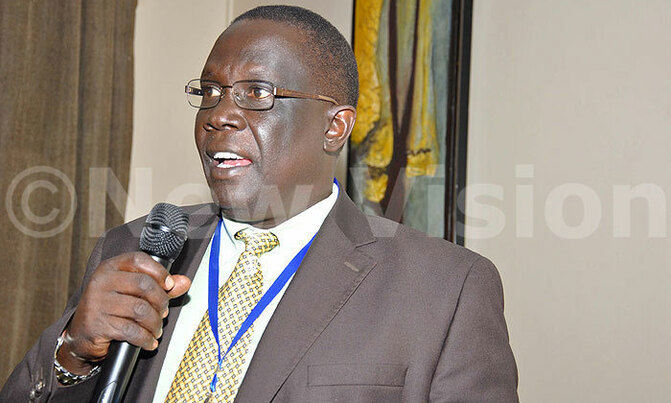 "I think Chinese-owned factories require a special regulator to permanently monitor their compliance with environmental laws and regulations."
(File photo/Credit: Francis Emorut)

ENVIRONMENT

KAMPALA - National Environment Management Authority (NEMA) executive director Dr. Tom Okurut (pictured) has raised a white flag over his agency's ability to 'browbeat' a section of Chinese-owned factories into adhering to set environmental standards.

A semi-autonomous body, NEMA is charged with the responsibility of coordinating, monitoring, regulating and supervising environmental management in the country.

Okurut told legislators sitting on the natural resources committee that most Chinese-owned factories rarely comply with environmental standards, which has resulted into NEMA getting glutted by complaints from affected communities.

"I think Chinese-owned factories require a special regulator to permanently monitor their compliance with environmental laws and regulations," Okurut said in response to complaints by Mpigi Woman MP Sarah Nakawunde about a Chinese factory spewing choking and nauseating fumes in her district.

Nakawunde told the committee chaired by Alex Byarugaba that attempts by residents to seek relief from the environment body has come to naught as the factory has remained open despite the complaints.

When asked whether the factory in question had come up on its radar, Okurut told MPs that it had once been closed but later opened as the owners who had parted with a fortune to Uganda Investment Authority (UIA) pressed authorities for its operations to resume.

Tight rope

Apparently, the factory recycles old tyre, but the fumes it emits has, according to Kabale municipality MP Andrew Baryayanga, seen even drivers plying the Kampala-Masaka road raise complaints to different MPs.

During last year's Labor Day celebrations, President Yoweri Museveni promised to punish technocrats who frustrate investors through corruption and unwieldy bureaucracy.

Some government technocrats have confided into lawmakers that many times, they walk a tight rope when it comes to matters of implementing regulations that might turn out to affect interests of foreign investors.

Earlier, MPs Patrick Nsamba and John Baptist Nambeshe had put Okurut on the spot for heading an institution that selectively implements environmental laws and regulations.

Citing the example of the widespread practice of planting eucalyptus in wetlands, Nsamba accused a section of NEMA field officers of winking at the ruinous environmental practice.

"When these NEMA officials encounter people planting eucalyptus in wetlands, they do not seek to stop the practice or punish culprits. The discussion is normally about how much money to be paid for them to be left alone," said Nsamba.

Following protracted drought in some parts of Uganda that affected food security in places like Isingiro, Teso and Karamoja, Museveni "declared war" on unbridled environmental degradation whose ability to decimate vital water catchment areas has wider environmental impact.

After ordering a stop on encroachment on forests, in April, Museveni ordered the removal of eucalyptus and fishponds from wetlands.

For a country that still relies heavily on rain-fed agriculture, its numerous water bodies notwithstanding, compromising the environment, environmental experts have warned government, will leave Ugandans with a heavy price to pay.