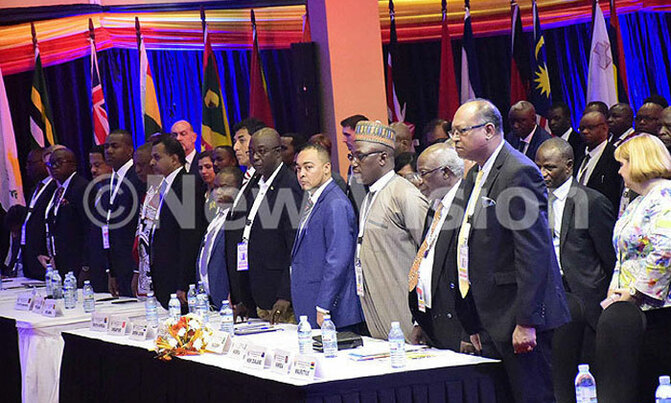 The ministers unanimously agree that the youths are critical to national development.
PIC: The conference took place in Kampala. (Credit: Maria Wamala)

KAMPALA - As the curtain drew on the week-long 9th Commonwealth Youth Ministers Meeting in Kampala, 20 ministers from the member states committed to resolve the myriad of challenges that youths within the Commonwealth face.

Secretary general of the Commonwealth, Patricia Scotland, told reporters that the ministers, during a closed meeting, unanimously agreed that youths are critical to national development.

"They pledged to redouble their efforts to mobilise adequate financing and resourcing for youth development and resolved to take concrete action to empower and address the specific needs of the marginalized young people," she said.

The ministers also committed to improving young people's access to health services and agreed to support their need for participation in national decision making institutions.

Scotland said that Commonwealth countries can deliver a positive future for their young people if the governments, stakeholders and youths work together.

The meeting which is held once in four years, opened on July 31 and ended on August 4. It attracted a delegation of stakeholders and youth leaders from 32 countries.

During its subsistence, three parallel forums were held to discuss issues affecting the youths while suggesting solutions. The forums included the young leader's forum, senior officials and stakeholders.

The discussions which tackled issues such as investing in youths, impact of conflicts on youth and youth financing, were held under the theme Resourcing and financing youth development: empowering young people.
President Yoweri Museveni officially opened the meeting at Munyonyo on Tuesday

According to Janat Mukwaya, the minister of gender, labour and social development, the discussions contributed expert knowledge and diverse perspectives on advancing youth development and exploring effective strategies for financing and resourcing youth development in Commonwealth countries.

"Ministers shared, discussed and explored strategies to resource and finance youth development outside their governments. They emphasized the importance of putting young people at the centre of development," she said.

Mukwaya read out to reporters the commitments made by the ministers during their closed door session.

They include a call for increased and sustained investments in youth development and commitment to work with other relevant ministries to prioritise investment in post-primary education, productive employment and skills development of the youth.

The ministers agreed to establish and strengthen youth-led bodies, Commonwealth youth networks and innovations hubs in order to improve their participation in national decision-making institutions.

They agreed to work with national departments of statistics and ministries of finance to gather data and develop monitoring tools for facilitating the development of evidence-based policies and programs, and financing strategies for youth development.

"Ministers agreed to work with relevant ministries to mainstream youth priorities across all stages of policy making and public spending and ensure that they are integrated with national development and sustainable financing strategies," said Mukwaya.

The minister said the ministers also stressed the need to adopt youth-sensitive budgeting, progressive taxation and youth-friendly public procurement policies. They also agreed to encourage the private sector to take steps to address the skills gap and provide more apprenticeships and decent entry level jobs for youths.
Before the official opening of the meeting, First Lady and minister for education and sports Janet Museveni together with Scotland launched a model for empowering families and communities to care for children

Other commitments made include creation of an enabling environment for youth-friendly innovative financial instruments and create policies and strategies to promote youth access to affordable trade finance and support from the banking sector.

The ministers recommended to the secretary general and heads of government to have national development plans of governments to include clearly defined and appropriate commitment for investment in youth, including increasing budgetary allocation to youth ministries.

They want governments to make global trade, finance and investment agreements conducive to the promotion of youth development and empowerment through impact assessments as well as targeted incentives and investments, capacity building and participation of young people in global supply chains.

The next such meeting will be held in Jamaica in 2021.

"I want to thank Uganda for its hospitality and allowing us to engage with young people especially those in Uganda," said Kisshva Ambigapathy, the chairperson of Commonwealth Youth Council in his closing remarks.

"We have heard from many inspiring reputable speakers on how youths can best utilize exciting financing models, how we can also innovate financing models and how youths can move from being job seekers to job creators."
ALSO RELATED TO THIS STORY

Museveni takes selfie with global youth ministers