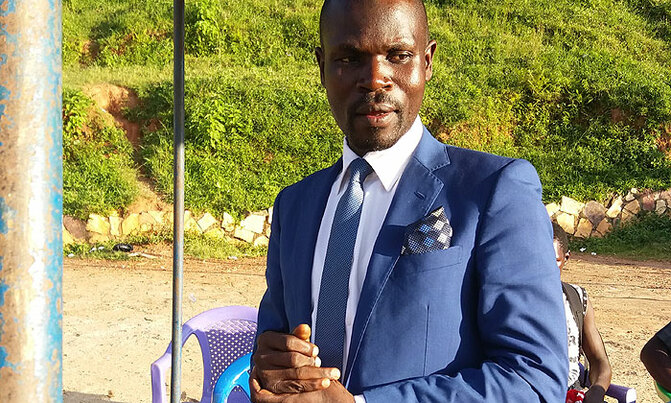 "There is no continent that has such wealth of minerals like Africa does."
PIC: City lawyer Elias Luyimbazi says Africa needs to use its young population to surge forward

DEVELOPMENT | SCHOOL DEBATE

KAMPALA - The dominant youth population in Africa is a "great asset" if tapped well, city lawyer Elias Luyimbazi Nalukoola has said.

The continent can achieve the desired development if such a youthful populace is utilized alongside the vast pool of natural resources at hand, he added.

Luyimbazi, 35, made these remarks Friday at a schools debate competition at Kibuli Secondary School in Kampala.

During the debate, some student debaters stressed that Africa is poor and therefore cannot enforce justice for its people. This group argued that African states cannot even wholly fund their budgets.

But in his comments later, chief guest Luyimbazi said Africa has wealth in the form of its massive natural resources, for instance minerals. One let-down though is that this immense wealth as well as the human capital is not allocated and tapped well.

"There is no continent that has such wealth of minerals like Africa does. The mineral wealth in DR Congo alone beats that of some continents. That is why when some missionary visited once, he said that when God was creating the world, he rested in Africa which is greatly endowed," said Luyimbazi.
Mining workers stand on a muddy cliff as they work at a gold mine in north eastern Congo in 2009. (AFP/Getty Images)

Meanwhile, Luyimbazi underlined the role of school debates in the achievement of progress on the continent.

He said that through debating forums, students and young African scholars should be able to generate ideas, concepts and strategies that can be used to formulate policies which can be used to bring about development in Africa.

A public speaker as well as former Kawempe Division Council deputy speaker, Luyimbazi added that there is need for youths to retool their skills to match the available demands.

The motion at the debate competition was: This house believes that the African Union request to its members to implement policy of non- compliance and cooperation with ICC should be rejected.

Luyimbazi, of Nalukoola & Kakeeto Advocates, said debating builds students' self-esteem as well as their listening, speaking, thinking and learning skills.

Hilton High School emerged winner of the debate, which was organized by, among others, Students for Global Democracy Uganda, an NGO. Hosts Kibuli were the first runner-up.